RefWorks: Adding References
Adding References
---
Adding References Manually
This method is the least efficient way of using RefWorks. It is best to only use it when citing nontraditional information sources, like web sites, that are not listed in catalogs or databases.
Under "References," choose "Add New Reference."
A blank reference window will appear. You can select a specific citation style to see what fields are used in that style if you know you will be using it.
Select a folder in which to save the reference. If you do not pick one, it will be stored in the

 

References Not in a Folder

 

area.
Select the type of reference in the "Ref Type" drop-down box to display fields commonly used with that kind of reference. For example, if you choose "Web Page," fields will appear for URL and access date, whereas "Book" will have fields for ISBN and publication year.
You can also select a specific citation style to see those fields used by that style so that you can make sure you are not missing any information.
Fill in as much information as you need to clearly identify the resource. You do not need to fill out every field (not all will be applicable to every resource), but major details like authors, dates, titles, etc. should be included.
Click "save reference." If you are adding multiple references, you can click "save and add new" to save the first reference and automatically open another blank reference screen.
The reference can now be viewed in "all references" or within the folder where you saved it, and can be edited, exported, shared or included in a bibliography.
---
Importing References from an Online Database or Catalog
Under "Search," click "Online Catalog or Database."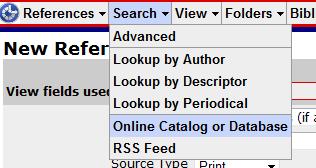 Select the catalog or database you want to search from the drop-down menu. PubMed and Boston University will be near the top by default since they are commonly searched, but if you want to search another catalog or database, scroll down the list to locate it. You can also quickly type the first few letters of the name to move to that section of the list.
Select a number in "max. number of references to download."
Enter your search terms in the "Quick Search" box, or add more details in the "Advanced" screen below if you know exactly what you are looking for. Click to search.
A new window will open telling you the number of references found and stating that they are being downloaded (up to the maximum number you specified).
Once the download is complete, you will see a list of references with your search terms highlighted. You can see the full reference by clicking the blue "View" link on the right.
Select the reference or references you wish to save to your account by either checking the box next to each or clicking "page" or "all in list" at the top of the screen.
Select the folder in which you want to save the references from the drop-down menu. If you do not select a folder, references will be stored in

 

Last Imported.
Click "Import." You can now repeat these steps to locate and import more references, or close the import screen and return to the original window to view and work with your references.