Ref Grab-It
Using RefGrab-It
RefGrab-It is a tool that you can install in your browser to automatically import web page information into RefWorks.
Under "Tools," select "RefGrab-It."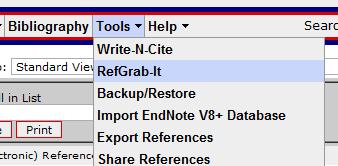 A new window will open with instructions on how to download the software. Follow the instructions listed for your particular browser: Internet Explorer and Mozilla Firefox are supported for machines running Windows; Firefox and Netscape for Macs.
You should now have a "RefGrab-It" icon on your browser toolbar.

Click this icon from any web page to open a new window with a RefWorks screen showing the information RefGrab-It was able to gather from the page. Click "Import."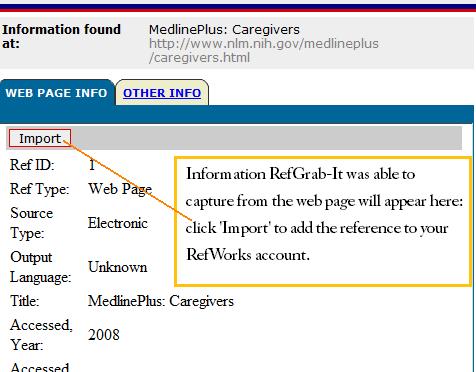 If you are not logged into RefWorks, you will need to log in at this point. If you are logged in, simply return to your open RefWorks window to see confirmation that the reference has been imported, as well as space to edit information about the data source and database. You can leave these fields blank.
Click "View Last Imported Folder," or go to "All References" to see the new reference, make any changes, or move it to a folder.
Note: RefGrab-It does sometimes miss some of the details of a reference, so check to make sure that all the necessary information has been imported. If anything is missing, click "Edit" and add it by hand.