Vasken M. Kroshian MD
Assistant Professor, General Internal Medicine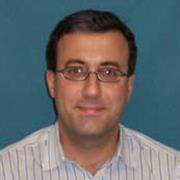 Sections
General Internal Medicine
Websites
Education
MD, American University of Beirut, 1985
BS, American University of Beirut, 1981
Publications
Published on 2/1/1997
Lieberthal W, McKenney JB, Kiefer CR, Snyder LM, Kroshian VM, Sjaastad MD. Beta1 integrin-mediated adhesion between renal tubular cells after anoxic injury. J Am Soc Nephrol. 1997 Feb; 8(2):175-83. PMID: 9048335.
Published on 1/1/1994
Kroshian VM, Sheridan AM, Lieberthal W. Functional and cytoskeletal changes induced by sublethal injury in proximal tubular epithelial cells. Am J Physiol. 1994 Jan; 266(1 Pt 2):F21-30. PMID: 8304481.
Published on 9/1/1993
Sheridan AM, Schwartz JH, Kroshian VM, Tercyak AM, Laraia J, Masino S, Lieberthal W. Renal mouse proximal tubular cells are more susceptible than MDCK cells to chemical anoxia. Am J Physiol. 1993 Sep; 265(3 Pt 2):F342-50. PMID: 8214092.
View full list of 3 publications.