Tamar R. Aprahamian PhD
Voluntary Assistant Professor, Nephrology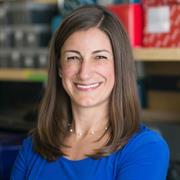 Centers
Boston Nutrition Obesity Research Center
Evans Center for Interdisciplinary Biomedical Research
Biography
Tamar Aprahamian, PhD is an Assistant Professor of Nephrology at the Chobanian and Avedisian School of Medicine. Dr. Aprahamian returned to the university in 2017, after a year-long stint as Principal Scientist for Cobalt Biomedicine, where she was named as inventor on 9 patents and led the preclinical development, design, and analysis of data. She is also the founder of JetPub Scientific Communications. The company specializes in writing services for academic institutions, pharmaceutical, biotechnology, and medical device companies.

Dr. Aprahamian's research interests are influenced by her 12 years in the BUSM renal section and include adipose tissue biology, in vivo efficacy testing, and drug target validation.
Websites
Education
Cell & Molecular Biology, PhD, Tufts University, 2005
Biology, BS, Boston College, 1998
Publications
Published on 6/14/2019
Gharakhanian R, Su S, Aprahamian T. Vascular Endothelial Growth Factor-A Deficiency in Perivascular Adipose Tissue Impairs Macrovascular Function. Front Physiol. 2019; 10:687. PMID: 31258484.
Published on 7/19/2017
MacLauchlan S, Zuriaga MA, Fuster JJ, Cuda CM, Jonason J, Behzadi F, Duffen JP, Haines GK, Aprahamian T, Perlman H, Walsh K. Genetic deficiency of Wnt5a diminishes disease severity in a murine model of rheumatoid arthritis. Arthritis Res Ther. 2017 Jul 19; 19(1):166. PMID: 28724439.
Published on 5/24/2017
Mahdaviani K, Benador IY, Su S, Gharakhanian RA, Stiles L, Trudeau KM, Cardamone M, Enríquez-Zarralanga V, Ritou E, Aprahamian T, Oliveira MF, Corkey BE, Perissi V, Liesa M, Shirihai OS. Mfn2 deletion in brown adipose tissue protects from insulin resistance and impairs thermogenesis. EMBO Rep. 2017 Jul; 18(7):1123-1138. PMID: 28539390.
Published on 12/13/2016
Wang H, Liu L, Lin JZ, Aprahamian TR, Farmer SR. Browning of White Adipose Tissue with Roscovitine Induces a Distinct Population of UCP1+ Adipocytes. Cell Metab. 2016 Dec 13; 24(6):835-847. PMID: 27974179.
Published on 1/1/2016
Valero-Muñoz M, Li S, Wilson RM, Hulsmans M, Aprahamian T, Fuster JJ, Nahrendorf M, Scherer PE, Sam F. Heart Failure With Preserved Ejection Fraction Induces Beiging in Adipose Tissue. Circ Heart Fail. 2016 Jan; 9(1):e002724. PMID: 26721917.
Published on 12/1/2015
Duffau P, Menn-Josephy H, Cuda CM, Dominguez S, Aprahamian TR, Watkins AA, Yasuda K, Monach P, Lafyatis R, Rice LM, Kenneth Haines G, Gravallese EM, Baum R, Richez C, Perlman H, Bonegio RG, Rifkin IR. Promotion of Inflammatory Arthritis by Interferon Regulatory Factor 5 in a Mouse Model. Arthritis Rheumatol. 2015 Dec; 67(12):3146-57. PMID: 26315890.
Published on 9/25/2015
Mahdaviani K, Chess D, Wu Y, Shirihai O, Aprahamian TR. Autocrine effect of vascular endothelial growth factor-A is essential for mitochondrial function in brown adipocytes. Metabolism. 2016 Jan; 65(1):26-35. PMID: 26683794.
Published on 4/13/2015
Kambara T, Shibata R, Ohashi K, Matsuo K, Hiramatsu-Ito M, Enomoto T, Yuasa D, Ito M, Hayakawa S, Ogawa H, Aprahamian T, Walsh K, Murohara T, Ouchi N. C1q/Tumor Necrosis Factor-Related Protein 9 Protects against Acute Myocardial Injury through an Adiponectin Receptor I-AMPK-Dependent Mechanism. Mol Cell Biol. 2015 Jun; 35(12):2173-85. PMID: 25870106.
Published on 2/7/2015
Aprahamian TR, Zhong X, Amir S, Binder CJ, Chiang LK, Al-Riyami L, Gharakhanian R, Harnett MM, Harnett W, Rifkin IR. The immunomodulatory parasitic worm product ES-62 reduces lupus-associated accelerated atherosclerosis in a mouse model. Int J Parasitol. 2015 Mar; 45(4):203-7. PMID: 25666929.
Published on 1/16/2015
Watkins AA, Yasuda K, Wilson GE, Aprahamian T, Xie Y, Maganto-Garcia E, Shukla P, Oberlander L, Laskow B, Menn-Josephy H, Wu Y, Duffau P, Fried SK, Lichtman AH, Bonegio RG, Rifkin IR. IRF5 deficiency ameliorates lupus but promotes atherosclerosis and metabolic dysfunction in a mouse model of lupus-associated atherosclerosis. J Immunol. 2015 Feb 15; 194(4):1467-79. PMID: 25595782.
View full list of 37 publications.