Sheila E. Chapman MD
Clinical Associate Professor, General Internal Medicine
Associate Chair, Post-Graduate URM Development, Faculty Development and Diversity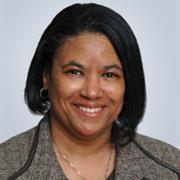 Sections
General Internal Medicine
Centers
Clinical Addiction Research and Education Unit
Biography
I became concerned that "Diversity and Inclusion" was becoming no more than a buzzword. What does it mean to be a diverse entity and what does it mean to feel included? Diversity encompasses acceptance, engagement, growth, willingness to be out of one's comfort zone regarding the diversity of thought, perspective, gender or sexual identity, race, ethnicity, cultural experience, and socioeconomic status. I polled the individuals and groups with whom I was engaged and asked: "How does it feel to be included?" The summary of the responses I received: to feel safe, secure, valued, and supported. This is the perspective I bring to my work as the Associate Dean for Diversity and Inclusion for the Department of Medicine.
I am currently the Associate Chair for Diversity and inclusion in the Department of Medicine. I am a clinician practicing as a primary care provider, practitioner of addiction medicine with the CARE unit, an educator of medical students, residents, and fellows, and faculty. My clinical and educational roles have expanded to include development and implementation of a summer program for BUSM rising second year students from underrepresented groups in medicine (URiMs) the Evans Student Scholars Program (ESS), development and implementation of the Willock Faculty Development Program (for BUMC URiM faculty) and serving as a coach for the Patient Experience team. I have served as a trustee of BUMG and have remained a committed member of the Diversity, Equity, and Inclusion advisory group. I am also a member of the leadership team in my Section of General Internal Medicine.

Expertise in addiction medicine. Board Certified ASAM.
Cross-Cultural Humility and Disparities in Health Care Outcomes
Sickle Cell Disease and Transitions of Care
Faculty Development and Retention of Underrepresented Minorities
Patient and Care Team Experience
Community Engagement regarding COVID vaccine hesitancy
Education
Medicine, MD, New York Medical College, 1983
Biology, AB, Harvard University, 1978
Publications
Published on 5/17/2022
Assoumou SA, Peterson A, Ginman E, James T, Pierre CM, Hamilton S, Chapman S, Goldie J, Koenig R, Mendez-Escobar E, Leaver H, Graham R, Crichlow R, Weaver T, Cotterell S, Valdez G, De Las Nueces D, Scott NA, Linas BP, Cherry PM. Addressing Inequities in SARS-CoV-2 Vaccine Uptake: The Boston Medical Center Health System Experience. Ann Intern Med. 2022 Jun; 175(6):879-884. PMID: 35576586.
Published on 6/14/2016
Kressin NR, Chapman SE, Magnani JW. A Tale of Two Patients: Patient-Centered Approaches to Adherence as a Gateway to Reducing Disparities. Circulation. 2016 Jun 14; 133(24):2583-92. PMID: 27297350.
Published on 8/1/2014
Mostow C, Crosson J, Gordon S, Chapman S, Hardt E, James T, Gonzalez P. R-E-S-P-E-C-T: physician-patient communication. J Gen Intern Med. 2014 Aug; 29(8):1097. PMID: 24841556.
Published on 5/1/2010
Mostow C, Crosson J, Gordon S, Chapman S, Gonzalez P, Hardt E, Delgado L, James T, David M. Treating and precepting with RESPECT: a relational model addressing race, ethnicity, and culture in medical training. J Gen Intern Med. 2010 May; 25 Suppl 2:S146-54. PMID: 20352510.
Published on 3/6/2008
Alford DP, Richardson JM, Chapman SE, Dubé CE, Schadt RW, Saitz R. A web-based Alcohol Clinical Training (ACT) curriculum: is in-person faculty development necessary to affect teaching? BMC Med Educ. 2008; 8:11. PMID: 18325102.
View full list of 5 publications.