Sheila E. Chapman MD
Assistant Professor, General Internal Medicine
Associate Chair, Post-Graduate URM Development, Faculty Development and Diversity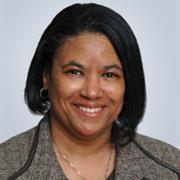 Sections
General Internal Medicine
Centers
Clinical Addiction Research and Education Unit
Biography
Expertise in addiction medicine. Board Certified ASAM.
Cross-Cultural Humility and Disparities in Health Care Outcomes
Sickle Cell Disease and Transitions of Care
Faculty Development and Retention of Underrepresented Minorities
Patient and Care Team Experience
Education
MD, New York Medical College, 1983
BA, Harvard College, 1978
Publications
Published on 6/14/2016
Kressin NR, Chapman SE, Magnani JW. A Tale of Two Patients: Patient-Centered Approaches to Adherence as a Gateway to Reducing Disparities. Circulation. 2016 Jun 14; 133(24):2583-92. PMID: 27297350.
Published on 8/1/2014
Mostow C, Crosson J, Gordon S, Chapman S, Hardt E, James T, Gonzalez P. R-E-S-P-E-C-T: physician-patient communication. J Gen Intern Med. 2014 Aug; 29(8):1097. PMID: 24841556.
Published on 5/1/2010
Mostow C, Crosson J, Gordon S, Chapman S, Gonzalez P, Hardt E, Delgado L, James T, David M. Treating and precepting with RESPECT: a relational model addressing race, ethnicity, and culture in medical training. J Gen Intern Med. 2010 May; 25 Suppl 2:S146-54. PMID: 20352510.
Published on 3/6/2008
Alford DP, Richardson JM, Chapman SE, Dubé CE, Schadt RW, Saitz R. A web-based Alcohol Clinical Training (ACT) curriculum: is in-person faculty development necessary to affect teaching? BMC Med Educ. 2008; 8:11. PMID: 18325102.
View full list of 4 publications.