Shakun Karki PhD
Assistant Professor, Cardiovascular Medicine
72 East Concord Street | (617) 358-0012

shakunk@bu.edu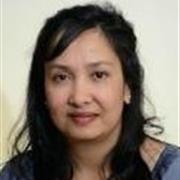 Sections
Cardiovascular Medicine
Centers
Whitaker Cardiovascular Institute
Biography
Obesity represents the largest preventable health care problem in the United States. More than two third of deaths related to obesity worldwide are from cardiovascular cause. Pathological mechanisms that connect obesity with cardiovascular are incompletely understood. Dr. Karki's research interests focuses on understanding the mechanisms of obesity induced diseases, including endothelial and vascular dysfunction, insulin-resistance and cardiovascular disease.
Websites
Education
Nutrition/Food Science, PhD, Boston University School of Medicine, 2012
Nutrition/Food Science, MS, University of New Hampshire, 2002
Publications
Published on 1/1/2023
Balakrishnan B, Gupta A, Basri R, Sharma VM, Slayton M, Gentner K, Becker CC, Karki S, Muturi H, Najjar SM, Loria AS, Gokce N, Puri V. Endothelial-Specific Expression of CIDEC Improves High-Fat Diet-Induced Vascular and Metabolic Dysfunction. Diabetes. 2023 Jan 01; 72(1):19-32. PMID: 36256836.
Published on 8/11/2022
Gupta A, Balakrishnan B, Karki S, Slayton M, Jash S, Banerjee S, Grahn THM, Jambunathan S, Disney S, Hussein H, Kong D, Lowell BB, Natarajan P, Reddy UK, Gokce N, Sharma VM, Puri V. Human CIDEC transgene improves lipid metabolism and protects against high-fat diet-induced glucose intolerance in mice. J Biol Chem. 2022 Sep; 298(9):102347. PMID: 35963433.
Published on 7/1/2021
Gokce N, Karki S, Dobyns A, Zizza E, Sroczynski E, Palmisano JN, Mazzotta C, Hamburg NM, Pernar LI, Carmine B, Carter CO, LaValley M, Hess DT, Apovian CM, Farb MG. Association of Bariatric Surgery With Vascular Outcomes. JAMA Netw Open. 2021 07 01; 4(7):e2115267. PMID: 34251443.
Published on 1/28/2021
Mazzotta C, Basu S, Gower AC, Karki S, Farb MG, Sroczynski E, Zizza E, Sarhan A, Pande AN, Walsh K, Dobrilovic N, Gokce N. Perivascular Adipose Tissue Inflammation in Ischemic Heart Disease. Arterioscler Thromb Vasc Biol. 2021 03; 41(3):1239-1250. PMID: 33504180.
Published on 9/1/2019
Karki S. FSP27 and Links to Obesity and Diabetes Mellitus. Curr Obes Rep. 2019 Sep; 8(3):255-261. PMID: 30919313.
Published on 6/1/2019
Karki S, Farb MG, Sharma VM, Jash S, Zizza EJ, Hess DT, Carmine B, Carter CO, Pernar LI, Apovian CM, Puri V, Gokce N. Fat-Specific Protein 27 Regulation of Vascular Function in Human Obesity. J Am Heart Assoc. 2019 06 04; 8(11):e011431. PMID: 31433737.
Published on 5/31/2019
Frenquelli M, Caridi N, Antonini E, Storti F, Viganò V, Gaviraghi M, Occhionorelli M, Bianchessi S, Bongiovanni L, Spinelli A, Marcatti M, Belloni D, Ferrero E, Karki S, Brambilla P, Martinelli-Boneschi F, Colla S, Ponzoni M, DePinho RA, Tonon G. The WNT receptor ROR2 drives the interaction of multiple myeloma cells with the microenvironment through AKT activation. Leukemia. 2020 01; 34(1):257-270. PMID: 31148590.
Published on 12/21/2018
Ngo DTM, Sverdlov AL, Karki S, Macartney-Coxson D, Stubbs RS, Farb MG, Carmine B, Hess DT, Colucci WS, Gokce N. Oxidative modifications of mitochondrial complex II are associated with insulin resistance of visceral fat in obesity. Am J Physiol Endocrinol Metab. 2019 02 01; 316(2):E168-E177. PMID: 30576243.
Published on 12/11/2017
Zuriaga MA, Fuster JJ, Farb MG, MacLauchlan S, Bretón-Romero R, Karki S, Hess DT, Apovian CM, Hamburg NM, Gokce N, Walsh K. Activation of non-canonical WNT signaling in human visceral adipose tissue contributes to local and systemic inflammation. Sci Rep. 2017 12 11; 7(1):17326. PMID: 29229927.
Published on 9/29/2017
Farb MG, Park SY, Karki S, Gokce N. Assessment of Human Adipose Tissue Microvascular Function Using Videomicroscopy. J Vis Exp. 2017 Sep 29; (127). PMID: 28994775.
View full list of 23 publications.