Sebastian Suarez Zarate MD, MPH
Instructor, General Internal Medicine
72 East Concord Street | (617) 414-5951

sebsz@bu.edu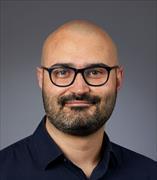 Sections
General Internal Medicine
Biography
Dr. Suarez Zarate completed his medical school in the Universidad de Los Andes in Bogota, Colombia, after which he completed a Post-doc at BIDMC on bone health and fracture prevention. He then completed his MPH at Harvard T.H Chan SPH with an emphasis in Global Health and a Humanitarian Aid, Ethics, and Human Rights Concentration. He later joined the Division of Global Health Innovation at MGH, where he worked as an Associate Research Scientist and manager for programs that aimed to increase access to healthcare to underserved populations in Kenya and India. He completed is Internal Medicine residency at Boston Medical Center, where he currently serves as Chief Medical Resident. He has clinical interest in Hospital Medicine, POCUS and bedside procedures and he has academic interest in the interesection between medical education and health disparities.
Websites
Education
Medicine, MD, Universidad de Los Andes, 2014
MPH, Harvard School of Public Health, 2017
Publications
Published on 7/29/2022
Suarez S, Lupez E, Demers L, Streed CG, Siegel J. Gender and Sexual Diverse Health Education: A Needs Assessment Among Internal Medicine Residents. LGBT Health. 2022 Nov; 9(8):589-594. PMID: 35905057.
Published on 7/29/2021
Suarez S. Physician shortages and its impact on brain drain: a response to Roy et al. J Immigr Minor Health. 2021 Oct; 23(5):883-884. PMID: 34324123.
Published on 4/22/2021
Suarez S, Lupez E, Siegel J, Streed C. The Annual Examination for Lesbian, Gay, and Bisexual Patients. Prim Care. 2021 Jun; 48(2):191-212. PMID: 33985699.
Published on 7/25/2020
Conde-Agudelo A, Suarez S, Burke TF. Reply. Am J Obstet Gynecol. 2020 12; 223(6):947-948. PMID: 32721396.
Published on 5/13/2020
Cubria MB, Suarez S, Masoudi A, Oftadeh R, Kamalapathy P, DuBose A, Erdos MR, Cabral WA, Karim L, Collins FS, Snyder BD, Nazarian A. Evaluation of musculoskeletal phenotype of the G608G progeria mouse model with lonafarnib, pravastatin, and zoledronic acid as treatment groups. Proc Natl Acad Sci U S A. 2020 06 02; 117(22):12029-12040. PMID: 32404427.
Published on 4/7/2020
Reyes S, Suarez S, Allen-Philbey K, Thomson A, Giovannoni G. The impact of social capital on patients with multiple sclerosis. Acta Neurol Scand. 2020 Jul; 142(1):58-65. PMID: 32189325.
Published on 2/25/2020
Conde-Agudelo A, Suarez S, Burke TF. Reply. Am J Obstet Gynecol. 2020 07; 223(1):138-139. PMID: 32109467.
Published on 2/24/2020
Reyes S, Suarez S, Allen-Philbey K, Yildiz Ö, Mathews J, Anjorin G, Edwards F, Jain C, Turner B, Marta M, Gnanapavan S, Schmierer K, Giovannoni G. Socioeconomic status and disease-modifying therapy prescribing patterns in people with multiple sclerosis. Mult Scler Relat Disord. 2020 Jun; 41:102024. PMID: 32143179.
Published on 2/1/2020
Suarez S. To Be or Not to Be Gay: The Odyssey of Applying to Residency as a Gay International Medical Graduate. J Grad Med Educ. 2020 Feb; 12(1):113-114. PMID: 32089802.
Published on 1/6/2020
Suarez S, Conde-Agudelo A, Borovac-Pinheiro A, Suarez-Rebling D, Eckardt M, Theron G, Burke TF. Uterine balloon tamponade for the treatment of postpartum hemorrhage: a systematic review and meta-analysis. Am J Obstet Gynecol. 2020 04; 222(4):293.e1-293.e52. PMID: 31917139.
View full list of 22 publications.