Samar Y. Mahamud Hafida
Assistant Professor, Endocrinology, Diabetes, Nutrition & Weight Management
720 Harrison Ave | (617) 638-7470

syhafida@bu.edu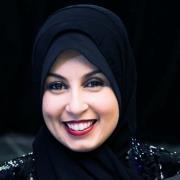 Sections
Endocrinology, Diabetes, Nutrition & Weight Management
Websites
Publications
Published on 12/1/2022
Hafida S, Apovian C. Physiology of the Weight-Reduced State and Its Impact on Weight Regain. Endocrinol Metab Clin North Am. 2022 Dec; 51(4):795-815. PMID: 36244694.
Published on 9/12/2022
Kobeissi H, Attia AM, Elgazzar TA, Shah J, Bajaber A, Almustanyir S, Alsaeed R, Khalifa RO, Azzam AY, Hafida S, Ghozy S, Islam SMS. Changes in physical activity during COVID-19 pandemic among Saudi Arabians: Results from a cross-sectional study. Health Sci Rep. 2022 Sep; 5(5):e822. PMID: 36110347.
Published on 8/25/2022
Jain P, Hejjaji V, Thomas MB, Garcia RA, Kennedy KF, Goyal A, Sperling L, Das SR, Hafida S, Enriquez JR, Arnold SV. Use of primary bariatric surgery among patients with obesity and diabetes. Insights from the Diabetes Collaborative Registry. Int J Obes (Lond). 2022 Dec; 46(12):2163-2167. PMID: 36008680.
Published on 6/17/2022
Hafida S. Jones DB, Lim RB, eds. Metabolic and Bariatric Surgery Examination and Board Review. Medical Weight Management. McGraw-Hill Education / Medical. 2022.
Published on 5/1/2022
MacDonald TL, Pattamaprapanont P, Cooney EM, Nava RC, Mitri J, Hafida S, Lessard SJ. Canagliflozin Prevents Hyperglycemia-Associated Muscle Extracellular Matrix Accumulation and Improves the Adaptive Response to Aerobic Exercise. Diabetes. 2022 May 01; 71(5):881-893. PMID: 35108373.
Published on 3/22/2022
Toschi E, Leblanc J, Hafida S, Mehta S, Ritholz M, Gabbay R, Laffel L. Caring for Young Adults With Diabetes in the Adult Care Setting: Summary of a Multidisciplinary Roundtable. Front Clin Diabetes Healthc. 2022; 3:830183. PMID: 36992759.
Published on 7/20/2020
MacDonald TL, Pattamaprapanont P, Pathak P, Fernandez N, Freitas EC, Hafida S, Mitri J, Britton SL, Koch LG, Lessard SJ. Hyperglycaemia is associated with impaired muscle signalling and aerobic adaptation to exercise. Nat Metab. 2020 09; 2(9):902-917. PMID: 32694831.
Published on 11/4/2019
Mulla CM, Baloch HM, Hafida S. Management of Diabetes in Patients Undergoing Bariatric Surgery. Curr Diab Rep. 2019 11 04; 19(11):112. PMID: 31686263.
Published on 8/30/2018
Mottalib A, Tomah S, Hafida S, Elseaidy T, Kasetty M, Ashrafzadeh S, Hamdy O. Intensive multidisciplinary weight management in patients with type 1 diabetes and obesity: A one-year retrospective matched cohort study. Diabetes Obes Metab. 2019 01; 21(1):37-42. PMID: 30047220.
Published on 6/1/2018
Hafida S, Ganda OP, Gabbay RA. CHAPTER 1. Clinical guideline for adults with diabetes. Am J Manag Care. 2018 06; 24(7 Spec No.):SP209-SP225. PMID: 29938994.
View full list of 12 publications.