Samar Y. Mahamud Hafida
Assistant Professor, Endocrinology, Diabetes, Nutrition & Weight Management
720 Harrison Ave | (617) 638-7470

syhafida@bu.edu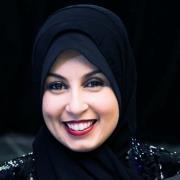 Sections
Endocrinology, Diabetes, Nutrition & Weight Management
Websites
Publications
Published on 6/17/2022
Hafida S. Jones DB, Lim RB, eds. Metabolic and Bariatric Surgery Examination and Board Review. Medical Weight Management. McGraw-Hill Education / Medical. 2022.
Published on 5/1/2022
MacDonald TL, Pattamaprapanont P, Cooney EM, Nava RC, Mitri J, Hafida S, Lessard SJ. Canagliflozin Prevents Hyperglycemia-Associated Muscle Extracellular Matrix Accumulation and Improves the Adaptive Response to Aerobic Exercise. Diabetes. 2022 May 01; 71(5):881-893. PMID: 35108373.
Published on 7/20/2020
MacDonald TL, Pattamaprapanont P, Pathak P, Fernandez N, Freitas EC, Hafida S, Mitri J, Britton SL, Koch LG, Lessard SJ. Hyperglycaemia is associated with impaired muscle signalling and aerobic adaptation to exercise. Nat Metab. 2020 09; 2(9):902-917. PMID: 32694831.
Published on 11/4/2019
Mulla CM, Baloch HM, Hafida S. Management of Diabetes in Patients Undergoing Bariatric Surgery. Curr Diab Rep. 2019 11 04; 19(11):112. PMID: 31686263.
Published on 8/30/2018
Mottalib A, Tomah S, Hafida S, Elseaidy T, Kasetty M, Ashrafzadeh S, Hamdy O. Intensive multidisciplinary weight management in patients with type 1 diabetes and obesity: A one-year retrospective matched cohort study. Diabetes Obes Metab. 2019 01; 21(1):37-42. PMID: 30047220.
Published on 6/1/2018
Hafida S, Ganda OP, Gabbay RA. CHAPTER 1. Clinical guideline for adults with diabetes. Am J Manag Care. 2018 06; 24(7 Spec No.):SP209-SP225. PMID: 29938994.
Published on 10/26/2016
Tyrrell JB, Hafida S, Stemmer P, Adhami A, Leff T. Lead (Pb) exposure promotes diabetes in obese rodents. J Trace Elem Med Biol. 2017 Jan; 39:221-226. PMID: 27908418.
Published on 10/1/2016
Hafida S, Mirshahi T, Nikolajczyk BS. The impact of bariatric surgery on inflammation: quenching the fire of obesity? Curr Opin Endocrinol Diabetes Obes. 2016 Oct; 23(5):373-8. PMID: 27455515.
View full list of 8 publications.