Sam Thiagalingam PhD
Associate Professor, Biomedical Genetics
Associate Professor, Pathology & Laboratory Medicine
72 East Concord Street | (617) 358-3688

samthia@bu.edu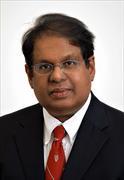 Sections
Biomedical Genetics
Centers
BU-BMC Cancer Center
Evans Center for Interdisciplinary Biomedical Research
Biography
Dr. Thiagalingam is an expert cancer geneticist and was the first to show that SMAD4 inactivation is a critical event during the late stages of colon cancer progression. He was a lead researcher in the team that first identified a family of five novel SMAD genes. He also proposed a simple minded multi-modular molecular network (MMMN) cancer progression model as a road map to visualize the various gene alterations in modules of networks of pathways. Recently, his studies found that intact hyperactive TGFß-Smad signaling is required to sustain "epigenetic memory" responsible for epithelial-mesenchymal transition (EMT), a critical step during conversion to malignant cancer. His long-term goal is to identify novel cancer biomarkers and therapeutic targets by contributing to the "big picture" of interconnected network of events that mediate cancer progression to metastasis using breast and colon cancers as the model systems. In addition to studying the various aspects of cancer, Dr. Thiagalingam has also been interested in taking an interdisciplinary approach to studying epigenomics of other complex diseases such as schizophrenia (SCZ) and bipolar disorder (BD). Recent studies by the lab found that there is asymmetric expression of many genes involved in the TGFB super family signaling pathways and those known to establish left-right asymmetry in SCZ and BD. Research efforts are ongoing to correlate epigenomic alterations in SCZ and BD to pathogenesis to identify effective therapeutic targets and agents.
Other Positions
Websites
Education
PhD, Johns Hopkins University, 1992
MS, Bowling Green State University, 1986
BSc, University of Jaffna, 1982
Publications
Published on 4/12/2023
Abdolmaleky HM, Martin M, Zhou JR, Thiagalingam S. Epigenetic Alterations of Brain Non-Neuronal Cells in Major Mental Diseases. Genes (Basel). 2023 Apr 12; 14(4). PMID: 37107654.
Published on 3/23/2023
Laroche FJF, Li S, Shen N, Hwang SK, Nguyen G, Yu W, Wong CK, Quinton RJ, Berman JN, Liu CT, Singh A, Ganem NJ, Thiagalingam S, Feng H. S1P1 Threonine 236 Phosphorylation Mediates the Invasiveness of Triple-Negative Breast Cancer and Sensitivity to FTY720. Cells. 2023 Mar 23; 12(7). PMID: 37048053.
Published on 6/30/2022
Chung J, Das A, Sun X, Sobreira DR, Leung YY, Igartua C, Mozaffari S, Chou YF, Thiagalingam S, Mez J, Zhang X, Jun GR, Stein TD, Kunkle BW, Martin ER, Pericak-Vance MA, Mayeux R, Haines JL, Schellenberg GD, Nobrega MA, Lunetta KL, Pinto JM, Wang LS, Ober C, Farrer LA. Genome-wide association and multi-omics studies identify MGMT as a novel risk gene for Alzheimer's disease among women. Alzheimers Dement. 2022 Jun 30. PMID: 35770850.
Published on 7/28/2021
Abdolmaleky HM, Zhou JR, Thiagalingam S. Cataloging recent advances in epigenetic alterations in major mental disorders and autism. Epigenomics. 2021 08; 13(15):1231-1245. PMID: 34318684.
Published on 1/23/2020
Thiagalingam S. Epigenetic memory in development and disease: Unraveling the mechanism. Biochim Biophys Acta Rev Cancer. 2020 04; 1873(2):188349. PMID: 31982403.
Published on 1/13/2020
Wong CK, Lambert AW, Ozturk S, Papageorgis P, Lopez D, Shen N, Sen Z, Abdolmaleky HM, Gyorffy B, Feng H, Thiagalingam S. Targeting RICTOR Sensitizes SMAD4-Negative Colon Cancer to Irinotecan. Mol Cancer Res. 2020 03; 18(3):414-423. PMID: 31932471.
Published on 3/28/2019
Wong CK, Gromisch C, Ozturk S, Papageorgis P, Abdolmaleky HM, Reinhard BM, Thiagalingam A, Thiagalingam S. MicroRNA-4417 is a tumor suppressor and prognostic biomarker for triple-negative breast cancer. Cancer Biol Ther. 2019; 20(8):1113-1120. PMID: 30922194.
Published on 2/5/2019
Kalli M, Mpekris F, Wong CK, Panagi M, Ozturk S, Thiagalingam S, Stylianopoulos T, Papageorgis P. Activin A Signaling Regulates IL13Ra2 Expression to Promote Breast Cancer Metastasis. Front Oncol. 2019; 9:32. PMID: 30805303.
Published on 11/23/2018
Abdolmaleky HM, Gower AC, Wong CK, Cox JW, Zhang X, Thiagalingam A, Shafa R, Sivaraman V, Zhou JR, Thiagalingam S. Aberrant transcriptomes and DNA methylomes define pathways that drive pathogenesis and loss of brain laterality/asymmetry in schizophrenia and bipolar disorder. Am J Med Genet B Neuropsychiatr Genet. 2019 03; 180(2):138-149. PMID: 30468562.
Published on 10/18/2016
Nohesara S, Ghadirivasfi M, Barati M, Ghasemzadeh MR, Narimani S, Mousavi-Behbahani Z, Joghataei M, Soleimani M, Taban M, Mehrabi S, Thiagalingam S, Abdolmaleky HM. Methamphetamine-induced psychosis is associated with DNA hypomethylation and increased expression of AKT1 and key dopaminergic genes. Am J Med Genet B Neuropsychiatr Genet. 2016 Dec; 171(8):1180-1189. PMID: 27753212.
View full list of 56 publications.