Rachel P. Simmons MD
Assistant Professor, Infectious Diseases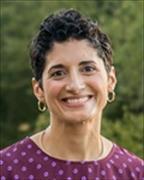 Sections
Infectious Diseases
Biography
Dr. Simmons is an Associate Program Director for the Internal Medicine Residency at Boston University and an Assistant Professor of Medicine in Infectious Disease. Her focus is on medical education and evaluation and assessment. She joined BU/BMC in 2012 from Massachusetts General Hospital where her research projects focused on HIV immunopathogenesis. She provides clinical care to general ID and HIV positive patients at the Center for Infectious Diseases and attends on the internal medicine service and the infectious diseases inpatient consult service.
Education
MD, Johns Hopkins University School of Medicine, 2004
Chemical Engineering, BS, Purdue University, 1999
Publications
Published on 3/23/2021
Knodle R, Demers L, Simmons R. Infectious Complications in Injection Drug Use. MedEdPORTAL. 2021 03 23; 17:11124. PMID: 33816787.
Published on 5/23/2019
Simmons RP, Dudzinski DM, Shepard JO, Hurtado RM, Coffey KC. Case 16-2019: A 53-Year-Old Man with Cough and Eosinophilia. N Engl J Med. 2019 May 23; 380(21):2052-2059. PMID: 31116923.
Published on 10/23/2013
Simmons RP, Scully EP, Groden EE, Arnold KB, Chang JJ, Lane K, Lifson J, Rosenberg E, Lauffenburger DA, Altfeld M. HIV-1 infection induces strong production of IP-10 through TLR7/9-dependent pathways. AIDS. 2013 Oct 23; 27(16):2505-17. PMID: 24096630.
Published on 1/1/2012
Lichterfeld M, Gandhi RT, Simmons RP, Flynn T, Sbrolla A, Yu XG, Basgoz N, Mui S, Williams K, Streeck H, Burgett-Yandow N, Roy G, Janssens M, Pedneault L, Vandepapelière P, Koutsoukos M, Demoitié MA, Bourguignon P, McNally L, Voss G, Altfeld M. Induction of strong HIV-1-specific CD4+ T-cell responses using an HIV-1 gp120/NefTat vaccine adjuvanted with AS02A in antiretroviral-treated HIV-1-infected individuals. J Acquir Immune Defic Syndr. 2012 Jan 1; 59(1):1-9. PMID: 21963936.
Published on 9/23/2011
Jost S, Quillay H, Reardon J, Peterson E, Simmons RP, Parry BA, Bryant NN, Binder WD, Altfeld M. Changes in cytokine levels and NK cell activation associated with influenza. PLoS One. 2011; 6(9):e25060. PMID: 21966414.
Published on 4/1/2005
Monie D, Simmons RP, Nettles RE, Kieffer TL, Zhou Y, Zhang H, Karmon S, Ingersoll R, Chadwick K, Zhang H, Margolick JB, Quinn TC, Ray SC, Wind-Rotolo M, Miller M, Persaud D, Siliciano RF. A novel assay allows genotyping of the latent reservoir for human immunodeficiency virus type 1 in the resting CD4+ T cells of viremic patients. J Virol. 2005 Apr; 79(8):5185-202. PMID: 15795302.
Published on 9/1/2004
Nettles RE, Kieffer TL, Simmons RP, Cofrancesco J, Moore RD, Gallant JE, Persaud D, Siliciano RF. Genotypic resistance in HIV-1-infected patients with persistently detectable low-level viremia while receiving highly active antiretroviral therapy. Clin Infect Dis. 2004 Oct 1; 39(7):1030-7. PMID: 15472857.
View full list of 7 publications.