Poorani N. Goundan MD
Assistant Professor, Endocrinology, Diabetes, Nutrition & Weight Management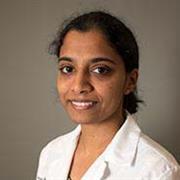 Sections
Endocrinology, Diabetes, Nutrition & Weight Management
Biography
Thyroid Disease and Diabetes
Education
Medicine, MBBS, Sri Ramachandra Medical College and Rese, 2009
Publications
Published on 5/19/2021
Goundan PN, Mamou J, Rohrbach D, Smith J, Patel H, Wallace KD, Feleppa EJ, Lee SL. A Preliminary Study of Quantitative Ultrasound for Cancer-Risk Assessment of Thyroid Nodules. Front Endocrinol (Lausanne). 2021; 12:627698. PMID: 34093429.
Published on 10/1/2020
Goundan PN, Lee SL. Thyroid effects of amiodarone: clinical update. Curr Opin Endocrinol Diabetes Obes. 2020 10; 27(5):329-334. PMID: 32773570.
Published on 8/16/2019
Goundan PN, Willard DL, Sahin-Efe A, Fan SL, Alexanian SM. Comparison of bicarbonate values from venous blood gas and chemistry panels measured at the time of diagnosis and resolution of diabetes ketoacidosis. J Clin Transl Endocrinol. 2019 Dec; 18:100205. PMID: 31508318.
Published on 8/14/2019
Goundan PN, Lee SL. LACK OF A THRESHOLD SIZE FOR AUTONOMOUSLY FUNCTIONING THYROID NODULES THAT EXCLUDES HYPERTHYROIDISM. Endocr Pract. 2019 Dec; 25(12):1263-1267. PMID: 31412235.
Published on 10/16/2015
Goundan P, Junqueira A, Kelleher-Yassen D, Steenkamp D. Fibrocalculous pancreatic diabetes. Minerva Endocrinol. 2016 Mar; 41(1):70-7. PMID: 26472503.
Published on 10/13/2014
Goundan PN, Underwood P, Mantzoros CS. Incretin therapy and beta cell function. Metabolism. 2015 Feb; 64(2):157-9. PMID: 25456457.
Published on 2/14/2010
Goundan PN, Mehrotra A, Mani D, Varadarajan I. Community acquired methicillin-resistant Staphylococcus aureus pneumonia leading to rhabdomyolysis: a case report. Cases J. 2010 Feb 14; 3:61. PMID: 20205915.
Published on 7/7/2009
Ganeshram P, Goundan PN, Jeyachandran V, Arthur P. Five factors contributing to severe rhabdomyolysis in a 21 yr old IV drug abuser: a case report. Cases J. 2009 Jul 07; 2:6479. PMID: 19829812.
View full list of 8 publications.