Paul M. Long MD
Assistant Professor, General Internal Medicine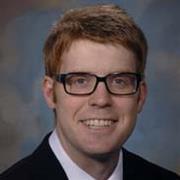 Sections
General Internal Medicine
Biography
Paul Long, MD is an Assistant Professor of Medicine in General Internal Medicine at the Boston University School of Medicine. During his time as a medical student and a few years after graduation, Dr. Long worked as a research fellow at Mercy Hospital in India before coming to Boston University. For his work there and teaching, he received the Arnold P. Gold Foundation Humanism and Excellence in Teaching Award and was inducted into the Gold Humanism Honor Society. Since then, he has written papers on antimicrobial beads, diabetes, and pulmonary echinococcus and regularly gives presentations in addition to teaching residents.
Websites
Education
Medicine-Internal, MD, University of Utah School of Medicine, 2013
Biochemistry, BA, Whitworth University, 2008
Publications
Published on 8/1/2017
Long KNG, Gren LH, Long PM, Jaggi R, Banik S, Mihalopoulos NL. A picture of Indian adolescent mental health: an analysis from three urban secondary schools. Int J Adolesc Med Health. 2017 Aug 01; 31(4). PMID: 28782345.
Published on 1/1/2015
Long PM, Long KNG, Kedia A, Gren LH, Smith A, Biswas J. A Cross-Sectional Study of Diabetic Knowledge in West Bengal, India; an Analysis Based on Access to Healthcare. Int J Diabetes Dev Ctries. 2015; 35(4):614-619.
Published on 1/1/2015
Long PM. Treating Illness in the Context of the Patient's Story: Lessons Learned from a Refugee Health Clinic. SGIM Forum. 2015; 38(10).
Published on 2/16/2013
Long KN, Long PM, Pinto S, Crookston BT, Gren LH, Mihalopoulos NL, Dickerson TT, Alder SC. Development and validation of the Indian Adolescent Health Questionnaire. J Trop Pediatr. 2013 Jun; 59(3):231-42. PMID: 23418132.
View full list of 4 publications.