Orian S. Shirihai MD, PhD
Adjunct Associate Professor, Gastroenterology
Graduate Faculty (Primary Mentor of Grad Students)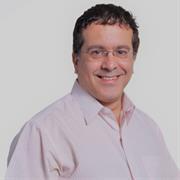 Centers
Evans Center for Interdisciplinary Biomedical Research
Biography
Expertise includes: Mitochondial biology; Mitochondrial bioenergetics; Mitochondrial dynamics; Imaging of mitochondrial architecture and function; Microscopy.
Other Positions
Websites
Education
MD, Technion - Israel Institute of Technology, 1997
Physiology, PhD, Technion - Israel Institute of Technology, 1997
Medical Sciences & Management, BSc, Technion - Israel Institute of Technology, 1992
Publications
Published on 12/1/2021
Kelesidis T, Madhav S, Petcherski A, Cristelle H, O'Connor E, Hultgren NW, Ritou E, Williams DS, Shirihai OS, Reddy ST. The ApoA-I mimetic peptide 4F attenuates in vitro replication of SARS-CoV-2, associated apoptosis, oxidative stress and inflammation in epithelial cells. Virulence. 2021 12; 12(1):2214-2227. PMID: 34494942.
Published on 9/17/2021
Ngo J, Osto C, Villalobos F, Shirihai OS. Mitochondrial Heterogeneity in Metabolic Diseases. Biology (Basel). 2021 Sep 17; 10(9). PMID: 34571805.
Published on 9/10/2021
Acin-Perez R, Benincá C, Shabane B, Shirihai OS, Stiles L. Utilization of Human Samples for Assessment of Mitochondrial Bioenergetics: Gold Standards, Limitations, and Future Perspectives. Life (Basel). 2021 Sep 10; 11(9). PMID: 34575097.
Published on 8/31/2021
Alysandratos KD, Russo SJ, Petcherski A, Taddeo EP, Acín-Pérez R, Villacorta-Martin C, Jean JC, Mulugeta S, Rodriguez LR, Blum BC, Hekman RM, Hix OT, Minakin K, Vedaie M, Kook S, Tilston-Lunel AM, Varelas X, Wambach JA, Cole FS, Hamvas A, Young LR, Liesa M, Emili A, Guttentag SH, Shirihai OS, Beers MF, Kotton DN. Patient-specific iPSCs carrying an SFTPC mutation reveal the intrinsic alveolar epithelial dysfunction at the inception of interstitial lung disease. Cell Rep. 2021 Aug 31; 36(9):109636. PMID: 34469722.
Published on 7/30/2021
Acín-Perez R, Petcherski A, Veliova M, Benador IY, Assali EA, Colleluori G, Cinti S, Brownstein AJ, Baghdasarian S, Livhits MJ, Yeh MW, Krishnan KC, Vergnes L, Winn NC, Padilla J, Liesa M, Sacks HS, Shirihai OS. Recruitment and remodeling of peridroplet mitochondria in human adipose tissue. Redox Biol. 2021 Oct; 46:102087. PMID: 34411987.
Published on 1/28/2021
Rai P, Janardhan KS, Meacham J, Madenspacher JH, Lin WC, Karmaus PWF, Martinez J, Li QZ, Yan M, Zeng J, Grinstaff MW, Shirihai OS, Taylor GA, Fessler MB. IRGM1 links mitochondrial quality control to autoimmunity. Nat Immunol. 2021 03; 22(3):312-321. PMID: 33510463.
Published on 1/1/2021
Miller N, Wolf D, Alsabeeh N, Mahdaviani K, Segawa M, Liesa M, Shirihai OS. High-Throughput Image Analysis of Lipid-Droplet-Bound Mitochondria. Methods Mol Biol. 2021; 2276:285-303. PMID: 34060050.
Published on 12/30/2020
Ngo J, Benador IY, Brownstein AJ, Vergnes L, Veliova M, Shum M, Acín-Pérez R, Reue K, Shirihai OS, Liesa M. Isolation and functional analysis of peridroplet mitochondria from murine brown adipose tissue. STAR Protoc. 2021 Mar 19; 2(1):100243. PMID: 33458705.
Published on 12/3/2020
Veliova M, Ferreira CM, Benador IY, Jones AE, Mahdaviani K, Brownstein AJ, Desousa BR, Acín-Pérez R, Petcherski A, Assali EA, Stiles L, Divakaruni AS, Prentki M, Corkey BE, Liesa M, Oliveira MF, Shirihai OS. Blocking mitochondrial pyruvate import in brown adipocytes induces energy wasting via lipid cycling. EMBO Rep. 2020 12 03; 21(12):e49634. PMID: 33275313.
Published on 12/1/2020
Shum M, Ngo J, Shirihai OS, Liesa M. Mitochondrial oxidative function in NAFLD: Friend or foe? Mol Metab. 2021 Aug; 50:101134. PMID: 33276146.
View full list of 154 publications.