Megan Gerber MD, MPH
Associate Professor, General Internal Medicine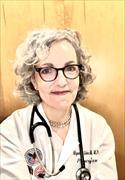 Sections
General Internal Medicine
Biography
Dr. Gerber is a nationally recognized expert in intimate partner violence (IPV) detection and intervention in medical settings and on trauma-informed primary care. Her research has focused on medical outcomes after interpersonal trauma. She currently serves as the Medical Director of women's health at VA Boston Healthcare System (VABHS) and was appointed as Senior Consultant to Women's Health Services, VA Central Office in October, 2016. Dr. Gerber co-chaired the national VA Taskforce on IPV that drafted and implemented system-wide guidelines and recommendations. She leads the Boston site for the VA Women's Health Practice-Based Research Network and serves as the Boston site director for the BU-VABHS Women's Health Fellowship. In 2014, she received the David Littman Award for excellence in clinical care and teaching at VA Boston. Dr. Gerber is the editor of Trauma-informed Healthcare Approaches: A Guide for Primary Care (Springer, 2019), https://www.springer.com/us/book/9783030043414
Websites
Education
Medicine-Internal, MD, Pennsylvania State University, 1991
MPH, Harvard School of Public Health, 2001
BA, University of Pennsylvania, 1984
Publications
Published on 6/10/2021
Iverson KM, Danitz SB, Driscoll M, Vogt D, Hamilton AB, Gerber MR, Wiltsey Stirman S, Shayani DR, Suvak MK, Dichter ME. Recovering from intimate partner violence through Strengths and Empowerment (RISE): Development, pilot testing, and refinement of a patient-centered brief counseling intervention for women. Psychol Serv. 2021 Jun 10. PMID: 34110870.
Published on 3/1/2021
Adjognon OL, Brady JE, Gerber MR, Dichter ME, Grillo AR, Hamilton AB, Stirman SW, Iverson KM. Getting Routine Intimate Partner Violence Screening Right: Implementation Strategies Used in Veterans Health Administration (VHA) Primary Care. J Am Board Fam Med. 2021 Mar-Apr; 34(2):346-356. PMID: 33833003.
Published on 11/18/2020
Portnoy GA, Iverson KM, Haskell SG, Czarnogorski M, Gerber MR. A Multisite Quality Improvement Initiative to Enhance the Adoption of Screening Practices for Intimate Partner Violence Into Routine Primary Care for Women Veterans. Public Health Rep. 2021 Jan/Feb; 136(1):52-60. PMID: 33207128.
Published on 7/28/2020
Gerber MR. The Things They Carry: Veterans and the COVID-19 Pandemic. J Gen Intern Med. 2020 Oct; 35(10):3093-3094. PMID: 32725472.
Published on 7/22/2020
Katon JG, Callegari LS, Bossick AS, Fortney J, Gerber MR, Lehavot K, Lynch KE, Ma E, Smith R, Tartaglione E, Gray KE. Association of Depression and Post-Traumatic Stress Disorder with Receipt of Minimally Invasive Hysterectomy for Uterine Fibroids: Findings from the U.S. Department of Veterans Affairs. Womens Health Issues. 2020 Sep - Oct; 30(5):359-365. PMID: 32712008.
Published on 7/1/2020
Gerber MR, Elisseou S, Sager ZS, Keith JA. Trauma-Informed Telehealth in the COVID-19 Era and Beyond. Fed Pract. 2020 Jul; 37(7):302-308. PMID: 32908333.
Published on 5/7/2020
Iverson KM, Dichter ME, Stolzmann K, Adjognon OL, Lew RA, Bruce LE, Gerber MR, Portnoy GA, Miller CJ. Assessing the Veterans Health Administration's response to intimate partner violence among women: protocol for a randomized hybrid type 2 implementation-effectiveness trial. Implement Sci. 2020 05 07; 15(1):29. PMID: 32381013.
Published on 11/27/2019
Danitz SB, Stirman SW, Grillo AR, Dichter ME, Driscoll M, Gerber MR, Gregor K, Hamilton AB, Iverson KM. When user-centered design meets implementation science: integrating provider perspectives in the development of an intimate partner violence intervention for women treated in the United States' largest integrated healthcare system. BMC Womens Health. 2019 11 27; 19(1):145. PMID: 31771557.
Published on 11/18/2019
Katon JG, Gerber MR, Nillni YI, Patton EW. Consequences of Military Sexual Trauma for Perinatal Mental Health: How Do We Improve Care for Pregnant Veterans with a History of Sexual Trauma? J Womens Health (Larchmt). 2020 01; 29(1):5-6. PMID: 31738642.
Published on 8/16/2019
Iverson KM, Adjognon O, Grillo AR, Dichter ME, Gutner CA, Hamilton AB, Stirman SW, Gerber MR. Intimate Partner Violence Screening Programs in the Veterans Health Administration: Informing Scale-up of Successful Practices. J Gen Intern Med. 2019 11; 34(11):2435-2442. PMID: 31420827.
View full list of 45 publications.