Maria Isabel Isabel Dominguez PhD
Assistant Professor, Hematology & Medical Oncology
Member, Genome Science Institute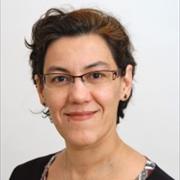 Sections
Hematology & Medical Oncology
Centers
BU-BMC Cancer Center
Evans Center for Interdisciplinary Biomedical Research
Biography
The long-standing interest of my laboratory is the regulation of signaling pathways, including understanding the molecular mechanisms of action of signaling components in normal biological processes and in disease processes. We are currently focused on understanding the cascade of intracellular events that leads to the activation of Wnt/ß-catenin signaling and the biological role of the Wnt/ß-catenin pathway during embryonic development and in disease. We employ three experimental systems: Xenopus laevis, mice, and cultured cell lines and primary cells. We use these systems to gain information on gene functions with the goal to uncover and characterize biochemical and developmental mechanisms that could ultimately be used to prevent Wnt/beta-catenin deregulation in congenital and adult diseases. Our areas of interest are:

1. To characterize the molecular mechanism leading to activation (stabilization and nuclear translocation) of ß-catenin, the key intracellular Wnt component that is activated in many human tumors

2. To define the role of Wnt/ß-catenin signaling during embryonic development, including its role in dorso-ventral axis formation and organ morphogenesis

3. To determine how deregulation of Wnt/ß-catenin components leads to diseases such as cancer and congenital defects

.
Other Positions
Assistant Dean, Diversity & Inclusion
Websites
Education
PhD, Universidad Autónoma de Madrid, 1994
MSc, University of the Basque Country, 1989
BS, University of the Basque Country, 1988
Publications
Published on 11/21/2020
Guerra B, Dembic M, Siddiqui MA, Dominguez I, Ceppi P, Andresen BS. Down-Regulation of CK2a Leads toUp-Regulation of the Cyclin-Dependent Kinase Inhibitor p27KIP1 in Conditions Unfavorable for the Growth of Myoblast Cells. Cell Physiol Biochem. 2020 Nov 21; 54(6):1177-1198. PMID: 33216476.
Published on 6/1/2020
Dominguez I, Zumwalt AC. Integrating the basic sciences in medical curricula: focus on the basic scientists. Adv Physiol Educ. 2020 Jun 01; 44(2):119-123. PMID: 32108509.
Published on 1/1/2020
Bolgioni, AF, Barbercheck,CR, Hokanson, SC, Dominguez, I, Spencer, JL, Hyman, LE, Schreiber BM. BEST: Implementing Career Development Activities for Biomedical Research Trainees. BU's BEST: Using biomedical workforce data to inform curriculum and influence career exploration. Academic Press. San Diego. 2020; 1-10.
Published on 10/10/2019
Schaefer S, Doktor TK, Frederiksen SB, Chea K, Hlavacova M, Bruun GH, Rabjerg M, Andresen BS, Dominguez I, Guerra B. Down-regulation of CK2a correlates with decreased expression levels of DNA replication minichromosome maintenance protein complex (MCM) genes. Sci Rep. 2019 10 10; 9(1):14581. PMID: 31601942.
Published on 6/4/2019
Ann C. Zumwalt, Isabel Dominguez. Integrating the Educators: Outcomes of a Pilot Program to Prime Basic Science Medical Educators for Success in Integrated Curricula. Medical Science Educator. 2019; 29(3):637–642.
Published on 4/4/2019
Marivin A, Morozova V, Walawalkar I, Leyme A, Kretov DA, Cifuentes D, Dominguez I, Garcia-Marcos M. GPCR-independent activation of G proteins promotes apical cell constriction in vivo. J Cell Biol. 2019 05 06; 218(5):1743-1763. PMID: 30948426.
Published on 12/4/2017
Chua MMJ, Lee M, Dominguez I. Cancer-type dependent expression of CK2 transcripts. PLoS One. 2017; 12(12):e0188854. PMID: 29206231.
Published on 11/13/2017
Leyme A, Marivin A, Maziarz M, DiGiacomo V, Papakonstantinou MP, Patel PP, Blanco-Canosa JB, Walawalkar IA, Rodriguez-Davila G, Dominguez I, Garcia-Marcos M. Specific inhibition of GPCR-independent G protein signaling by a rationally engineered protein. Proc Natl Acad Sci U S A. 2017 11 28; 114(48):E10319-E10328. PMID: 29133411.
Published on 4/29/2017
Lee M, Chea K, Pyda R, Chua M, Dominguez I. Comparative Analysis of Non-viral Transfection Methods in Mouse Embryonic Fibroblast Cells. J Biomol Tech. 2017 Jul; 28(2):67-74. PMID: 28507462.
Published on 1/28/2017
Chua MM, Ortega CE, Sheikh A, Lee M, Abdul-Rassoul H, Hartshorn KL, Dominguez I. CK2 in Cancer: Cellular and Biochemical Mechanisms and Potential Therapeutic Target. Pharmaceuticals (Basel). 2017 Jan 28; 10(1). PMID: 28134850.
View full list of 49 publications.