Maria Isabel Dominguez PhD
Assistant Professor, Hematology & Medical Oncology
Member, Genome Science Institute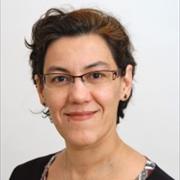 Sections
Hematology & Medical Oncology
Centers
BU-BMC Cancer Center
Evans Center for Interdisciplinary Biomedical Research
Biography
My laboratory focuses on the role of Wnt/ß-catenin signaling components post-fertilization and in organ development, and how their deregulation leads to diseases such as cancer and congenital diseases. We have made important contributions to this field, identifying novel mechanisms of action for the Ser/Thr kinases CK2 and GSK3ß in Wnt/ß-catenin signaling and embryo development, some of which are now included in developmental biology textbooks (and even in fiction novels/movies). Our innovative work on the transcript expression of CK2 genes in cancer created a paradigm shift in the field and opened new avenues of research ("Mining CK2 in Cancer" was on the top 10% most cited articles by 2017). Recently, we are pioneering the use of the Xenopus laevis model system to the study of rare neurodevelopmental diseases. Our research has been funded from federal and non-federal agencies, disseminated in peer-reviewed publications, and widely reproduced by other researchers. We use complementary experimental and computational approaches, and models such as frogs and mice, cell culture and in vitro assays. We integrate biological and clinical data to understand the mechanisms of disease progression which can be used to develop appropriate therapeutic approaches. My laboratory has 3 research interests:


1. Define the molecular and biological mechanisms underlying rare human neurodevelopmental disorders syndromes Okur-Chung Neurodevelopmental Syndrome (OCNDS, OMIM #617062) and Poirier-Bienvenu Neurodevelopmental Syndrome (POBINDS, OMIM # 618732), characterized by intellectual disability/autism and epilepsy, respectively. OCNDS and POBINDS are attributed to de novo (germline non-inherited) variants in the genes CSNK2A1 and CSNK2B, respectively; genes that code for subunits of a kinase that we are experts on, CK2.

2. dentifying the molecular mechanisms controlling the activation of Wnt/ß-catenin signaling, which are still elusive despite the fact that Wnt/ß-catenin signaling deregulation causes several human diseases (e.g. cancer and congenital disease). Our aim is to understand of the molecular events leading to ß-catenin activation, which will help develop novel and specific inhibitors for the treatment of cancers with upregulated nuclear ß-catenin levels.

3. Defining the alterations of CK2 genes in tumor types. CK2 has been proposed for a number of years as a therapeutic target for cancer, as it was found to be upregulated in a small subset of patient tumor samples. Indeed, there are clinical trials in place to test CK2 inhibitors. However, we do not have a whole picture of the expression of CK2 genes in cancer that can direct therapeutic approaches, in particular studies that take advantage of large patient databases are missing.

. . . . . . . . . . . . . . . . . . . . . . . . . . . . . . . . . . . . . . . . . . . . . . . . . . . . . . . . . . . . . . . . . . . . . .
.
Other Positions
Education
PhD, Universidad Autónoma de Madrid, 1994
MSc, University of the Basque Country, 1989
BS, University of the Basque Country, 1988
Publications
Published on 10/13/2022
Unni P, Friend J, Weinberg J, Okur V, Hochscherf J, Dominguez I. Predictive functional, statistical and structural analysis of CSNK2A1 and CSNK2B variants linked to neurodevelopmental diseases. Front Mol Biosci. 2022; 9:851547. PMID: 36310603.
Published on 7/15/2021
Brandt PD, Sturzenegger Varvayanis S, Baas T, Bolgioni AF, Alder J, Petrie KA, Dominguez I, Brown AM, Stayart CA, Singh H, Van Wart A, Chow CS, Mathur A, Schreiber BM, Fruman DA, Bowden B, Wiesen CA, Golightly YM, Holmquist CE, Arneman D, Hall JD, Hyman LE, Gould KL, Chalkley R, Brennwald PJ, Layton RL. A cross-institutional analysis of the effects of broadening trainee professional development on research productivity. PLoS Biol. 2021 07; 19(7):e3000956. PMID: 34264929.
Published on 5/4/2021
Dominguez I, Cruz-Gamero JM, Corasolla V, Dacher N, Rangasamy S, Urbani A, Narayanan V, Rebholz H. Okur-Chung neurodevelopmental syndrome-linked CK2a variants have reduced kinase activity. Hum Genet. 2021 Jul; 140(7):1077-1096. PMID: 33944995.
Published on 11/21/2020
Guerra B, Dembic M, Siddiqui MA, Dominguez I, Ceppi P, Andresen BS. Down-Regulation of CK2a Leads toUp-Regulation of the Cyclin-Dependent Kinase Inhibitor p27KIP1 in Conditions Unfavorable for the Growth of Myoblast Cells. Cell Physiol Biochem. 2020 Nov 21; 54(6):1177-1198. PMID: 33216476.
Published on 6/1/2020
Dominguez I, Zumwalt AC. Integrating the basic sciences in medical curricula: focus on the basic scientists. Adv Physiol Educ. 2020 Jun 01; 44(2):119-123. PMID: 32108509.
Published on 1/1/2020
Bolgioni, AF, Barbercheck,CR, Hokanson, SC, Dominguez, I, Spencer, JL, Hyman, LE, Schreiber BM. BEST: Implementing Career Development Activities for Biomedical Research Trainees. BU's BEST: Using biomedical workforce data to inform curriculum and influence career exploration. Academic Press. San Diego. 2020; 1-10.
Published on 11/22/2019
Zumwalt AC, Dominguez I. Correction to: Integrating the Educators: Outcomes of a Pilot Program to Prime Basic Science Medical Educators for Success in Integrated Curricula. Med Sci Educ. 2019 Dec; 29(4):1157-1158. PMID: 34459837.
Published on 10/10/2019
Schaefer S, Doktor TK, Frederiksen SB, Chea K, Hlavacova M, Bruun GH, Rabjerg M, Andresen BS, Dominguez I, Guerra B. Down-regulation of CK2a correlates with decreased expression levels of DNA replication minichromosome maintenance protein complex (MCM) genes. Sci Rep. 2019 10 10; 9(1):14581. PMID: 31601942.
Published on 6/4/2019
Ann C. Zumwalt, Isabel Dominguez. Integrating the Educators: Outcomes of a Pilot Program to Prime Basic Science Medical Educators for Success in Integrated Curricula. Medical Science Educator. 2019; 29(3):637–642.
Published on 4/4/2019
Marivin A, Morozova V, Walawalkar I, Leyme A, Kretov DA, Cifuentes D, Dominguez I, Garcia-Marcos M. GPCR-independent activation of G proteins promotes apical cell constriction in vivo. J Cell Biol. 2019 05 06; 218(5):1743-1763. PMID: 30948426.
View full list of 53 publications.