Maggie Ruderman MS, CGC
Assistant Professor, Hematology & Medical Oncology
820 Harrison Ave | (617) 638-7011

maggier@bu.edu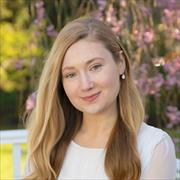 Sections
Hematology & Medical Oncology
Biography
Maggie received a BS in Biology and Biotechnology from Endicott College and an MS in Genetic Counseling from Chobanian and Avedisian School of Medicine. During her time in the BUGC program, she enjoyed interfacing with the exceptional patients and providers at Boston Medical Center and formally joined the Genetics team following graduation. She is a clinical genetic counselor in the Cancer Center at Boston Medical Center and appreciates the opportunity to come together with patients to discuss how genetic information can impact their health. Improving healthcare equity and access to genetic services are some of Maggie's primary focuses. Her research centers around the impact of systemic exclusion of diverse communities in the field of genetics, particularly related to trust, awareness, accessibility, and variant interpretation. She recently joined Dr. Catharine Wang and team at the Black Women's Health Study on a trial returning cancer genetic research results to participants across the country. Outside of genetics, Maggie is a figure skating coach and enjoys supporting skaters throughout their journey in the sport.
Websites
Education
Genetic Counseling, MS, Boston University, 2020
Biology/Biotechnology, BS, Endicott College, 2016
Publications
Published on 2/17/2021
Ruderman M, Berro T, Torrey Sosa L, Zayhowski K. Genetic counselors' experiences with transgender individuals in prenatal and preconception settings. J Genet Couns. 2021 08; 30(4):1105-1118. PMID: 33599075.
View full list of 1 publications.