Lisa M. Quintiliani PhD
Associate Professor, General Internal Medicine
Associate Professor, Community Health Sciences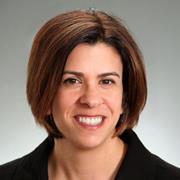 Sections
General Internal Medicine
Centers
BU-BMC Cancer Center
Boston Nutrition Obesity Research Center
Evans Center for Interdisciplinary Biomedical Research
Biography
My expertise is behavioral science intervention research, particularly in the areas of nutrition, physical activity, weight management, and smoking cessation. My goal is to effectively design (often using qualitative methods), implement, and evaluate eHealth/mHealth approaches for behavioral risk reduction for the prevention of chronic diseases in multiple populations that face health disparities, in particular low income groups. Emerging areas of research interest include developing mHealth applications for lifestyle changes among cancer survivors, promoting proficiency in motivational interviewing counseling among practitioners, multi-level approaches to health behavior change, and promoting advance care planning preferences congruent with patients' wishes. Together with my colleagues, Drs. Belinda Borrelli and Tibor Palfai, I am also the Co-Director of the Mobile and Electronic Health ARC (Affinity Research Collaborative) at Boston University.
Other Positions
Education
Nutrition/Food Science, PhD, University of North Carolina at Chapel Hill, 2006
Nutrition/Food Science, MA, University of Massachusetts Amherst, 2000
Nutrition/Food Science, BS, Syracuse University, 1999
Publications
Published on 6/17/2021
Singleton CR, Adeyemi OS, Parab KV, Roehll AM, Flores E, Adams AM, Quintiliani LM, Bell BM, Dulin-Keita A. Society of Behavioral Medicine (SBM) position statement: provide funding for incentive programs to expand healthy food offerings in SNAP-authorized small food stores. Transl Behav Med. 2021 06 17; 11(6):1283-1285. PMID: 33200771.
Published on 5/7/2021
Martinez RN, Smith BM, Etingen B, Houston TK, Shimada SL, Amante DJ, Patterson A, Richardson LM, Vandenberg G, Cutrona SL, Quintiliani LM, Frisbee KL, Hogan TP. Health-Related Goal Setting and Achievement Among Veterans with High Technology Adoption. J Gen Intern Med. 2021 May 07. PMID: 33963510.
Published on 4/7/2021
Borrelli B, Endrighi R, Quintiliani LM, Hughes RB, Pagoto S. Facebook usage, participation patterns, and social support from Facebook activity among smokers with mobility impairments. Transl Behav Med. 2021 04 07; 11(3):882-890. PMID: 33710308.
Published on 3/16/2021
Quintiliani LM, Whiteley JA, Murillo J, Lara R, Jean C, Quinn EK, Kane J, Crouter SE, Heeren TC, Bowen DJ. Community health worker-delivered weight management intervention among public housing residents: A feasibility study. Prev Med Rep. 2021 Jun; 22:101360. PMID: 33816090.
Published on 1/21/2021
Quintiliani LM, Whiteley JA, Zhu J, Quinn EK, Murillo J, Lara R, Kane J. Examination of Food Insecurity, Socio-Demographic, Psychosocial, and Physical Factors among Residents in Public Housing. Ethn Dis. 2021; 31(1):159-164. PMID: 33519166.
Published on 1/7/2021
Heaton B, Wright JA, Bond JC, Quintiliani LM. A measure development study of sugar-sweetened beverage-related knowledge, self-efficacy, and intention among urban, low-income adults. BMC Public Health. 2021 01 07; 21(1):69. PMID: 33413264.
Published on 11/29/2020
Jia J, Jenkins AJ, Quintiliani LM, Truong V, Lasser KE. Resilience and diabetes self-management among African-American men receiving primary care at an urban safety-net hospital: a cross-sectional survey. Ethn Health. 2020 Nov 29; 1-10. PMID: 33249921.
Published on 9/15/2020
Quintiliani LM, Kathuria H, Truong V, Murillo J, Borrelli B, Xuan Z, Lasser KE. Patient navigation among recently hospitalized smokers to promote tobacco treatment: Results from a randomized exploratory pilot study. Addict Behav. 2021 02; 113:106659. PMID: 33010473.
Published on 5/7/2020
Weerahandi H, Paul S, Quintiliani LM, Chokshi S, Mann DM. A Mobile Health Coaching Intervention for Controlling Hypertension: Single-Arm Pilot Pre-Post Study. JMIR Form Res. 2020 May 07; 4(5):e13989. PMID: 32379049.
Published on 4/20/2020
Rawson KS, Cavanaugh JT, Colon-Semenza C, DeAngelis T, Duncan RP, Fulford D, LaValley MP, Mazzoni P, Nordahl T, Quintiliani LM, Saint-Hilaire M, Thomas CA, Earhart GM, Ellis TD. Design of the WHIP-PD study: a phase II, twelve-month, dual-site, randomized controlled trial evaluating the effects of a cognitive-behavioral approach for promoting enhanced walking activity using mobile health technology in people with Parkinson-disease. BMC Neurol. 2020 Apr 20; 20(1):146. PMID: 32312243.
View full list of 76 publications.