Lindsey A Hildebrand
Instructor, Hematology & Medical Oncology
820 Harrison Ave | (617) 638-7012

lhildebr@bu.edu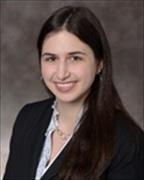 Sections
Hematology & Medical Oncology
Websites
Education
Medicine, MD, University of Massachusetts Worcester, 2018
Psychology, BA, Wellesley College, 2011
Publications
Published on 5/26/2021
Hildebrand LA, Dumas B, Milrod CJ, Hudspeth JC. Folate Deficiency in an Urban Safety Net Population. Am J Med. 2021 Oct; 134(10):1265-1269. PMID: 34051149.
Published on 1/21/2021
Hildebrand LA, Pierce CJ, Dennis M, Paracha M, Maoz A. Artificial Intelligence for Histology-Based Detection of Microsatellite Instability and Prediction of Response to Immunotherapy in Colorectal Cancer. Cancers (Basel). 2021 Jan 21; 13(3). PMID: 33494280.
View full list of 2 publications.