Kristen Sang-Ah Lee MD
Assistant Professor, General Internal Medicine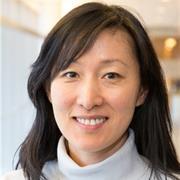 Sections
General Internal Medicine
Biography
Kristen Lee, MD is an Assistant Professor of Medicine at the Chobanian and Avedisian School of Medicine. Her research interests include quality improvement in hepatitis C care in primary care settings. Dr. Lee currently serves as the medical director of the Adult Primary Care Hepatitis C Treatment Program at Boston Medical Center.
Websites
Education
Medicine-Internal, MD, University of California, San Diego, 2012
Biochemistry, BS, University of California, Los Angeles, 2006
Publications
Published on 1/1/2022
O'Brien M, Daws R, Amin P, Lee K. Utilizing Telemedicine and Modified Fibrosis Staging Protocols to Maintain Treatment Initiation and Adherence Among Hepatitis C Patients During the COVID-19 Pandemic. J Prim Care Community Health. 2022 Jan-Dec; 13:21501319221108000. PMID: 35748428.
Published on 2/11/2020
Lee KS, Quintiliani L, Heinz A, Johnson NL, Xuan Z, Truong V, Lasser KE. A financial incentive program to improve appointment attendance at a safety-net hospital-based primary care hepatitis C treatment program. PLoS One. 2020; 15(2):e0228767. PMID: 32045447.
Published on 4/25/2019
Graves SK, Augusto O, Viegas SO, Lederer P, David C, Lee K, Hassane A, Cossa A, Amade S, Peleve S, Zindoga P, Massawo L, Torriani FJ, Nunes EA. Tuberculosis infection risk, preventive therapy care cascade and incidence of tuberculosis disease in healthcare workers at Maputo Central Hospital. BMC Infect Dis. 2019 Apr 25; 19(1):346. PMID: 31023260.
Published on 11/1/2018
Worcester, J., D'Afflitti, J., Pace, C., Lee, K., Lasser, K. Achieving Productivity Expectations among General Internal Medicine Clinicians at an Urban Safety-Net Academic Medical Center. The Journal of Medical Practice Management. 2018; 34(3):190-5.
Published on 10/1/2018
D'Afflitti J, Lee K, Jacobs M, Pace C, Worcester J, Thornton S, Lasser KE. Improving Provider Experience and Increasing Patient Access Through Nurse Practitioner-Physician Primary Care Teams. J Ambul Care Manage. 2018 Oct/Dec; 41(4):308-313. PMID: 30148771.
Published on 4/8/2015
Preziosi M, Zimba TF, Lee K, Tomas M, Kinlin S, Nhatave-Paiva C, Bene R, Paunde T, Lopes H, Kalkhoff S, Prathap V, Akrami K, Noormahomed EV, Schooley RT, Aronoff-Spencer E. A prospective observational study of bacteraemia in adults admitted to an urban Mozambican hospital. S Afr Med J. 2015 Apr 08; 105(5):370-4. PMID: 26242671.
View full list of 6 publications.