Katarzyna Gilek-Seibert MD
Voluntary Assistant Professor, General Internal Medicine
72 E. Concord Street | (617) 358-7492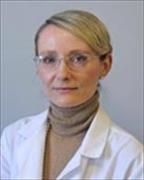 Sections
General Internal Medicine
Biography
Dr Gilek earned her MD at the Silesian School of Medicine in Poland and completed medical residency at North Shore Medical Center in Salem Massachusetts, where she was selected to be Chief Medical Resident. She was a member of the academic medical faculty at North Shore for several years before entering Rheumatology Fellowship at the UT Southwestern Medical Center in Dallas, Texas. Dr Gilek is fluent in English and Polish, and board certified in Internal Medicine and Rheumatology. Her clinical and research interests include rheumatoid arthritis, inflammatory myopathy, and vasculitis, and she is ACR certified in musculoskeletal ultrasound.
Education
Medicine, MD, Medical University of Silesia, 2001
Publications
Published on 6/1/2021
Maher L, Giampaolo G, Gilek-Seibert K. Bedside learning in the time of Corona. R I Med J (2013). 2021 06 01; 104(5):64-66. PMID: 34044446.
Published on 12/1/2016
Cunha JS, Gilek-Seibert K. Systemic Lupus Erythematosus: A Review of the Clinical Approach to Diagnosis and Update on Current Targeted Therapies. R I Med J (2013). 2016 Dec 01; 99(12):23-27. PMID: 27902995.
Published on 11/1/2013
Gilek-Seibert K, Prescott K, Kazi S. Outcome assessments in rheumatoid arthritis. Curr Rheumatol Rep. 2013 Nov; 15(11):370. PMID: 24072601.
View full list of 3 publications.