Kari Gillmeyer MD, MSc
Assistant Professor, Pulmonary, Allergy, Sleep & Critical Care Medicine
72 E. Concord Street | (617) 358-2800

krgill@bu.edu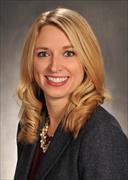 Sections
Pulmonary, Allergy, Sleep & Critical Care Medicine
Biography
Dr. Gillmeyer is a health services researcher with a career dedicated to improving quality of care and outcomes for vulnerable patients. Dr. Gillmeyer's work focuses on pulmonary hypertension, a devastating, progressive disease that exerts a heavy burden on patients and health systems. Through her research, Dr. Gillmeyer hopes to improve the quality, safety, and equity of pulmonary hypertension care and to mitigate health disparities in pulmonary hypertension.
Education
Medicine, MD, University of Minnesota Medical School, 2012
Biology, BS, South Dakota State University, 2007
Publications
Published on 7/1/2022
Johnson SW, Gillmeyer KR, Bolton RE, McCullough MB, Qian SX, Maron BA, Klings ES, Wiener RS. Variable Monitoring of Veterans with Group 3 Pulmonary Hypertension Treated with Off-Label Pulmonary Vasodilator Therapy. Ann Am Thorac Soc. 2022 Jul; 19(7):1236-1239. PMID: 35312466.
Published on 6/9/2022
Lui JK, Gillmeyer KR, Sangani RA, Smyth RJ, Gopal MDM, Trojanowski MA, Bujor AM, Wiener RS, LaValley MP, Klings ES. A Multimodal Prediction Model for Diagnosing Pulmonary Hypertension in Systemic Sclerosis. Arthritis Care Res (Hoboken). 2022 Jun 09. PMID: 35678779.
Published on 5/18/2022
Rampon G, Jia S, Agrawal R, Arnold N, Martín-Quir?s A, Fischer EA, Malatack J, Jagan N, Sergew A, Case AH, Miller K, Tanios M, Doros G, Ross CS, Garcia MA, Gillmeyer KR, Griffiths NG, Jandali B, Modzelewski KL, Rucci JM, Simpson SQ, Walkey AJ, Bosch NA. Smartphone-Guided Self-prone Positioning vs Usual Care in Nonintubated Hospital Ward Patients With COVID-19: A Pragmatic Randomized Clinical Trial. Chest. 2022 Oct; 162(4):782-791. PMID: 35597286.
Published on 9/1/2021
Garcia MA, Rampon GL, Doros G, Jia S, Jagan N, Gillmeyer K, Berical A, Hudspeth J, Ieong M, Modzelewski KL, Schechter-Perkins EM, Ross CS, Rucci JM, Simpson S, Walkey AJ, Bosch NA. Rationale and Design of the Awake Prone Position for Early Hypoxemia in COVID-19 Study Protocol: A Clinical Trial. Ann Am Thorac Soc. 2021 09; 18(9):1560-1566. PMID: 33647225.
Published on 4/1/2021
Gillmeyer KR, Miller DR, Glickman ME, Qian SX, Klings ES, Maron BA, Hanlon JT, Rinne ST, Wiener RS. Outcomes of pulmonary vasodilator use in Veterans with pulmonary hypertension associated with left heart disease and lung disease. Pulm Circ. 2021 Apr-Jun; 11(2):20458940211001714. PMID: 33868640.
Published on 12/17/2020
Gillmeyer KR, Nunez ER, Rinne ST, Qian SX, Klings ES, Wiener RS. Development and Validation of Algorithms to Identify Pulmonary Arterial Hypertension in Administrative Data. Chest. 2021 05; 159(5):1986-1994. PMID: 33345949.
Published on 9/15/2020
Lui JK, Bosch NA, Gillmeyer KR, Reardon CC. Novel Therapeutic Approaches for Pulmonary Manifestations of Systemic Sclerosis. Am J Respir Crit Care Med. 2020 09 15; 202(6):878-880. PMID: 32574505.
Published on 6/1/2020
Gillmeyer KR, Rinne ST, Walkey AJ, Qian SX, Wiener RS. How Closely Do Clinical Trial Participants Resemble "Real-World" Patients with Groups 2 and 3 Pulmonary Hypertension? A Structured Review. Ann Am Thorac Soc. 2020 06; 17(6):779-783. PMID: 32150687.
Published on 5/12/2020
Gillmeyer KR, Rinne ST, Glickman ME, Lee KM, Shao Q, Qian SX, Klings ES, Maron BA, Hanlon JT, Miller DR, Wiener RS. Factors Associated With Potentially Inappropriate Phosphodiesterase-5 Inhibitor Use for Pulmonary Hypertension in the United States, 2006 to 2015. Circ Cardiovasc Qual Outcomes. 2020 05; 13(5):e005993. PMID: 32393128.
Published on 8/1/2019
Gillmeyer KR, Lee KM, Shao Q, Miller DR, Maron BA, Klings ES, Rinne ST, Wiener RS. Multisystem Healthcare Use among U.S. Veterans with Pulmonary Hypertension. Ann Am Thorac Soc. 2019 08; 16(8):1072-1074. PMID: 31026406.
View full list of 12 publications.