Joshua Paul Gilman MD
Instructor, General Internal Medicine
72 East Concord Street | (617) 414-5951

gilmanj@bu.edu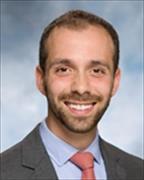 Sections
General Internal Medicine
Biography
Joshua Gilman, MD is a Chief Resident Physician at Boston Medical Center in Boston, MA. He graduated with his MD from Rutgers, Robert Wood Johnson Medical School in 2019 and is completed his Internal Medicine training at Chobanian and Avedisian School of Medicine/Boston Medical Center in 2022. His academic interests include medical education, cardiology and critical care.
Websites
Education
MD, Robert Wood Johnson Medical School, 2019
Medical Science, MS, Boston University, 2014
BS, Union College, 2012
Publications
Published on 12/10/2020
Layton JB, Li W, Yuan J, Gilman JP, Horton DB, Setoguchi S. Heatwaves, medications, and heat-related hospitalization in older Medicare beneficiaries with chronic conditions. PLoS One. 2020; 15(12):e0243665. PMID: 33301532.
Published on 4/5/2017
Medalla M, Gilman JP, Wang JY, Luebke JI. Strength and Diversity of Inhibitory Signaling Differentiates Primate Anterior Cingulate from Lateral Prefrontal Cortex. J Neurosci. 2017 May 03; 37(18):4717-4734. PMID: 28381592.
Published on 3/1/2017
Gilman JP, Medalla M, Luebke JI. Area-Specific Features of Pyramidal Neurons-a Comparative Study in Mouse and Rhesus Monkey. Cereb Cortex. 2017 Mar 01; 27(3):2078-2094. PMID: 26965903.
View full list of 3 publications.