Jean-Antoine Ribeil PhD
Associate Professor, Hematology & Oncology
820 Harrison Ave | (617) 638-7011

jaribeil@bu.edu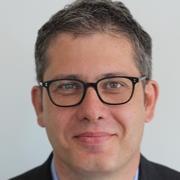 Websites
Education
Medicine, MD, Univ of Aix Marseille, 1995
Cell & Molecular Biology, PhD, University of Paris Vii, 2010
Publications
Published on 1/24/2022
Magrin E, Semeraro M, Hebert N, Joseph L, Magnani A, Chalumeau A, Gabrion A, Roudaut C, Marouene J, Lefrere F, Diana JS, Denis A, Neven B, Funck-Brentano I, Negre O, Renolleau S, Brousse V, Kiger L, Touzot F, Poirot C, Bourget P, El Nemer W, Blanche S, Tréluyer JM, Asmal M, Walls C, Beuzard Y, Schmidt M, Hacein-Bey-Abina S, Asnafi V, Guichard I, Poirée M, Monpoux F, Touraine P, Brouzes C, de Montalembert M, Payen E, Six E, Ribeil JA, Miccio A, Bartolucci P, Leboulch P, Cavazzana M. Long-term outcomes of lentiviral gene therapy for the ß-hemoglobinopathies: the HGB-205 trial. Nat Med. 2022 01; 28(1):81-88. PMID: 35075288.
Published on 12/12/2021
Kanter J, Walters MC, Krishnamurti L, Mapara MY, Kwiatkowski JL, Rifkin-Zenenberg S, Aygun B, Kasow KA, Pierciey FJ, Bonner M, Miller A, Zhang X, Lynch J, Kim D, Ribeil JA, Asmal M, Goyal S, Thompson AA, Tisdale JF. Biologic and Clinical Efficacy of LentiGlobin for Sickle Cell Disease. N Engl J Med. 2022 02 17; 386(7):617-628. PMID: 34898139.
Published on 10/20/2021
Virot E, Thuret I, Jardel S, Herbrecht R, Lachenal F, Lionnet F, Lucchini MJ, Machin J, Nimubona S, Ribeil JA, Galacteros F, Cannas G, Hot A. Pregnancy outcome in women with transfused beta-thalassemia in France. Ann Hematol. 2022 Feb; 101(2):289-296. PMID: 34668980.
Published on 10/19/2021
Ribeil JA. Primary myelofibrosis in untreated sickle cell disease: Are adult patients at higher risk for developing hematological myeloid neoplasms? Am J Hematol. 2022 01 01; 97(1):4-6. PMID: 34626435.
Published on 3/24/2021
Chauvet M, Chhuon C, Lipecka J, Dechavanne S, Dechavanne C, Lohezic M, Ortalli M, Pineau D, Ribeil JA, Manceau S, Le Van Kim C, Luty AJF, Migot-Nabias F, Azouzi S, Guerrera IC, Merckx A. Sickle Cell Trait Modulates the Proteome and Phosphoproteome of Plasmodium falciparum-Infected Erythrocytes. Front Cell Infect Microbiol. 2021; 11:637604. PMID: 33842387.
Published on 2/11/2021
Joseph L, Jean C, Manceau S, Chalas C, Arnaud C, Kamdem A, Pondarré C, Habibi A, Bernaudin F, Allali S, de Montalembert M, Boutonnat-Faucher B, Arlet JB, Koehl B, Cavazzana M, Ribeil JA, Lionnet F, Berthaut I, Brousse V. Effect of hydroxyurea exposure before puberty on sperm parameters in males with sickle cell disease. Blood. 2021 02 11; 137(6):826-829. PMID: 32976551.
Published on 6/3/2020
Tisdale JF, Pierciey FJ, Bonner M, Thompson AA, Krishnamurti L, Mapara MY, Kwiatkowski JL, Shestopalov I, Ribeil JA, Huang W, Asmal M, Kanter J, Walters MC. Safety and feasibility of hematopoietic progenitor stem cell collection by mobilization with plerixafor followed by apheresis vs bone marrow harvest in patients with sickle cell disease in the multi-center HGB-206 trial. Am J Hematol. 2020 09; 95(9):E239-E242. PMID: 32401372.
Published on 1/22/2020
Denoix E, Bomahou C, Clavier L, Ribeil JA, Lionnet F, Bartolucci P, Courbebaisse M, Pouchot J, Arlet JB. Primary Hyperparathyroidism in Sickle Cell Disease: An Unknown Complication of the Disease in Adulthood. J Clin Med. 2020 Jan 22; 9(2). PMID: 31979085.
Published on 5/30/2019
McArthur JG, Svenstrup N, Chen C, Fricot A, Carvalho C, Nguyen J, Nguyen P, Parachikova A, Abdulla F, Vercellotti GM, Hermine O, Edwards D, Ribeil JA, Belcher JD, Maciel TT. A novel, highly potent and selective phosphodiesterase-9 inhibitor for the treatment of sickle cell disease. Haematologica. 2020 03; 105(3):623-631. PMID: 31147439.
Published on 5/3/2019
Coquerelle S, Ghardallou M, Rais S, Taupin P, Touzot F, Boquet L, Blanche S, Benaouadi S, Brice T, Tuchmann-Durand C, Ribeil JA, Magrin E, Lissillour E, Rochaix L, Cavazzana M, Durand-Zaleski I. Innovative Curative Treatment of Beta Thalassemia: Cost-Efficacy Analysis of Gene Therapy Versus Allogenic Hematopoietic Stem-Cell Transplantation. Hum Gene Ther. 2019 06; 30(6):753-761. PMID: 30700149.
View full list of 66 publications.