Jason Randall Rock PhD
Associate Professor, Pulmonary, Allergy, Sleep & Critical Care Medicine
Faculty, National Emerging Infectious Disease Lab
670 Albany St | (617) 358-0798

rockjr@bu.edu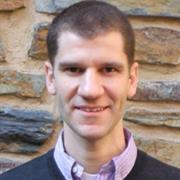 Sections
Pulmonary, Allergy, Sleep & Critical Care Medicine
Biography
Jason Rock, PhD, is an Associate Professor of Medicine at the Chobanian and Avedisian School of Medicine. The Rock Lab in the Center for Regenerative Medicine studies how the many different cell types of our lungs are generated during development and how they respond to normal wear and tear, acute injury and disease. The underlying hypothesis is that aberrant (stem) cell behaviors explain many features of lung diseases such as chronic obstructive pulmonary disease, cystic fibrosis, asthma, and pulmonary fibrosis. We use in vivo and in vitro models to identify and test the progenitor capacity of putative stem cell populations and the molecular mechanisms and environmental influences (i.e., niches) that regulate their proliferation and differentiation. Our ultimate goal is to identify genetic, molecular and cellular therapies for the treatment of lung disease.
Other Positions
Websites
Publications
Published on 11/15/2022
Kersbergen CJ, Babola TA, Rock J, Bergles DE. Developmental spontaneous activity promotes formation of sensory domains, frequency tuning and proper gain in central auditory circuits. Cell Rep. 2022 Nov 15; 41(7):111649. PMID: 36384119.
Published on 5/2/2022
Korte N, Ilkan Z, Pearson CL, Pfeiffer T, Singhal P, Rock JR, Sethi H, Gill D, Attwell D, Tammaro P. The Ca2+-gated channel TMEM16A amplifies capillary pericyte contraction and reduces cerebral blood flow after ischemia. J Clin Invest. 2022 May 02; 132(9). PMID: 35316222.
Published on 3/30/2022
Kadur Lakshminarasimha Murthy P, Sontake V, Tata A, Kobayashi Y, Macadlo L, Okuda K, Conchola AS, Nakano S, Gregory S, Miller LA, Spence JR, Engelhardt JF, Boucher RC, Rock JR, Randell SH, Tata PR. Human distal lung maps and lineage hierarchies reveal a bipotent progenitor. Nature. 2022 Apr; 604(7904):111-119. PMID: 35355018.
Published on 9/15/2021
Hernandez-Clavijo A, Sarno N, Gonzalez-Velandia KY, Degen R, Fleck D, Rock JR, Spehr M, Menini A, Pifferi S. TMEM16A and TMEM16B Modulate Pheromone-Evoked Action Potential Firing in Mouse Vomeronasal Sensory Neurons. eNeuro. 2021 Sep-Oct; 8(5). PMID: 34433575.
Published on 12/29/2020
Engler AE, Ysasi AB, Pihl RMF, Villacorta-Martin C, Heston HM, Richardson HMK, Thapa BR, Moniz NR, Belkina AC, Mazzilli SA, Rock JR. Airway-Associated Macrophages in Homeostasis and Repair. Cell Rep. 2020 12 29; 33(13):108553. PMID: 33378665.
Published on 12/22/2020
Yeung AK, Villacorta-Martin C, Hon S, Rock JR, Murphy GJ. Lung megakaryocytes display distinct transcriptional and phenotypic properties. Blood Adv. 2020 12 22; 4(24):6204-6217. PMID: 33351116.
Published on 4/2/2020
Basil MC, Katzen J, Engler AE, Guo M, Herriges MJ, Kathiriya JJ, Windmueller R, Ysasi AB, Zacharias WJ, Chapman HA, Kotton DN, Rock JR, Snoeck HW, Vunjak-Novakovic G, Whitsett JA, Morrisey EE. The Cellular and Physiological Basis for Lung Repair and Regeneration: Past, Present, and Future. Cell Stem Cell. 2020 04 02; 26(4):482-502. PMID: 32243808.
Published on 10/1/2019
Engler AE, Mostoslavsky G, Miller L, Rock JR. Isolation, Maintenance and Differentiation of Primary Tracheal Basal Cells from Adult Rhesus Macaque. Methods Protoc. 2019 Oct 01; 2(4). PMID: 31581513.
Published on 5/2/2019
Henriques T, Agostinelli E, Hernandez-Clavijo A, Maurya DK, Rock JR, Harfe BD, Menini A, Pifferi S. TMEM16A calcium-activated chloride currents in supporting cells of the mouse olfactory epithelium. J Gen Physiol. 2019 07 01; 151(7):954-966. PMID: 31048412.
Published on 3/28/2019
Hwang SJ, Pardo DM, Zheng H, Bayguinov Y, Blair PJ, Fortune-Grant R, Cook RS, Hennig GW, Shonnard MC, Grainger N, Peri LE, Verma SD, Rock J, Sanders KM, Ward SM. Differential sensitivity of gastric and small intestinal muscles to inducible knockdown of anoctamin 1 and the effects on gastrointestinal motility. J Physiol. 2019 05; 597(9):2337-2360. PMID: 30843201.
View full list of 61 publications.