Jaeyoon Chung PhD
Research Assistant Professor, Biomedical Genetics
72 East Concord Street | (617) 358-3579

jychung@bu.edu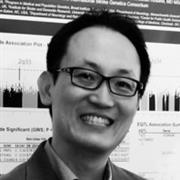 Sections
Biomedical Genetics
Biography
Jaeyoon Chung, PhD is a Research Assistant Professor of Biomedical Genetics at Boston University School of Medicine.
Education
Bioinformatics, PhD, Boston University, 2017
Bioinformatics, MA, Korea University, 2010
Computer Engineering, BE/BEng, Inha University, 2007
Publications
Published on 9/3/2021
Panitch R, Hu J, Chung J, Zhu C, Meng G, Xia W, Bennett DA, Lunetta KL, Ikezu T, Au R, Stein TD, Farrer LA, Jun GR. Integrative brain transcriptome analysis links complement component 4 and HSPA2 to the APOE e2 protective effect in Alzheimer disease. Mol Psychiatry. 2021 Sep 03. PMID: 34480088.
Published on 5/24/2021
Chung J, Hamilton G, Kim M, Marini S, Montgomery B, Henry J, Cho AE, Brown DL, Worrall BB, Meschia JF, Silliman SL, Selim M, Tirschwell DL, Kidwell CS, Kissela B, Greenberg SM, Viswanathan A, Goldstein JN, Langefeld CD, Rannikmae K, Sudlow CL, Samarasekera N, Rodrigues M, Al-Shahi Salman R, Prendergast JGD, Harris SE, Deary I, Woo D, Rosand J, Van Agtmael T, Anderson CD. Rare Missense Functional Variants at COL4A1 and COL4A2 in Sporadic Intracerebral Hemorrhage. Neurology. 2021 May 24. PMID: 34031201.
Published on 4/30/2021
Loporchio DF, Tam EK, Cho J, Chung J, Jun GR, Xia W, Fiorello MG, Siegel NH, Ness S, Stein TD, Subramanian ML. Cytokine Levels in Human Vitreous in Proliferative Diabetic Retinopathy. Cells. 2021 04 30; 10(5). PMID: 33946446.
Published on 9/17/2020
Subramanian ML, Vig V, Chung J, Fiorello MG, Xia W, Zetterberg H, Blennow K, Zetterberg M, Shareef F, Siegel NH, Ness S, Jun GR, Stein TD. Neurofilament light chain in the vitreous humor of the eye. Alzheimers Res Ther. 2020 09 17; 12(1):111. PMID: 32943089.
Published on 5/21/2020
Marini S, Georgakis MK, Chung J, Henry JQA, Dichgans M, Rosand J, Malik R, Anderson CD. Genetic overlap and causal inferences between kidney function and cerebrovascular disease. Neurology. 2020 06 16; 94(24):e2581-e2591. PMID: 32439819.
Published on 5/7/2020
Falcone GJ, Kirsch E, Acosta JN, Noche RB, Leasure A, Marini S, Chung J, Selim M, Meschia JF, Brown DL, Worrall BB, Tirschwell DL, Jagiella JM, Schmidt H, Jimenez-Conde J, Fernandez-Cadenas I, Lindgren A, Slowik A, Gill D, Holmes M, Phuah CL, Petersen NH, Matouk Md CN, Gunel M, Sansing L, Bennett D, Chen Z, Sun LL, Clarke R, Walters RG, Gill TM, Biffi A, Kathiresan S, Langefeld CD, Woo D, Rosand J, Sheth KN, Anderson CD. Genetically Elevated LDL Associates with Lower Risk of Intracerebral Hemorrhage. Ann Neurol. 2020 07; 88(1):56-66. PMID: 32277781.
Published on 12/23/2019
Traylor M, Amin Al Olama A, Lyytikäinen LP, Marini S, Chung J, Malik R, Dichgans M, Kähönen M, Lehtimäki T, Anderson CD, Raitakari OT, Markus HS. Influence of Genetic Variation in PDE3A on Endothelial Function and Stroke. Hypertension. 2020 02; 75(2):365-371. PMID: 31865795.
Published on 10/1/2019
Chung J, Marini S, Pera J, Norrving B, Jimenez-Conde J, Roquer J, Fernandez-Cadenas I, Tirschwell DL, Selim M, Brown DL, Silliman SL, Worrall BB, Meschia JF, Demel S, Greenberg SM, Slowik A, Lindgren A, Schmidt R, Traylor M, Sargurupremraj M, Tiedt S, Malik R, Debette S, Dichgans M, Langefeld CD, Woo D, Rosand J, Anderson CD. Genome-wide association study of cerebral small vessel disease reveals established and novel loci. Brain. 2019 10 01; 142(10):3176-3189. PMID: 31430377.
Published on 9/1/2019
Ma Y, Jun GR, Zhang X, Chung J, Naj AC, Chen Y, Bellenguez C, Hamilton-Nelson K, Martin ER, Kunkle BW, Bis JC, Debette S, DeStefano AL, Fornage M, Nicolas G, van Duijn C, Bennett DA, De Jager PL, Mayeux R, Haines JL, Pericak-Vance MA, Seshadri S, Lambert JC, Schellenberg GD, Lunetta KL, Farrer LA. Analysis of Whole-Exome Sequencing Data for Alzheimer Disease Stratified by APOE Genotype. JAMA Neurol. 2019 Sep 01; 76(9):1099-1108. PMID: 31180460.
Published on 5/29/2019
Ma Y, Jun GR, Chung J, Zhang X, Kunkle BW, Naj AC, White CC, Bennett DA, De Jager PL, Mayeux R, Haines JL, Pericak-Vance MA, Schellenberg GD, Farrer LA, Lunetta KL. CpG-related SNPs in the MS4A region have a dose-dependent effect on risk of late-onset Alzheimer disease. Aging Cell. 2019 08; 18(4):e12964. PMID: 31144443.
View full list of 33 publications.