Jaeyoon Chung PhD
Research Assistant Professor, Biomedical Genetics
72 East Concord Street | (617) 358-3579

jychung@bu.edu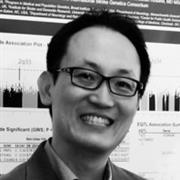 Sections
Biomedical Genetics
Biography
Jaeyoon Chung, PhD is a Research Assistant Professor of Biomedical Genetics at Boston University School of Medicine.
Education
Bioinformatics, PhD, Boston University, 2017
Bioinformatics, MA, Korea University, 2010
Computer Engineering, BE/BEng, Inha University, 2007
Publications
Published on 8/1/2022
Atherton K, Han X, Chung J, Cherry JD, Baucom Z, Saltiel N, Nair E, Abdolmohammadi B, Uretsky M, Khan MM, Shea C, Durape S, Martin BM, Palmisano JN, Farrell K, Nowinski CJ, Alvarez VE, Dwyer B, Daneshvar DH, Katz DI, Goldstein LE, Cantu RC, Kowall NW, Alosco ML, Huber BR, Tripodis Y, Crary JF, Farrer L, Stern RA, Stein TD, McKee AC, Mez J. Association of APOE Genotypes and Chronic Traumatic Encephalopathy. JAMA Neurol. 2022 Aug 01; 79(8):787-796. PMID: 35759276.
Published on 6/30/2022
Chung J, Das A, Sun X, Sobreira DR, Leung YY, Igartua C, Mozaffari S, Chou YF, Thiagalingam S, Mez J, Zhang X, Jun GR, Stein TD, Kunkle BW, Martin ER, Pericak-Vance MA, Mayeux R, Haines JL, Schellenberg GD, Nobrega MA, Lunetta KL, Pinto JM, Wang LS, Ober C, Farrer LA. Genome-wide association and multi-omics studies identify MGMT as a novel risk gene for Alzheimer's disease among women. Alzheimers Dement. 2022 Jun 30. PMID: 35770850.
Published on 5/11/2022
Parodi L, Myserlis EP, Chung J, Georgakis MK, Mayerhofer E, Henry J, Montgomery BE, Moy M, Xu H, Malik R, Langefeld CD, Dichgans M, Woo D, Rosand J, Anderson CD. Shared genetic background between SARS-CoV-2 infection and large artery stroke. Int J Stroke. 2022 May 11; 17474930221095696. PMID: 35403514.
Published on 2/9/2022
Jun GR, You Y, Zhu C, Meng G, Chung J, Panitch R, Hu J, Xia W, Bennett DA, Foroud TM, Wang LS, Haines JL, Mayeux R, Pericak-Vance MA, Schellenberg GD, Au R, Lunetta KL, Ikezu T, Stein TD, Farrer LA. Protein phosphatase 2A and complement component 4 are linked to the protective effect of APOE ?2 for Alzheimer's disease. Alzheimers Dement. 2022 Nov; 18(11):2042-2054. PMID: 35142023.
Published on 9/3/2021
Panitch R, Hu J, Chung J, Zhu C, Meng G, Xia W, Bennett DA, Lunetta KL, Ikezu T, Au R, Stein TD, Farrer LA, Jun GR. Integrative brain transcriptome analysis links complement component 4 and HSPA2 to the APOE e2 protective effect in Alzheimer disease. Mol Psychiatry. 2021 10; 26(10):6054-6064. PMID: 34480088.
Published on 5/24/2021
Chung J, Hamilton G, Kim M, Marini S, Montgomery B, Henry J, Cho AE, Brown DL, Worrall BB, Meschia JF, Silliman SL, Selim M, Tirschwell DL, Kidwell CS, Kissela B, Greenberg SM, Viswanathan A, Goldstein JN, Langefeld CD, Rannikmae K, Sudlow CL, Samarasekera N, Rodrigues M, Al-Shahi Salman R, Prendergast JGD, Harris SE, Deary I, Woo D, Rosand J, Van Agtmael T, Anderson CD. Rare Missense Functional Variants at COL4A1 and COL4A2 in Sporadic Intracerebral Hemorrhage. Neurology. 2021 May 24. PMID: 34031201.
Published on 4/30/2021
Loporchio DF, Tam EK, Cho J, Chung J, Jun GR, Xia W, Fiorello MG, Siegel NH, Ness S, Stein TD, Subramanian ML. Cytokine Levels in Human Vitreous in Proliferative Diabetic Retinopathy. Cells. 2021 04 30; 10(5). PMID: 33946446.
Published on 4/27/2021
Patel D, Zhang X, Farrell JJ, Chung J, Stein TD, Lunetta KL, Farrer LA. Cell-type-specific expression quantitative trait loci associated with Alzheimer disease in blood and brain tissue. Transl Psychiatry. 2021 04 27; 11(1):250. PMID: 33907181.
Published on 1/1/2021
Kunkle BW, Schmidt M, Klein HU, Naj AC, Hamilton-Nelson KL, Larson EB, Evans DA, De Jager PL, Crane PK, Buxbaum JD, Ertekin-Taner N, Barnes LL, Fallin MD, Manly JJ, Go RCP, Obisesan TO, Kamboh MI, Bennett DA, Hall KS, Goate AM, Foroud TM, Martin ER, Wang LS, Byrd GS, Farrer LA, Haines JL, Schellenberg GD, Mayeux R, Pericak-Vance MA, Reitz C, Graff-Radford NR, Martinez I, Ayodele T, Logue MW, Cantwell LB, Jean-Francois M, Kuzma AB, Adams LD, Vance JM, Cuccaro ML, Chung J, Mez J, Lunetta KL, Jun GR, Lopez OL, Hendrie HC, Reiman EM, Kowall NW, Leverenz JB, Small SA, Levey AI, Golde TE, Saykin AJ, Starks TD, Albert MS, Hyman BT, Petersen RC, Sano M, Wisniewski T, Vassar R, Kaye JA, Henderson VW, DeCarli C, LaFerla FM, Brewer JB, Miller BL, Swerdlow RH, Van Eldik LJ, Paulson HL, Trojanowski JQ, Chui HC, Rosenberg RN, Craft S, Grabowski TJ, Asthana S, Morris JC, Strittmatter SM, Kukull WA. Novel Alzheimer Disease Risk Loci and Pathways in African American Individuals Using the African Genome Resources Panel: A Meta-analysis. JAMA Neurol. 2021 01 01; 78(1):102-113. PMID: 33074286.
Published on 9/17/2020
Subramanian ML, Vig V, Chung J, Fiorello MG, Xia W, Zetterberg H, Blennow K, Zetterberg M, Shareef F, Siegel NH, Ness S, Jun GR, Stein TD. Neurofilament light chain in the vitreous humor of the eye. Alzheimers Res Ther. 2020 09 17; 12(1):111. PMID: 32943089.
View full list of 39 publications.