Hasmeena Kathuria MD
Associate Professor, Pulmonary, Allergy, Sleep & Critical Care Medicine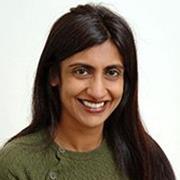 Sections
Pulmonary, Allergy, Sleep & Critical Care Medicine
Centers
BU-BMC Cancer Center
Pulmonary Center
Evans Center for Interdisciplinary Biomedical Research
Biography
Dr. Kathuria is a pulmonary, critical care, and sleep physician, an implementation scientist, and an expert on tobacco dependence. Her clinical and research efforts are in reducing health disparities by developing, implementing, and studying the outcomes of innovative programs that focus on teachable moments to promote health behavior change in tobacco use, the leading cause of preventable disease. She is a PI or Co-I on several pilot projects using various platforms to improve access to guideline recommended treatment. She recently conducted a randomized controlled trial funded by the American Lung Association (Lung Cancer Discovery Award) using an inpatient nurse-driven intervention to promote smoking cessation and lung cancer screening.

Dr. Kathuria has developed and directs the Tobacco Treatment Center at Boston Medical Center, a program that brings together a multidisciplinary team of health professionals who specialize in helping smokers quit cigarettes. The team provides tobacco dependence consultation on >1500 hospitalized smokers each year. For this work, she received the inaugural Evans Clinical Innovator Award relating to efforts to treat tobacco dependence in low SES populations. She received funding from the Evans Center for Implementation and Improvement Sciences to assess outcomes related to implementation of the program.

Dr. Kathuria has chaired a national project sponsored by the American Thoracic Society (ATS) to prioritize research needs to optimize smoking cessation in the context of lung cancer screening and is an invited member of the American Cancer Society Tobacco Cessation Task Group (National Lung Cancer Round Table) tasked to improve implementation of tobacco treatment in lung cancer screening programs. She is on an ATS panel that has developed an updated clinical tobacco treatment guideline, and is chairing a committee through the American College of Chest Physicians to develop a national clinical guideline on implementing inpatient tobacco treatment services. Dr. Kathuria has been appointed by the ATS president to serve as chair on the Tobacco Action Committee to help organize educational, advocacy and policy activities relating to tobacco use.
Websites
Education
MD, Loyola University - Chicago Stritch School of Medicine, 1996
BA, Northwestern University, 1992
Publications
Published on 3/15/2023
Steiling K, Kathuria H, Echieh CP, Ost DE, Rivera MP, Begnaud A, Celedón JC, Charlot M, Dietrick F, Duma N, Fong KM, Ford JG, Gould MK, Holguin F, Pérez-Stable EJ, Tanner NT, Thomson CC, Wiener RS, Wisnivesky J. Research Priorities for Interventions to Address Health Disparities in Lung Nodule Management: An Official American Thoracic Society Research Statement. Am J Respir Crit Care Med. 2023 Mar 15; 207(6):e31-e46. PMID: 36920066.
Published on 12/1/2022
Lopes LC, Zhang Y, Ross S, Fulone I, Zhu M, O'Brien KK, Pavalagantharajah S, Leone FT, Sachs DPL, Kathuria H, Murray RL, Zhang YQ. Varenicline for Tobacco-Dependent Adults Who Are Not Ready to Discontinue Use: A Systematic Review and Meta-Analysis. Ann Am Thorac Soc. 2022 Dec; 19(12):2077-2086. PMID: 36129426.
Published on 10/4/2022
Kathuria H. Electronic Cigarette Use, Misuse, and Harm. Med Clin North Am. 2022 Nov; 106(6):1081-1092. PMID: 36280334.
Published on 9/1/2022
Kathuria H, Shankar D, Cobb V, Newman J, Bulekova K, Werntz S, Borrelli B. Integrating Social Determinants of Health With Tobacco Treatment for Individuals With Opioid Use Disorder: Feasibility and Acceptability Study of Delivery Through Text Messaging. JMIR Form Res. 2022 Sep 01; 6(9):e36919. PMID: 36048509.
Published on 8/23/2022
Kathuria H, Gunawan A, Spring M, Aijaz S, Cobb V, Fitzgerald C, Wakeman C, Howard J, Clancy M, Foreman AG, Truong V, Wong C, Steiling K, Lasser KE, Bulekova K, Wiener RS. Hospitalization as an opportunity to engage underserved individuals in shared decision-making for lung cancer screening: results from two randomized pilot trials. Cancer Causes Control. 2022 Nov; 33(11):1373-1380. PMID: 35997854.
Published on 6/1/2022
Xie W, Tackett AP, Berlowitz JB, Harlow AF, Kathuria H, Galiatsatos P, Fetterman JL, Cho J, Blaha MJ, Hamburg NM, Robertson RM, DeFilippis AP, Hall ME, Bhatnagar A, Benjamin EJ, Stokes AC. Association of Electronic Cigarette Use with Respiratory Symptom Development among U.S. Young Adults. Am J Respir Crit Care Med. 2022 Jun 01; 205(11):1320-1329. PMID: 35089853.
Published on 4/6/2022
Shankar D, Borrelli B, Cobb V, Quintiliani LM, Palfai T, Weinstein Z, Bulekova K, Kathuria H. Text-messaging to promote smoking cessation among individuals with opioid use disorder: quantitative and qualitative evaluation. BMC Public Health. 2022 Apr 06; 22(1):668. PMID: 35387648.
Published on 3/5/2022
Hayes D, Board A, Calfee CS, Ellington S, Pollack LA, Kathuria H, Eakin MN, Weissman DN, Callahan SJ, Esper AM, Crotty Alexander LE, Sharma NS, Meyer NJ, Smith LS, Novosad S, Evans ME, Goodman AB, Click ES, Robinson RT, Ewart G, Twentyman E. Pulmonary and Critical Care Considerations for e-Cigarette, or Vaping, Product Use-Associated Lung Injury. Chest. 2022 Jul; 162(1):256-264. PMID: 35257738.
Published on 3/1/2022
Kearney L, Wiener RS, Dahodwala M, Fix GM, Hicks J, Little F, Howard J, Foreman AG, Wakeman C, O'Donnell C, Bulekova K, Drainoni ML, Kathuria H. A mixed methods study to inform and evaluate a longitudinal nurse practitioner/community health worker intervention to address social determinants of health and chronic obstructive pulmonary disease self-management. BMC Pulm Med. 2022 Mar 01; 22(1):74. PMID: 35232414.
Published on 2/1/2022
Eakin MN, Bauer SE, Carr T, Dagli E, Ewart G, Garfield JL, Jaspers I, Kher S, Leone FT, Melzer AC, Moazed F, Moraes TJ, Reddy KP, Upson D, Kathuria H. Policy Recommendations to Eliminate Tobacco Use and Improve Health from the American Thoracic Society Tobacco Action Committee. Ann Am Thorac Soc. 2022 02; 19(2):157-160. PMID: 34347555.
View full list of 48 publications.