Gene Garrard Olinger PhD, MBA
Adjunct Associate Professor, Infectious Diseases
Associate Director for Maximum Containment Training, NEIDL, National Emerging Infectious Disease Lab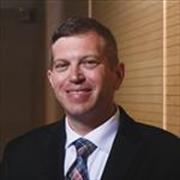 Sections
Infectious Diseases
Biography
Gene Garrard Olinger, Jr. received his Ph.D. from Rush University Medical Center in Chicago, IL in 2001. Currently, Dr. Olinger is the principal advisor science for MRI Global Inc.

Dr. Olinger holds a Masters in Business Administration from Mount Saint Mary's University in Emmittsburg, MD, has completed executive training at Massachusetts Institute of Technology, Boston, MA, and completed Department of Defense Acquisition and Executive Leadership training. He is the recipient of the Achievement Medal for Civilian Service Medals in 2005 and 2010, Commander's Award for Civilian Service in 2013, and the NIH Director Award in 2015 for his efforts assisting with the Ebola outbreak in Western Africa. Dr. Olinger is active in multiple STEM programs and mentors high school, undergraduate graduate students and post-doctoral fellows.
Websites
Education
Immunology, PhD, Rush University, 2001
Business Administration, MBA, Mount St. Mary's University, 2006
Environmental Health, BS, Old Dominion University, 1993
Publications
Published on 3/18/2021
Herring S, Oda JM, Wagoner J, Kirchmeier D, O'Connor A, Nelson EA, Huang Q, Liang Y, DeWald LE, Johansen LM, Glass PJ, Olinger GG, Ianevski A, Aittokallio T, Paine MF, Fink SL, White JM, Polyak SJ. Inhibition of Arenaviruses by Combinations of Orally Available Approved Drugs. Antimicrob Agents Chemother. 2021 03 18; 65(4). PMID: 33468464.
Published on 3/10/2021
Finch CL, Dyall J, Xu S, Nelson EA, Postnikova E, Liang JY, Zhou H, DeWald LE, Thomas CJ, Wang A, Xu X, Hughes E, Morris PJ, Mirsalis JC, Nguyen LH, Arolfo MP, Koci B, Holbrook MR, Hensley LE, Jahrling PB, Schmaljohn C, Johansen LM, Olinger GG, Schiffer JT, White JM. Formulation, Stability, Pharmacokinetic, and Modeling Studies for Tests of Synergistic Combinations of Orally Available Approved Drugs against Ebola Virus In Vivo. Microorganisms. 2021 Mar 10; 9(3). PMID: 33801811.
Published on 8/27/2020
Bruchez A, Sha K, Johnson J, Chen L, Stefani C, McConnell H, Gaucherand L, Prins R, Matreyek KA, Hume AJ, Mühlberger E, Schmidt EV, Olinger GG, Stuart LM, Lacy-Hulbert A. MHC class II transactivator CIITA induces cell resistance to Ebola virus and SARS-like coronaviruses. Science. 2020 10 09; 370(6513):241-247. PMID: 32855215.
Published on 7/29/2019
Covés-Datson EM, Dyall J, DeWald LE, King SR, Dube D, Legendre M, Nelson E, Drews KC, Gross R, Gerhardt DM, Torzewski L, Postnikova E, Liang JY, Ban B, Shetty J, Hensley LE, Jahrling PB, Olinger GG, White JM, Markovitz DM. Inhibition of Ebola Virus by a Molecularly Engineered Banana Lectin. PLoS Negl Trop Dis. 2019 07; 13(7):e0007595. PMID: 31356611.
Published on 5/29/2019
Katawera V, Kohar H, Mahmoud N, Raftery P, Wasunna C, Humrighouse B, Hardy P, Saindon J, Schoepp R, Makvandi M, Hensley L, Condell O, Durski K, Singaravelu S, Gahimbare L, Olinger G, Kateh F, Naidoo D, Nsubuga P, Formenty P, Nyenswah T, Coulibaly SO, Okeibunor JC, Talisuna A, Yahaya AA, Rajatonirina S, Williams D, Dahn B, Gasasira A, Fall IS. Enhancing laboratory capacity during Ebola virus disease (EVD) heightened surveillance in Liberia: lessons learned and recommendations. Pan Afr Med J. 2019; 33(Suppl 2):8. PMID: 31404295.
Published on 2/16/2019
Logue J, Vargas Licona W, Cooper TK, Reeder B, Byrum R, Qin J, Deiuliis Murphy N, Cong Y, Bonilla A, Sword J, Weaver W, Kocher G, Olinger GG, Jahrling PB, Hensley LE, Bennett RS. Ebola Virus Isolation Using Huh-7 Cells has Methodological Advantages and Similar Sensitivity to Isolation Using Other Cell Types and Suckling BALB/c Laboratory Mice. Viruses. 2019 02 16; 11(2). PMID: 30781518.
Published on 11/22/2018
Dyall J, Nelson EA, DeWald LE, Guha R, Hart BJ, Zhou H, Postnikova E, Logue J, Vargas WM, Gross R, Michelotti J, Deiuliis N, Bennett RS, Crozier I, Holbrook MR, Morris PJ, Klumpp-Thomas C, McKnight C, Mierzwa T, Shinn P, Glass PJ, Johansen LM, Jahrling PB, Hensley LE, Olinger GG, Thomas C, White JM. Identification of Combinations of Approved Drugs With Synergistic Activity Against Ebola Virus in Cell Cultures. J Infect Dis. 2018 11 22; 218(suppl_5):S672-S678. PMID: 29939303.
Published on 11/22/2018
Luke T, Bennett RS, Gerhardt DM, Burdette T, Postnikova E, Mazur S, Honko AN, Oberlander N, Byrum R, Ragland D, St Claire M, Janosko KB, Smith G, Glenn G, Hooper J, Dye J, Pal S, Bishop-Lilly KA, Hamilton T, Frey K, Bollinger L, Wada J, Wu H, Jiao JA, Olinger GG, Gunn B, Alter G, Khurana S, Hensley LE, Sullivan E, Jahrling PB. Fully Human Immunoglobulin G From Transchromosomic Bovines Treats Nonhuman Primates Infected With Ebola Virus Makona Isolate. J Infect Dis. 2018 11 22; 218(suppl_5):S636-S648. PMID: 30010950.
Published on 11/22/2018
Dyall J, Johnson JC, Hart BJ, Postnikova E, Cong Y, Zhou H, Gerhardt DM, Michelotti J, Honko AN, Kern S, DeWald LE, O'Loughlin KG, Green CE, Mirsalis JC, Bennett RS, Olinger GG, Jahrling PB, Hensley LE. In Vitro and In Vivo Activity of Amiodarone Against Ebola Virus. J Infect Dis. 2018 11 22; 218(suppl_5):S592-S596. PMID: 30016444.
Published on 11/22/2018
DeWald LE, Dyall J, Sword JM, Torzewski L, Zhou H, Postnikova E, Kollins E, Alexander I, Gross R, Cong Y, Gerhardt DM, Johnson RF, Olinger GG, Holbrook MR, Hensley LE, Jahrling PB. The Calcium Channel Blocker Bepridil Demonstrates Efficacy in the Murine Model of Marburg Virus Disease. J Infect Dis. 2018 11 22; 218(suppl_5):S588-S591. PMID: 29982632.
View full list of 91 publications.