Frances Rachel Blevins PA-C, MMSc
Assistant Professor, Hematology & Medical Oncology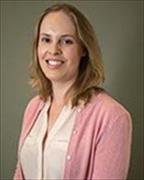 Sections
Hematology & Medical Oncology
Biography
Frances Blevins, PA-C is a board certified Physician Assistant who joined the Solomont Center for Hematology and Medical Oncology in 2015 and works with the hematology team. PA Blevins is an instructor of medicine at Boston University School of Medicine and a preceptor for PA students. She graduated from the Tufts University PA program obtaining her Master of Medical Science.
Websites
Education
Physician Assistant, MMS/MMSc, Tufts University School of Medicine, 2015
International Relations, BS, Suffolk University, 2008
Publications
Published on 7/1/2021
Hughes DM, Toste C, Nelson C, Escalon J, Blevins F, Shah B. Transitioning From Thrombopoietin Agonists to the Novel SYK Inhibitor Fostamatinib: A Multicenter, Real-World Case Series. J Adv Pract Oncol. 2021 Jul; 12(5):508-517. PMID: 34430061.
Published on 5/27/2021
Milrod CJ, Blevins F, Hughes D, Lerner A, Sarosiek S, Sanchorawala V, Sloan JM. Incidence of skin hyperpigmentation in Black patients receiving treatment with immunomodulatory drugs. Blood. 2021 May 27; 137(21):2987-2989. PMID: 33728443.
Published on 11/13/2019
David Hughes, PharmD, Frances Blevins, PA-C, Bhavesh Shah, RPh, Shayna Sarosiek, Adam Lerner, MD, John Mark Sloan, MD. Blood. Real-World Experience with Fostamatinib in Patients with Immune Thrombocytopenia at an Academic Medical Center. ASH Publications. 2019.
View full list of 3 publications.