David M Hughes PharmD
Voluntary Assistant Professor, Hematology & Medical Oncology
830 Harrison Ave | (617) 638-5952

hughed25@bu.edu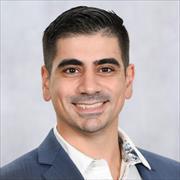 Sections
Hematology & Medical Oncology
Publications
Published on 12/8/2022
Patel JV, Hughes DM, Ko NY. OPTIMAL Breast Cancer Care: Effect of an Outpatient Pharmacy Team to Improve Management and Adherence to Oral Cancer Treatment. JCO Oncol Pract. 2023 Mar; 19(3):e306-e314. PMID: 36480784.
Published on 10/21/2022
Famularo DE, Koloski J, Marathe J, Au A, Hamilton S, Mordino J, Hughes DM. Pharmacist-driven assessment and prescribing of COVID-19 therapeutics: A large, tertiary academic medical center's experience. Am J Health Syst Pharm. 2022 Oct 21; 79(21):1889-1893. PMID: 35917116.
Published on 4/1/2022
Hughes DM, Mordino J. Pharmacist responsiveness and readiness for oral antivirals for COVID-19: A rebuttal to the AMA statement regarding the Biden administration's test-to-treat plan. J Am Pharm Assoc (2003). 2022; 62(4):1162-1164. PMID: 35450832.
Published on 3/9/2022
Hughes DM, Henshaw L, Blevins F, Edwards C, Lerner A, Sloan JM, Sanchorawala V. Standard 30-minute Monitoring Time and Less Intensive Pre-medications is Safe in Patients Treated With Subcutaneous Daratumumab for Multiple Myeloma and Light Chain Amyloidosis. Clin Lymphoma Myeloma Leuk. 2022 Aug; 22(8):566-568. PMID: 35367193.
Published on 7/1/2021
Hughes DM, Toste C, Nelson C, Escalon J, Blevins F, Shah B. Transitioning From Thrombopoietin Agonists to the Novel SYK Inhibitor Fostamatinib: A Multicenter, Real-World Case Series. J Adv Pract Oncol. 2021 Jul; 12(5):508-517. PMID: 34430061.
Published on 1/6/2021
Hughes DM, DeMari S, Hassan H, Sanchorawala V, Sloan JM. Safety, Tolerability, and Efficacy of Selinexor in a Patient With Relapsed Light Chain (AL) Amyloidosis. Clin Lymphoma Myeloma Leuk. 2021 05; 21(5):e460-e463. PMID: 33716055.
Published on 10/7/2020
Hughes DM, Staron A, Sanchorawala V. A pharmacist's review of the treatment of systemic light chain amyloidosis. J Oncol Pharm Pract. 2021 Jan; 27(1):187-198. PMID: 33028132.
Published on 2/1/2020
Hughes DM, Goswami S, Keizer RJ, Hughes MA, Faldasz JD. Bayesian clinical decision support-guided versus clinician-guided vancomycin dosing in attainment of targeted pharmacokinetic parameters in a paediatric population. J Antimicrob Chemother. 2020 02 01; 75(2):434-437. PMID: 31670812.
View full list of 8 publications.