Claire Hacking MS
Assistant Professor, Hematology & Medical Oncology
818 Harrison Ave | (617) 638-7073

chacking@bu.edu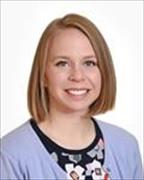 Sections
Hematology & Medical Oncology
Biography
Claire received a BS in Genetic Biology from Purdue University, an MPH from the University of Utah and an MS in Genetic Counseling from the University of Arkansas for Medical Sciences. While completing her MPH Claire had the opportunity to participate in a global health study abroad in Ghana working on health promotion research and worked as a graduate assistant at the Huntsman Cancer Institute conducting research on the long term care of pediatric cancer survivors. Claire's clinical interests include cancer genetics, public health, and increasing access to genetics services. She is currently affiliated with Boston Medical Center.
Education
Genetic Counseling, MS, University of Arkansas, 2017
Public Health, MPH, University of Utah, 2015
Ecology/Environmental Biology, BS, Purdue University, 2012
Publications
Published on 10/30/2020
McGuinness M, Fassi E, Wang C, Hacking C, Ellis V. Breast cancer polygenic risk scores in the clinical cancer genetic counseling setting: Current practices and impact on patient management. J Genet Couns. 2021 04; 30(2):588-597. PMID: 33124135.
Published on 5/21/2020
Mann K, Wu YP, Pannier ST, Hacking C, Warner EL, Rosen S, Acharya A, Wright J, Gerdy C, Kirchhoff AC. Healthcare provider perspectives on pediatric cancer survivorship care plans: a single institution pilot study. Support Care Cancer. 2021 Feb; 29(2):697-706. PMID: 32435970.
Published on 4/13/2019
Pannier ST, Mann K, Warner EL, Rosen S, Acharya A, Hacking C, Gerdy C, Wright J, Wu YP, Kirchhoff AC. Survivorship care plan experiences among childhood acute lymphoblastic leukemia patients and their families. BMC Pediatr. 2019 04 13; 19(1):111. PMID: 30979365.
Published on 12/1/2015
Warner EL, Wu YP, Hacking CC, Wright J, Spraker-Perlman HL, Gardner E, Kirchhoff AC. An Assessment to Inform Pediatric Cancer Provider Development and Delivery of Survivor Care Plans. J Cancer Educ. 2015 Dec; 30(4):677-84. PMID: 25893925.
Published on 1/10/2015
Nam GE, Kaul S, Wu YP, Nelson RE, Wright J, Fluchel MN, Hacking CC, Kirchhoff AC. A meta-analysis of body mass index of adolescent and adult survivors of pediatric acute lymphoblastic leukemia. J Cancer Surviv. 2015 Sep; 9(3):412-21. PMID: 25576213.
View full list of 5 publications.