Charmaine Lastimoso NP
Assistant Professor, General Internal Medicine
801 Massachusetts Ave | (617) 414-7399

cslastim@bu.edu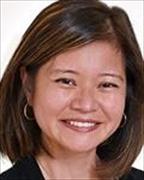 Sections
General Internal Medicine
Biography
Charmaine Lastimoso, NP is a graduate of the Masters of Science in Nursing program at the Boston College School of Nursing and Masters in Public Health program at Boston University. She is a former researcher with experience in the epidemiology of HIV/AIDS and tuberculosis in resource-poor communities. Charmaine has clinical experience in health care for homeless individuals and interests focused on issues of access to quality health care for vulnerable populations.

Charmaine's specialties include: advanced practice nursing, academic, administrative support, budgeting, conferences, data analysis, data management and quality control, health education, meeting facilitation, nursing, presentation skills, statistical programming, proposal writing, research, SAS, workshops.
Websites
Education
Nursing, MSN, Boston College, 2011
Epidemiology, MPH, Boston University School of Public Health, 2007
Biology, BS, University of Nevada, Reno, 2004
Publications
Published on 9/1/2021
Wason K, Potter A, Alves J, Loukas VL, Lastimoso C, Sodder S, Caputo A, LaBelle CT. Addiction Nursing Competencies: A Comprehensive Toolkit for the Addictions Nurse. J Nurs Adm. 2021 Sep 01; 51(9):424-429. PMID: 34411061.
Published on 2/12/2016
Miller AC, Nelson AK, Livchits V, Greenfield SF, Yanova G, Yanov S, Connery HS, Atwood S, Lastimoso CS, Shin SS. Understanding HIV Risk Behavior among Tuberculosis Patients with Alcohol Use Disorders in Tomsk, Russian Federation. PLoS One. 2016; 11(2):e0148910. PMID: 26871943.
Published on 9/1/2014
Del Castillo-Barrientos H, Centeno-Luque G, Untiveros-Tello A, Simms B, Lecca L, Nelson AK, Lastimoso C, Shin S. Clinical presentation of children with pulmonary tuberculosis: 25 years of experience in Lima, Peru. Int J Tuberc Lung Dis. 2014 Sep; 18(9):1066-73. PMID: 25189554.
Published on 6/10/2013
Connery H, Greenfield S, Livchits V, McGrady L, Patrick N, Lastimoso CS, Heney JH, Nelson AK, Shields A, Stepanova YP, Petrova LY, Anastasov OV, Novoseltseva OI, Shin SS. Training and fidelity monitoring of alcohol treatment interventions integrated into routine tuberculosis care in Tomsk, Russia: the IMPACT Effectiveness Trial. Subst Use Misuse. 2013 Jun; 48(9):784-92. PMID: 23750742.
Published on 7/23/2012
Drobac PC, Shin SS, Huamani P, Atwood S, Furin J, Franke MF, Lastimoso C, del Castillo H. Risk factors for in-hospital mortality among children with tuberculosis: the 25-year experience in Peru. Pediatrics. 2012 Aug; 130(2):e373-9. PMID: 22826566.
Published on 1/1/2012
Shin SS, Livchits V, Nelson AK, Lastimoso CS, Yanova GV, Yanov SA, Mishustin SP, Connery HS, Greenfield SF. Implementing evidence-based alcohol interventions in a resource-limited setting: novel delivery strategies in Tomsk, Russia. Harv Rev Psychiatry. 2012 Jan-Feb; 20(1):58-67. PMID: 22335183.
Published on 9/1/2010
Shin SS, Mathew TA, Yanova GV, Fitzmaurice GM, Livchits V, Yanov SA, Strelis AK, Mishustin SP, Bokhan NA, Lastimoso CS, Connery HS, Hart JE, Greenfield SF. Alcohol consumption among men and women with tuberculosis in Tomsk, Russia. Cent Eur J Public Health. 2010 Sep; 18(3):132-8. PMID: 21033607.
Published on 11/20/2009
Greenfield SF, Shields A, Connery HS, Livchits V, Yanov SA, Lastimoso CS, Strelis AK, Mishustin SP, Fitzmaurice G, Mathew TA, Shin S. Integrated Management of Physician-delivered Alcohol Care for Tuberculosis Patients: Design and Implementation. Alcohol Clin Exp Res. 2010 Feb; 34(2):317-30. PMID: 19930235.
View full list of 8 publications.