Brian Smerkers MD
Assistant Professor, General Internal Medicine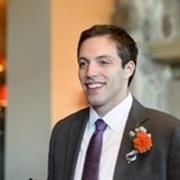 Sections
General Internal Medicine
Education
Medicine, MD, State University of New York Upstate Medical University, 2015
Mathematics, BA, College of the Holy Cross, 2008
Publications
Published on 4/17/2013
Ferris CF, Marella M, Smerkers B, Barchet TM, Gershman B, Matsuno-Yagi A, Yagi T. A phenotypic model recapitulating the neuropathology of Parkinson's disease. Brain Behav. 2013 Jul; 3(4):351-66. PMID: 24381808.
Published on 12/20/2012
Johnson TR, Smerkers B, Moulder JK, Stellar JR, Febo M. Neural processing of a cocaine-associated odor cue revealed by functional MRI in awake rats. Neurosci Lett. 2013 Feb 08; 534:160-5. PMID: 23262077.
View full list of 2 publications.