Azadeh Nasseh MD, MSc
Assistant Professor, General Internal Medicine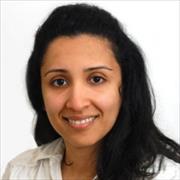 Sections
General Internal Medicine
Centers
BU-BMC Cancer Center
Center of Excellence in Women's Health 
Biography
Azadeh Nasseh, MD, MSc is an Instructor of General Internal Medicine at Chobanian and Avedisian School of Medicine. She is also a General Internal Medicine Physician at Boston Medical Center. Dr. Nasseh received her medical degree from Tehran University of Medical Sciences and holds a Master of Science in Epidemiology from the Boston University School of Public Health.
Websites
Education
Medicine-Internal, MD, Tehran University of Medical Sciences, 2004
Epidemiology, MSc, Boston University School of Public Health, 2011
Publications
Published on 5/1/2007
Dehshal MH, Hooghooghi AH, Kebryaeezadeh A, Kheirabadi M, Kazemi S, Nasseh A, Shariftabrizi A, Pasalar P. Zinc deficiency aggravates abnormal glucose metabolism in thalassemia major patients. Med Sci Monit. 2007 May; 13(5):CR235-9. PMID: 17476196.
Published on 12/28/2005
Shariftabrizi A, Nifli AP, Ansari M, Saadat F, Ebrahimkhani MR, Alizadeh N, Nasseh A, Alexaki VI, Dehpour AR, Castanas E, Khorramizadeh MR. Matrix metalloproteinase 2 secretion in WEHI 164 fibrosarcoma cells is nitric oxide-related and modified by morphine. Eur J Pharmacol. 2006 Jan 13; 530(1-2):33-9. PMID: 16386243.
View full list of 2 publications.