Aram V. Chobanian MD
President Emeritus
Dean Emeritus, Dean's Office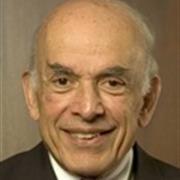 Biography
Aram V. Chobanian, M.D. is President Emeritus of Boston University. He was appointed President ad interim in October 2003 and was named President in June of 2005. He strengthened the ties between the University and its various constituencies, including faculty, students, staff and alumni and kept the University moving forward to fulfill its academic mission. During his tenure, a new set of governance policies and procedures were established by the Board of Trustees. In addition, the Agganis Arena, the Fitness and Recreation Center, and the Life Science and Engineering Building opened their doors. He has taught at Boston University School of Medicine since 1962, and subsequently served as Head of the Division of Medicine's Hypertension and Atherosclerosis Section and as Vice-Chairman for Cardiovascular Affairs in the Department of Medicine. He is principally responsible for establishing the connection between hypertension and accelerated vascular disease, including atherosclerosis. His research accomplishments propelled him into the leadership of the Joint National Commission on Detection, Evaluation and Treatment of High Blood Pressure which has developed the United States' national health care guidelines for hypertension.
A world-renowned cardiologist, Dr. Chobanian became the founding Director of the Whitaker Cardiovascular Institute in 1973. From 1975-95, he also served as Director of the Hypertension Specialized Center of Research funded by the National Institutes of Health. Dr. Chobanian was appointed University Professor and John I. Sandson Distinguished Professor of Health Sciences. He became Dean of the School of Medicine in 1988 and Provost of the Boston University Medical Campus in 1996. Chobanian played a leading role in the merger of Boston City Hospital with Boston University Medical Center Hospital to create Boston Medical Center. Dr. Chobanian is a member at the board of directors of the Fund for Armenian Relief. He has been involved in several programs to improve health care in Armenia. These have included the training of Armenian physicians, nurses, and other health professionals in emergency medicine, trauma care, and health care management; development of medical residency and post-graduate educational programs in Armenia; establishment of a successful medical student elective program for US medical students to spend one to two months in Armenian hospitals and clinics; and the provision of much-needed medical equipment, supplies, and medications to Armenia. He is a Foreign Member of the National Academy of Sciences of the Republic of Armenia and the European Academy of Sciences. Dr. Chobanian is the first recipient of the Lifetime Achievement Award in Hypertension of the American Heart Association.
He received the A.B. degree (1951) in biology from Brown University and the M.D. (1955) from Harvard Medical School.
Other Positions
Emeritus Professor, Pharmacology & Experimental Therapeutics
Emeritus Professor, Cardiovascular Medicine
Education
MD, Harvard University, 1955
BA, Brown University, 1951
Publications
Published on 2/14/2017
Chobanian AV. Hypertension in 2017-What Is the Right Target? JAMA. 2017 Feb 14; 317(6):579-580. PMID: 28135357.
Published on 1/1/2017
Chobanian AV. Guidelines for the Management of Hypertension. Med Clin North Am. 2017 Jan; 101(1):219-227. PMID: 27884231.
Published on 6/28/2016
Chobanian AV. SPRINT Results in Older Patients: How Low to Go? JAMA. 2016 Jun 28; 315(24):2669-70. PMID: 27195462.
Published on 11/9/2015
Chobanian AV. Time to Reassess Blood-Pressure Goals. N Engl J Med. 2015 Nov 26; 373(22):2093-5. PMID: 26550920.
Published on 3/24/2015
Chobanian AV. New guidelines for hypertension control in cardiac patients - lower may not be better. J Am Soc Hypertens. 2015 Jun; 9(6):417-9. PMID: 25840694.
Published on 5/16/2011
Chobanian AV. Major improvements in the control of hypertension in Canada. CMAJ. 2011 Jun 14; 183(9):996-7. PMID: 21576301.
Published on 5/9/2011
Chobanian AV. Mixed messages on blood pressure goals. Hypertension. 2011 Jun; 57(6):1039-40. PMID: 21555679.
Published on 5/26/2010
Chobanian AV. Improved hypertension control: cause for some celebration. JAMA. 2010 May 26; 303(20):2082-3. PMID: 20501932.
Published on 10/5/2009
Chobanian AV. Impact of nonadherence to antihypertensive therapy. Circulation. 2009 Oct 20; 120(16):1558-60. PMID: 19805645.
Published on 8/27/2009
Chobanian AV. Shattuck Lecture. The hypertension paradox--more uncontrolled disease despite improved therapy. N Engl J Med. 2009 Aug 27; 361(9):878-87. PMID: 19710486.
View full list of 164 publications.