Amr Salem MD
Assistant Professor, General Internal Medicine
801 Massachusetts Ave | (646) 545-8039

amrsalem@bu.edu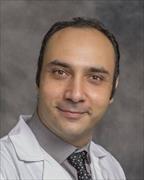 Sections
General Internal Medicine
Biography
Dr. Amr Salem, MD is a Internal Medicine Specialist in Springfield, MA and has over 14 years of experience in the medical field. He graduated from University of Alexandria, Faculty of Medicine medical school in 2008. Dr. Salem is affiliated with many hospitals including Baystate Medical Center, Berkshire Medical Center, Baystate Wing Hospital and Baystate Noble Hospital. He cooperates with many other doctors and specialists in medical group Baystate Medical Practices Inc.
Education
Medicine, MBBChB, Alexandria University, 2008
Publications
Published on 10/25/2021
Salem A, Lahmar A. Hemichorea-Hemiballismus Syndrome in Acute Non-ketotic Hyperglycemia. Cureus. 2021 Oct; 13(10):e19026. PMID: 34853750.
Published on 9/8/2021
Salem A, Aly A, Al-Aghil A, Soliman M, Carino G. Celiac Artery Compression Syndrome Presenting As Recurrent Diabetic Ketoacidosis: A Diagnostic Challenge. Cureus. 2021 Sep; 13(9):e17818. PMID: 34660028.
Published on 9/7/2021
Salem A, Aly A, Ortiz JF, Cohen RA. Post-ablation Dyspnea a Case Report to Highlight the Differential Diagnoses. Cureus. 2021 Sep; 13(9):e17793. PMID: 34660003.
View full list of 3 publications.