Albena D. Halpert MD
Voluntary Assistant Professor, Gastroenterology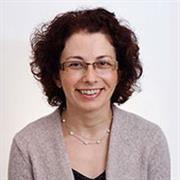 Biography
Expertise includes: Irritable Bowel Syndrome; Patient Education; and Patient Physician Relationship.
Education
MD, Charles University in Prague, 1990
BS, College Peter Beroun, 1983
Publications
Published on 7/28/2021
Drossman DA, Chang L, Deutsch JK, Ford AC, Halpert A, Kroenke K, Nurko S, Ruddy J, Snyder J, Sperber A. A Review of the Evidence and Recommendations on Communication Skills and the Patient-Provider Relationship: A Rome Foundation Working Team Report. Gastroenterology. 2021 11; 161(5):1670-1688.e7. PMID: 34331912.
Published on 1/2/2018
Halpert A. Irritable Bowel Syndrome: Patient-Provider Interaction and Patient Education. J Clin Med. 2018 Jan 02; 7(1). PMID: 29301273.
Published on 9/16/2016
Lucak S, Chang L, Halpert A, Harris LA. Current and emergent pharmacologic treatments for irritable bowel syndrome with diarrhea: evidence-based treatment in practice. Therap Adv Gastroenterol. 2017 Feb; 10(2):253-275. PMID: 28203283.
Published on 2/18/2016
Van Oudenhove L, Crowell MD, Drossman DA, Halpert AD, Keefer L, Lackner JM, Murphy TB, Naliboff BD, Levy RL. Biopsychosocial Aspects of Functional Gastrointestinal Disorders. Gastroenterology. 2016 Feb 18. PMID: 27144624.
Published on 2/15/2016
Houghton LA, Heitkemper M, Crowell M, Emmanuel A, Halpert A, McRoberts JA, Toner B. Age, Gender and Women's Health and the Patient. Gastroenterology. 2016 Feb 15. PMID: 27144622.
Published on 5/1/2015
Saypol B, Drossman DA, Schmulson MJ, Olano C, Halpert A, Aderoju A, Chang L. A review of three educational projects using interactive theater to improve physician-patient communication when treating patients with irritable bowel syndrome. Rev Esp Enferm Dig. 2015 May; 107(5):268-73. PMID: 25952801.
Published on 8/1/2011
Halpert A. Irritable bowel syndrome: what do patients really want? Curr Gastroenterol Rep. 2011 Aug; 13(4):331-5. PMID: 21594634.
Published on 5/11/2011
Halpert A, Godena E. Irritable bowel syndrome patients' perspectives on their relationships with healthcare providers. Scand J Gastroenterol. 2011 Jul; 46(7-8):823-30. PMID: 21561228.
Published on 6/15/2010
Halpert A, Rybin D, Doros G. Expressive writing is a promising therapeutic modality for the management of IBS: a pilot study. Am J Gastroenterol. 2010 Nov; 105(11):2440-8. PMID: 20551938.
Published on 3/1/2010
Halpert AD. Importance of early diagnosis in patients with irritable bowel syndrome. Postgrad Med. 2010 Mar; 122(2):102-11. PMID: 20203461.
View full list of 17 publications.