Ajit K. Bharti PhD
Research Assistant Professor, Hematology & Medical Oncology
650 Albany St | (617) 414-1694

bharti@bu.edu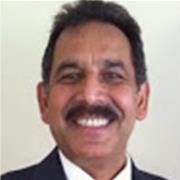 Sections
Hematology & Medical Oncology
Biography
Ajit Bharti, PhD. Research Assistant Professor of Medicine:
Dr. Bharti received his PhD from Ranchi University, India. After a brief stint as a research scientist at the All India Institute of Medical Sciences, New Delhi, he joined Dr. Donald W. Kufe's lab at the Dana-Farber Cancer Institute. After post-doctoral training, he continued to work as an instructor and contributed to understand the DNA-damage response pathway, particularly DNA-DSB caused by topoI inhibitors. TopoI inhibitors are used extensively to treat solid tumors, however, the response rate is low and the drug resistance mechanism is not understood. Dr. Bharti's lab defined the mechanism of resistance, identified topoI-pS10 as the key molecular determinant of this pathway, and validated that as a potential predictive biomarker for this class of drugs. This IHC-based biomarker is retrospectively validated in CRC and GC. The discovery of topoI-pS10 as a predictive biomarker will significantly enhance the clinical utility of topoI inhibitors and will change the response rate in patient population
Websites
Education
PhD, Ranchi University, 1990
MS, Ranchi University, 1982
BS, Ranchi University, 1979
Publications
Published on 3/1/2021
Ando K, Hu Q, Fujimoto Y, Jogo T, Nakanishi R, Hisamatsu Y, Kimura Y, Oki E, Bharti A, Mori M. [The Efficacy of topo ?-pS10 Expression in Gastric Cancer as a Predictive Biomarker for Irinotecan Use]. Gan To Kagaku Ryoho. 2021 Mar; 48(3):331-335. PMID: 33790151.
Published on 12/10/2020
Ando K, Ozonoff A, Lee SY, Voisine M, Parker JT, Nakanishi R, Nishimura S, Yang J, Grace Z, Tran B, Diefenbach TJ, Maehara Y, Yasui H, Irino T, Salgia R, Terashima M, Gibbs P, Ramanathan RK, Oki E, Mori M, Kulke M, Hartshorn K, Bharti A. Multicohort Retrospective Validation of a Predictive Biomarker for Topoisomerase I Inhibitors. Clin Colorectal Cancer. 2021 06; 20(2):e129-e138. PMID: 33731288.
Published on 8/7/2020
Matsuoka H, Ando K, Swayze EJ, Unan EC, Mathew J, Hu Q, Tsuda Y, Nakashima Y, Saeki H, Oki E, Bharti AK, Mori M. CTDSP1 inhibitor rabeprazole regulates DNA-PKcs dependent topoisomerase I degradation and irinotecan drug resistance in colorectal cancer. PLoS One. 2020; 15(8):e0228002. PMID: 32764831.
Published on 3/27/2018
Ando K, Tohme YH, Srinivasiah A, Taylor-Parker J, Harrington Y, Shah AK, Oki E, Brahmandam M, Bharti AK. Developing a Phosphospecific IHC Assay as a Predictive Biomarker for Topoisomerase I Inhibitors. J Histochem Cytochem. 2018 08; 66(8):549-561. PMID: 29587004.
Published on 7/4/2017
Ando K, Shah AK, Sachdev V, Kleinstiver BP, Taylor-Parker J, Welch MM, Hu Y, Salgia R, White FM, Parvin JD, Ozonoff A, Rameh LE, Joung JK, Bharti AK. Camptothecin resistance is determined by the regulation of topoisomerase I degradation mediated by ubiquitin proteasome pathway. Oncotarget. 2017 Jul 04; 8(27):43733-43751. PMID: 28415827.
Published on 8/12/2015
Raina D, Agarwal P, Lee J, Bharti A, McKnight CJ, Sharma P, Kharbanda S, Kufe D. Characterization of the MUC1-C Cytoplasmic Domain as a Cancer Target. PLoS One. 2015; 10(8):e0135156. PMID: 26267657.
Published on 12/10/2013
Rolle CE, Kanteti R, Surati M, Nandi S, Dhanasingh I, Yala S, Tretiakova M, Arif Q, Hembrough T, Brand TM, Wheeler DL, Husain AN, Vokes EE, Bharti A, Salgia R. Combined MET inhibition and topoisomerase I inhibition block cell growth of small cell lung cancer. Mol Cancer Ther. 2014 Mar; 13(3):576-84. PMID: 24327519.
Published on 1/5/2012
Icli B, Bharti A, Pentassuglia L, Peng X, Sawyer DB. ErbB4 localization to cardiac myocyte nuclei, and its role in myocyte DNA damage response. Biochem Biophys Res Commun. 2012 Feb 3; 418(1):116-21. PMID: 22244893.
Published on 7/29/2011
Tamayo AG, Slater L, Taylor-Parker J, Bharti A, Harrison R, Hung DT, Murphy JR. GRP78(BiP) facilitates the cytosolic delivery of anthrax lethal factor (LF) in vivo and functions as an unfoldase in vitro. Mol Microbiol. 2011 Sep; 81(5):1390-401. PMID: 21797942.
Published on 11/9/2010
Murshid A, Chou SD, Prince T, Zhang Y, Bharti A, Calderwood SK. Protein kinase A binds and activates heat shock factor 1. PLoS One. 2010; 5(11):e13830. PMID: 21085490.
View full list of 28 publications.