BU Reviewed and Cleared Apps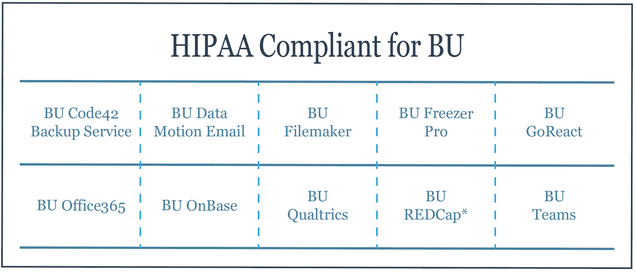 HIPAA  compliant for both BU and BMC
These apps are managed by BU, but accounts must be removed or disabled by the research team (e.g., SharePoint or REDCap) or by sending an email to bumchelp@bu.edu or ithelp@bu.edu to remove accounts from BUMC Y Drive (aka RU-GPNAS)
BU Code42 Backup Service (formerly Known As Crashplan)
Backup and recovery service for computers
BU Data Motion
It secures emails containing Restricted Use data.
There is a normal data transfer amount but you can ask to increase it to 100 Mb.
BU FileMaker
Cross-Platform relation database application
BU Freezer Pro
Sample management tool for research purposes
BU GoReact
Platform for recording and commenting on videos
Reach out to ithelp@bu.edu to be given access through Blackboard
BU Office 365
Can be used to share larger files with BU and non-BU collaborators.
We recommend that:

Research teams use SharePoint sites that can have multiple subsites.
Individual team members use OneDrive to share files and folders, even with non-BU collaborators.

Office 365 provides the following HIPAA compliant services:

OneDrive, SharePoint, Teams, Power Apps, Power BI, Access Online, Bookings, Dynamics, Flow, Forms, Graphs, InTune, MyAnalytics, Office Delve, Office Online, Planner, Power Apps, Project Online, StaffHub, Stream, Sway, To-Do for Web, Video, Whiteboard, Yammer
BU OnBase
OnBase is a full featured, fully integrated enterprise document management system for capturing, imaging, routing, managing, sharing, and archiving documents online.
BU Qualtrics
Simple survey tool for research and general purposes
BU REDCap
Robust and powerful survey tool.
Can be used to send videos and brief messages to research subjects via email.
For an additional cost, Twilio can be used to send surveys and messages by text messages.
Twilio's methods:

ALLOWED

Initiate survey as voice call

Send survey invitation with survey link via SMS

Send survey invitation via SMS to take survey as voice call (respondent makes call)

NOT ALLOWED

Initiate survey as SMS conversation

Surveys can be simple as one question, to extremely advanced.
You can also schedule reminders for surveys.
Has built-in scheduling module and project calendar.
BU Teams
Can be used for communication within research subjects.
A link can be sent to any email address.

Does not have to be a BU email.