COVID Pager
COVID-ID Pager 5236
**Ensure you sign into the covid pager at 8AM (password 5236), then forwarded to 8902 ID consult pager at 5PM**
**please write suggestions for FAQ sheet in "pager suggestion file" Box after your shift**
LAST UPDATED 12/7/2020 AM
*any pediatric question (<18 or being seen by a pediatric provider), forwarded to pedi ID fellow p9200)
 PLEASE CHECK NEW HUB DOCUMENTS FOR MOST UPDATED PROTOCOLS AND INFORMATION
———————————————————————————————————————————————————————
Contents:
1. COVID-19 PAGER WORKFLOW:
 

COVID pager – p5236

Whether/how to test an inpatient & accordingly isolate/transfer

Initial workup and management of COVID patients as stated in algorithms (if question not covered by algorithms, may suggest ID consult)

Process for removal from isolation

Clinical questions re disease presentation

Where testing is done

How to do the test (swab)

Where the sample will be sent and estimated turnaround time

All other COVID calls not covered above, including questions on COVID-positive or suspect inpatients not being actively followed by ID consult service

"ID CONSULT" p8902 – gets carried by ID fellow

Inpatient consults for COVID and non-COVID patients

This includes COVID questions about any ICU or newly unstable patient and questions about any other patient currently being followed by ID
ID COVID Pharmacy p5881 – Covered by ASP team in Pharmacy

If there is a specific question about contraindications, dosing for our treatment agents
Working Well

Employee illness/exposure should call or go to working well during work day hours (after hours email to working well email Covid19wwc@bmc.org)
Infection control COVID

Appropriate PPE

In-hospital exposures
Questions for situations that are unclear can be referred to Cassandra Pierre (p7088), Alison Nelson (p9171) or Cathy Korn (p9551)



Hospitalist Director on Duty: p0450

Questions around immediate patient placement or floor team distribution
Micro Laboratory: x89870

Delayed resulting of tests
Other Key Contacts

Workflow Tips:
With every page – provide answers as you are aware of them, use HUB documents as further reference. If possible, provide the name of the reference document to the person asking the question so that they can locate the answer on their own the next time

Pages that cannot be answered by the documents available on the HUB (or other supporting materials you have been provided) can be referred to the appropriate person/group as detailed above.

If you cannot provide an answer at the moment that you receive a page, you can take contact information and get back to the caller after you have had a chance to locate the relevant information

Please note: the links that follow are to the internal hub website. If accessing these webpages remotely, links may not function properly.  However, the information is still available by visual inspection of the external version of the HUB website.
2. INFECTION PREVENTION:
WHO TO CONTACT FOR INFECTION PREVENTION OR HOSPITAL EPI QUESTIONS THAT CANNOT BE ANSWERED BY HUB DOCUMENTS AND PROTOCOLS:
Employee universal mask policy (instituted 3/27/2020):
The hospital-issued daily mask must be worn throughout the shift, in clinical areas and in shared spaces in clinical areas, such as hallways, medication rooms, and break rooms.

Staff should continue to wear the same mask when caring for non-COVID-19 patients, unless it becomes damaged or dirty.

Eating is not permitted in clinical areas. In settings where eating and drinking is not restricted, remove the mask and place it on a clean surface such as a paper towel or in a paper bag. After eating or drinking, perform hand hygiene, carefully put the mask back on, discard the paper towel, and perform hand hygiene again.

If you do not receive a mask upon entry, please return to the entrance to ensure you are issued a mask.
PPE Guidance for Non-COVID Floors (AKA "Standard Plus Precautions")
Consists of:
Surgical mask (extended use)

Gloves (donned and doffed with each patient encounter)

Reusable/disposable face shield, goggles, or alternative eye protection

Gowns (only if gross contamination from body fluids are expected)

N95 replaces surgical mask if patient is actively receiving an aerosol generating procedure
 What alternative eyewear protection is acceptable?: https://hub.bmc.org/doc/eye-protection-options
 PPE Guidance for COVID Floors (May be on Droplet-Contact or Enhanced)
Consists of:
N95 mask (stored in tupperware between patient encounters)

Gloves (2 pairs)

Reusable/disposable face shield

Gowns (for all encounters)
Additional guidance for aerosol generating procedures: General principle is that all aerosolization/aerosolizing procedures requires N95, even non-COVID patients.  These patients may be identified with a blue door sign noting that they are receiving an AGP.
 PPE DOCUMENTS RELEVANT TO SPECIFIC LOCATIONS/TYPES OF CARE:
Ambulatory isolation and PPE: https://hub.bmc.org/doc/bmccovidambulatoryvisits
IPP (Procedures): https://hub.bmc.org/doc/bmccovidippppeguidance

REMOVAL FROM PRECAUTIONS
 Approach to precautions removal depends on initial probability assessment and documentation
https://hub.bmc.org/doc/probabilityassessment
https://hub.bmc.org/doc/bmccovidremoveisolationprecautions100220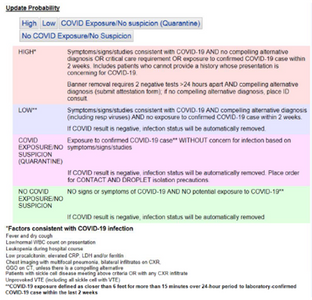 If COVID-19 test NEGATIVE and NO SUSPICION of COVID disease BUT had any close contact with a confirmed positive case of COVID → must remain in QUARANTINE for 14 days after last contact.
CDC recommendations have been recently updated to allow for completion of quarantine at either 10 or 7 days. We are still adjusting our internal hospital policies to account for this change – more information to follow.
 If COVID-19 test NEGATIVE and LOW probability – banner should resolve automatically if probability documented prior to test result.  If does not resolve automatically, the attending can fill the EPIC chart attestation tool (located in the banner) to request banner resolution.
 If COVID-19 test NEGATIVE and HIGH probability – the banner will not resolve automatically.  Isolation should be maintained until new information or a new assessment makes an alternative diagnosis more likely.  At that point, the attending physician can determine that the COVID-19 probability should be downgraded to low and request banner resolution.
If COVID-19 test POSITIVE: Most patients can be cleared from isolation with a time and symptom-based strategy: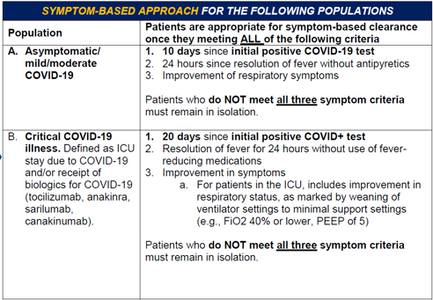 3. EMPLOYEE EXPOSURES:
Recommend all exposed employees send questions to Working Well: Covid19WWC@bmc.org
Employee Exposure Flowchart: https://hub.bmc.org/doc/bmccovidemployeeexposurechart
Employees who develop symptoms at work should inform supervisor then call working well clinic for further directions
Employees who develop symptoms at home should stay home, call or email working well clinic and they will arrange for employee to be tested at Crosstown at a specific time
The employee testing center has been combined with ILI clinic which is now in 801 Massachusetts Avenue (Crosstown). In the event you need to be tested, please note that an appointment must be scheduled by emailing or calling the Working Well Clinic using the contact information above
Employees who have had an exposure inside or outside of the workplace should contact working well for further guidance
Self-scheduled testing for those not being actively tracked by working well is available through MyChart scheduling
Occupational Health Working Well Clinic:
617-638-8400, Option 1
Hours for email and phone answering are 7 a.m. – 10 p.m. Monday through Friday, with regular check-ins during off hours, including weekends.
Pager #3580
Covid19wwc@bmc.org
workingwellclinic@bmc.org
Employee and Labor Relations:
617-638-8566
85 East Concord, 1st Floor
HRConnect@bmc.org
OUTPATIENT PUI TESTING:
 Outpatient testing guidance: https://hub.bmc.org/doc/outpatient-covid-19-testing-guidelines
Locations for outpatient testing: https://hub.bmc.org/doc/covid-testing-locations-and-ppe-recommendations
Common outpatient PUI Scenarios

Response

If in-house Clinics getting calls from patients currently at home

Direct to ILI clinic in CROSSTOWN 1st floor (limited business hours)

Red tent is ILI clinic backup (if active)

Symptomatic patients who accidentally make it up to clinic or similar ambulatory setting

Providers put on mask on patient, include paperwork describing why testing is indicated and send to ILI clinic.

Providers CANNOT test symptomatic patients in clinic – there is no EPIC build for ordering in outpatient.

Symptomatic and unwell (i.e. potential admissions)

Mask patient, and transport to ED with EMS

ED Expect line 4-7522

ED Charge Nurse 857-292-9434
What is the Influenza Like Illness (ILI) Clinic? (UPDATE 6/1)
In CROSSTOWN 1st floor, ONLY for BMC patients needing non-emergency care, by referral from the ED and clinics
COVID-19 Test Results for patients tested at BMC (inpatient, ED, outpatient), who are now outpatient:
These are being managed by the Outpatient Testing group (Leads: Jai Marathe, Rachel Epstein; Faye Huang, Pedi ID fellows and RN/MA pool) – results go to a pool seen by them, and will be called to patient and sent through myChart (if enrolled) and/or via letter — the COVID pager should not be calling outpatients with results or reporting them to anyone outside BMC; email Jai and Rachel if questions arise.
 Employer request testing results on a patient:
        Although we cannot disclose results to an employer without patient consent, we can give the patient a results letter that they can give to whomever they want; alternatively, we can document that the authorization to release the information (to another party) was received verbally from the patient in the medical record or complete a release of PHI authorization form at the patient's direction and have it sent to HIM to be scanned into the patient's record. For more info/forms: https://www.bmc.org/sites/default/files/documents/bmc-RequestMedicalRecords-auth.pdf
 Outpatient Follow-up for *BMC primary care or no PCP* patients discharged from BMC after COVID adm, or eventually for ED patients with suspected COVID not meeting adm criteria: (CHC's are doing their own thing)
Being set up via GIM Ambulatory team (Rachel E, Rachel S, Jai all involved, ask if q's) – to go live officially approx 4/13; until then, if discharging a patient from inpatient, ED, or ILI who's high risk and needs a telehealth visit at 24 hrs, email all 3 of us w/ MR, when f/up needed, best phone #, & confirm it's a BMC GIM/FM/Pedi/Geri/ID/or no PCP pt, and we'll pass it on.
Inpatient Testing Protocol AKA rule outs:
Protocol: https://hub.bmc.org/doc/inpatient-covid-testing-protocol
 Who to send testing on?
ED testing ALL inpatients who are being admitted
Rapid test for low prob if negative go to non-COVID floor

Mod-high prob and COVID positive go to COVID floor
In general,

if an inpatient with any sxs potentially attributable to COVID-19 warrants testing per your clinical opinion, go ahead and recommend testing (and appropriate isolation/transfer to a COVID team), even if they don't meet criteria, particularly if going to an LTAC on discharge
Logistics if testing an inpatient who's been in a shared room:
If testing a patient only because NH/facility requests it – ie a patient not already on COVID precautions (NOT appropriate to test asymptomatic patients but if we have no choice), we are allowing testing while the patient stays on their initial floor and team. If the patient is in a private room, they can be tested there. If the patient is in a semi-private room or an observation bay, they should be tested in an empty procedure room, private room, or the bathroom (if door can be closed); they can then return to their original location to await test results.

If testing because of new concern for COVID in a patient already admitted to a semi-private non-COVID floor/room, arrangements should be made to separate and isolate the roommates. If the test is positive, the roommate will need to be placed on QUARANTINE status.
How to send a test?
Testing options are available depending on clinical context, EPIC decision support will provide the appropriate guidance to help select the appropriate order

Must fill out contact/travel screening questions

If sending a sputum or BAL sample (if clinically warranted), you can choose those options under "Additional Testing" as before- test will be sent to MDPH AND require the MDPH form (pdf also HERE), which is linked in the order panel

Advice on collection of Nasopharyngeal swabs:

send ONE Nasopharyngeal swab (NP) submitted in a viral transport tube (UTM or VTM) to test for COVID-19 and any other respiratory viral tests (comprehensive viral panel, any influenza testing)

Label the tube with the patient label and small label.

If meet criteria for DPH state (only sputum/trach aspirate specimens are being sent to DPH as of 3/28, turn-around time up to a wk), send UTM/VTM tests AND MDPH specimen paper form COMPLETELY FILLED OUT (form on EPIC orderset: pdf also HERE)

Advice on collection of Anterior nasal (AN) swabs:

In the outpatient setting, anterior nasal swabs can be used for asymptomatic patients without history of exposure to a known COVID case

In the inpatient setting, AN swabs can be used for pre-procedural testing or pre-discharge testing in patients without concern for COVID symptoms, if admission testing was negative.

AN testing can be done with Standard Plus precautions, and requires no specific testing location or isolation
 How long will testing take?
MICRO LAB TESTING turnaround time for COVID tests (3/23/20):

BMC in house: results range from several hours to around 24 hours depending on exact test type

Mass DPH: 1-3 days (only lower respiratory specimen/BAL), sometimes longer
 Guideline for patients returning to BMC for admission, after a prior COVID diagnosis https://hub.bmc.org/doc/bmccovidreadmission
 If within 90 days of initial positive COVID test:
DO NOT retest patients who have recovered from COVID if their initial diagnosis was made within the last 90 days.

Retesting can be considered in cases where patients present with new COVID symptoms and there is no alternative explanation
 If greater than 90 days of initial positive COVID test:
Do admission screening as usual
 TESTING POLICIES BY SPECIFIC LOCATION/PURPOSE
COVID testing for elective surgeries/procedures: https://hub.bmc.org/doc/bmccovidipptestingprocedures
Ambulatory procedures: https://hub.bmc.org/doc/ambulatory-recommendations-testing-and-ppe
Emergency department: https://hub.bmc.org/doc/esp-ed-covid-testing
Serologic testing: This is generally not something that is usually recommended.  If they need further information, refer them to this document: https://hub.bmc.org/doc/bmccovidserologytesting
5. TREATMENT:
At present, the medications on our treatment protocol (remdesivir and dexamethasone) are available to order without pre-approval for qualifying patients, standard dosing is provided.

*NO NIV unless the helmet device is used, anything else is discussion b/t ICU team/pulmonary on case-by-case basis (ie HiFlow)

CBC, BMP, CRP, LDH, Ferritin, D-dimer, Fibrinogen

are the laboratory values of interest in COVID, at present we are recommending that they be collected on an approximately q72 hour basis.

For remdesivir (RDV): any patient with a confirmed diagnosis whose COVID-related symptoms started within the last 5 days can be started on remdesivir without pharmacy approval. Others require approval from pharmacy (p5881)
Any COVID positive patient with an oxygen requirement can start dexamethasone – see algorithm to determine if ivermectin should be given concurrently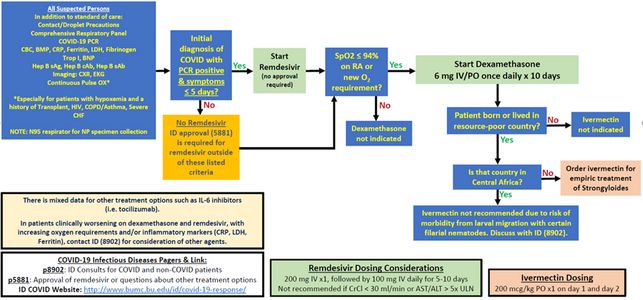 Who requires anticoagulation?: https://hub.bmc.org/doc/bmccovidanticoagulation
Airway/oxygenation managment: https://hub.bmc.org/doc/covid-19-oxygen-and-bag-guidelines
Clinical discharge criteria:  https://hub.bmc.org/doc/bmccoviddischargecriteria5420
 OUTPATIENT TREATMENT
 I have a COVID patient on RDV planning discharge, should they be kept to complete course of RDV?
Current consensus is that if well enough to be discharged should NOT stay just to complete course of RDV. We are not setting up outpatient infusions of RDV at this point.
 Is BMC using monoclonal antibody therapies for COVID?
There is a process being developed to provide a limited number of outpatients with monoclonal antibody infusion, which will be administered on a lottery basis. However, this is not yet active.  There is no role for monoclonal antibodies in the inpatient setting at the present time.
 ACEI/ARB questions:
At this point no scientific evidence that ACEI/ARBs should be discontinued in patients with COVID-19
6. SPECIAL POPULATIONS:
Labor and Delivery

Relevant documents and protocols:
2. Dialysis: VARIABLE
Practices at individual dialysis centers may vary regarding whether they accept COVID positive patients, whether they will accept symptom-based clearance strategy or require repeat testing.

Our nephrology providers have experience in dealing with these disposition situations now and should be able to address from their end

Any requirements placed by dialysis centers (or other types of discharge facilities) DO NOT affect the patient's isolation status within BMC.
 3. Homeless patients:
 If patients AMA, follow BPHC guidance on who to inform/notify and for patients with pending COVID tests, also notify DG-HospitalEpidemiology email listserv.
Homeless patient test result

Advice

POSITIVE CASES

●     

To facilitate transfer of POSITIVE homeless patients: contact person Dave Munson (Barbara McGinnis respite) 617- 909-2637

●      Elopement after positive case: advise provider to call BPHC to inform

NEGATIVE CASES

●     

Pt will be able to return to shelters, advise provider to send BMC document supportive neg result

PENDING CASES

●     

If pts leave PRIOR to result return, please inform BPHC: 617 534 5611, send MRN to DG-HospitalEpidemiology.

●      No DPH guidance on involuntary hospitalization or mandatory quarantine if they want to AMA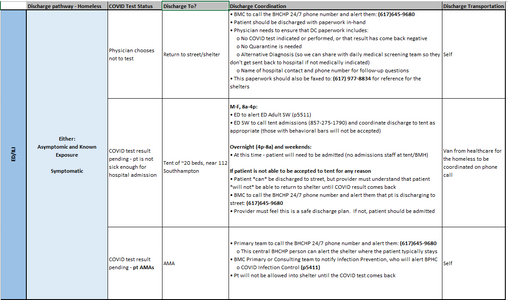 Other common Doc to Doc scenarios (mostly outpatient scenarios)
Asymptomatic patients with exposure to suspected or confirmed PUI – should be tested if have access. Should quarantine at home.  Contacts of known positive cases will receive guidance from DPH
KEY CONTACTS
Boston Public Health Commission: (617) 534-5611
 Command Center Contact: (617) 414-6860
 MA DPH ID epidemiology guidance: (617) 983-6800
 Infection Control Practitioners
Deb Lictenburg: p7033

Cathy Korn: p9551

Dr. Pierre: p7088

Dr. Nelson: p9171
 How to sign pager over to yourself (two ways)
Option 1:
Go to internal.bmc.org

On right hand side, enter pager number 5236

Click "change paging status"

Enter password 5236

Enter your personal pager number into box next to "Covering Pager ID"

Click "Change"
[ For cellphone referral –> after entering the password, from the dropdown underneath "Available Statuses" select "Referred calls to another number" and then enter your cellphone]
Option 2:
Dial (617) 638-5795

Enter **5236#

Enter 5236 if prompted for password

Enter 1 to change status

Enter 6 to indicate new covering pager OR enter 4 to refer to another number (cellphone)