Congrats to our Infectious Disease COVID-19 team : Selected for the Be Exceptional Award!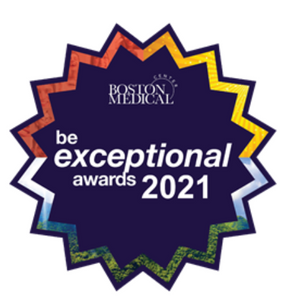 Please join Kate Walsh, President and CEO, and Lisa Kelly-Croswell, Senior Vice President & Chief Human Resources Officer, in cheering on the winners at the virtual
2021 Be Exceptional Awards ceremony, being held Wednesday, June 23, from 12 – 1 p.m. on Zoom. Meeting information is available on the Hub, and the meeting will be recorded for those who cannot attend live.
The winners were nominated by employees and providers, who were invited to submit nominations for individuals and teams who demonstrate exceptional performance in the areas of core values and priority goals. This year, a record-breaking 248 individual and team nominations were submitted – a testament to what an exceptional year it was and to the incredible admiration and respect BMC colleagues have for each other. A hospital-wide selection committee then chose the final 2021 Be Exceptional Award recipients based on their extraordinary performance, initiative, and teamwork.
Congratulations to all our 2021 Be Exceptional Award winners!
Individual Winners
·
Confidence Achilike
, MD, MPH, Research Associate and Vaccine Trial Specialist, OB/GYN
·
Kimberly Ackerbauer
, PharmD, BCCCP, 
Clinical Pharmacy Coordinator, Critical Care
·
Matthew Collins
, RN, BSN, Nurse, 5W
·
Michael DerBoghosian
, Clinical Engineer
·
Natalija Farrell
, PharmD, BCPS, DABAT, Clinical Pharmacy Coordinator, Emergency Medicine and PGY2 Emergency Medicine Pharmacy Residency Program Director
·
Taneequa Fields
, LICSW, Clinical Social Worker and Child Protection Specialist
·
Victoria Garrett
, RN, Care Manager
·
Patrick Giblin
, COA, Senior Ophthalmic Technician
·
Melissa Graciale
, RN, BSN, Staff Nurse, 6W
·
Erica Hersh
, MS, Content Manager, Department of Communications and Marketing
·
Samhita Joshi
, BDS, MPH, Clinical Research Associate, Radiology
·
Sarah Kimball
, MD, Director, Immigrant & Refugee Health Center
·
Karilyn Masters
, MBA, Manager of Radiology & Procedural Services and Manager of BMC COVID-19 Testing Sites
·
Keri McDonough
, RN, Care Manager, MICU
·
Beth Milaszewski
, LICSW, Employee Assistance Clinician, Human Resources
·
Albert Nadjarian
, MD, MPH, Hospitalist
·
Christine O'Brien
, Harm Reduction Case Manager, Department of Infectious Diseases
·
Anita Roscoe
, CCHW, 
Population Health Management Community Wellness Advocate Float and Enrollment Specialist
·
Armani Thao
, Executive Assistant, Human Resources
·
Kailey Vitale
, MA, CCC-SLP, Speech-Language Pathologist, Otolaryngology
Winning Teams
·
Anesthesiology Residents
·
COVID-19 Vaccine Teams 
(
several teams will be highlighted within this group!
)
·
Environmental Services (EVS)
·
Infectious Diseases Department COVID-19 Team
·
Microbiology Lab Team
·
Mobile Pediatric Clinic
·
Patient Transport