Welcome Jean-Antoine Ribeil MD, Ph.D, to the Section of Hematology/Oncology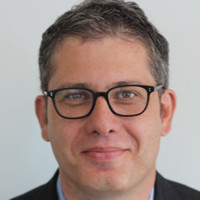 We are absolutely delighted today to welcome Jean-Antoine Ribeil MD Ph.D to the section of Hematology/Oncology and Boston University School of Medicine. Dr. Ribeil is joining us as the Clinical Director of our sickle cell program, where he will be working closely with Dr. Liz Klings in her capacity as the Director of the Sickle Cell Center of Excellence.
Dr. Ribeil is an internationally recognized hematologist and a highly innovative leader in the treatment of sickle cell anemia. Dr. Ribeil received his medical training in France at the Universite Aix Marseille II and the University of Limoges, and subsequently completed a research fellowship in Hematopoiesis and Immunology at the Centre National de la Recherche Scientifique (CNRS). In 2004, he was appointed as an attending hematologist and Medical Director of the Department of Biotherapy at Necker University in Paris France where he founded and directed a sickle cell referral center that continues to successfully serve the entire western Paris region. In addition to his clinical expertise, Dr. Ribeil has been a scientific leader in his field. These include initial work elucidating the role of HSP70 in erythroid maturation, which was published in Nature. In subsequent studies he developed a novel lentiviral gene therapy vector for the treatment of sickle cell anemia. The initial results of this approach were published in the New England Journal of Medicine in 2017. Dr. Ribeil has also played a key role in early phase studies demonstrating efficacy of lentiviral based gene therapy in patients with Beta Thalassemia. Prior to joining Boston University and Boston Medical Center, Dr. Ribeil served as Associate Medical Director at BlueBird Bio, where he led efforts to further develop lentiglobin gene therapy as a treatment for patients with sickle cell disease.
Please join me in welcoming Dr. Ribeil to our section and to our larger community. We are truly excited to have him on board!