GMS Student Spotlight: Elle Timmerman (BMFS '23)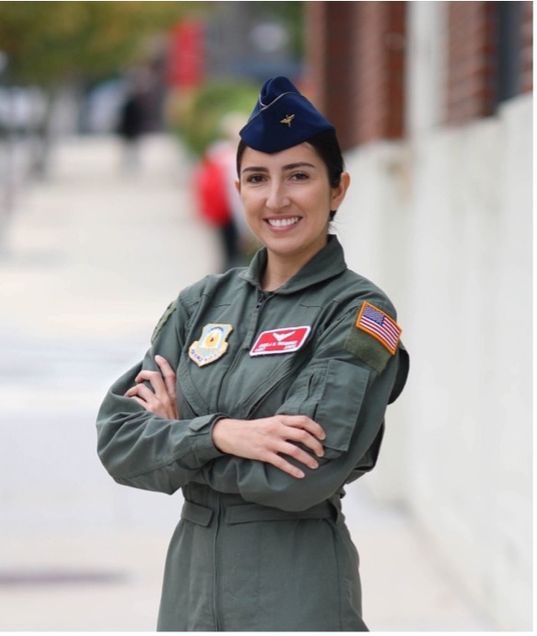 Elle Timmerman is a third-year student in the MS in Biomedical Forensic Sciences program at Boston University Graduate Medical Sciences. She is a Vice Commander in the BU Reserve Officer Training Corps (ROTC) and will commission as a United States Air Force Officer working in criminal investigations upon graduation. Read more about Elle's journey below.
---
Tell me about your journey to Boston.
I was born in Newport Beach, California, and I spent my entire life in California. I had never lived anywhere but at the beach until I moved to Boston. I got my bachelor's degree in biology from the University of San Diego. I was pre-med, and I thought I was going to be a doctor. I was fully developed in the medical field and wasn't really expecting anything else. I had done an internship in a hospital, but I just didn't love it, and I didn't feel anything for it. It didn't really bring me joy.
I thought to myself, I will just take a gap year or two to figure what exactly I want to do in life. I ended up, just by pure chance, working in a genetics lab in Carlsbad, San Diego County. So, I was working with DNA in a non-forensic research setting. Because of the pandemic forcing me to spend time at home, that launched me into my quest for grad school. Since I was working with DNA, it made me realize I was on the correct track for forensic science and was something that I had always wanted to do.
I think I'm just very inquisitive by nature, and it was something that I was interested in, but was too scared to really commit to, because I was so familiar with the medical field that I was too afraid to dive in headfirst. In that sense, the pandemic pushed me in the correct direction.
I applied for BU [Chobanian & Avedisian] School of Medicine, thinking I would absolutely not get admitted. It was the only forensic science program that I applied to. And, I got in. So, it was a very happy accident, and I ended up in the right career field. All the work that I do doesn't feel like homework. It feels like work that I'm supposed to be doing. I love what I do. I think it suits my personality very well.
In the midst of preparing to move to Boston, one day, I just kind of thought, "Can I do [Reserve Officers' Training Corps] as a graduate student? Is that even possible?" And it was possible, just by sheer luck. So, I'm now going to be a commissioned Officer in the U.S. Air Force with my M.S. in Biomedical Forensic Sciences.
What drew you to the Biomedical Forensic Sciences program at Boston University?
Believe it or not, I had actually inquired about the program back in, I think, 2017, when I was still in college. It was a simple email to the faculty like, "Am I heading in the right direction? Do I have the right degree? Would I fit in well?" And I actually still have the email, and I went back and looked at it when I got admitted.
So that was my first exposure to the program. Then, when I was deciding where to apply, I really wanted something different. I had spent all of my time in the desert and beaches in Southern California, but I had never been on the East Coast.
Then, just some basic research on master's programs in forensic science. This was the only one at a medical school, a top-tier medical school, and the only one that was kind of biomedically focused, which was sort of what I was looking for with my background. Forensic science can be very general, and there are a lot of other disciplines. This being medically based, I felt that it was the perfect fit. And then, just to top it all off. I was really interested in Boston. I just wanted to see it and experience it, because I knew that grad school was going to be a very temporary thing. It was only going to be a couple of years, so I went straight to the other corner of the country.
Why did you choose to enter ROTC at Boston University?
I have wanted to be an Air Force Officer for my entire life. That has never changed. I have wanted to do it for a very long time. I do come from a legacy of Air Force. It's just in my family, but no one was expecting the daughter to do it, so that was a little bit of a surprise for them.
My father spent his career building airplanes. He worked at Boeing for most of his life, just retired. So, I actually grew up building the little airplane models as a kid, and I had a bunch of them in my room at home. I like to think that that's where it all started. But then, in college, I thought I had this formulated master plan of, "I'm going to get my degree and then go in the Air Force." I did not know that that is a very, very slim chance. It's harder to get in after college, so I had kind of missed my chance at ROTC as an undergrad.
After I graduated, I thought I was out of luck on my biggest dream. When I got into grad school that was really just an instant thought. I wasn't sure if it was possible, but they did make an exception for me and that's how I ended up here. So, everything kind of just fell into place for me at BU.
You're simultaneously doing the BMFS program, you're doing your thesis research, you're in ROTC, and you're the Vice Commander of your cadet group. How do you balance such a busy schedule?
Being Vice Commander, honestly, if I could sum it up in a few words, was the worst and best thing I've ever experienced in my entire life. I'm glad I did it, and it was very rewarding. It was also really strenuous with my workload. ROTC is essentially supposed to be a simulation of active duty. So, I was in charge of all of the cadets and there was a lot on my plate.
That and all of the training plans, getting them ready for the objectives that they need to meet and the field training that they have to go to. There was a lot, a lot of work over the summer, just constant meetings before the semester even started. Then, during the semester it was very much reacting to any issues that arose during training.
My planner would be scheduled two or three weeks ahead of time almost always. Every day was 1,000 percent effort. There was not a single day where I went to bed early without checking my planner or went to bed and just skipped my homework. I had to fully commit. Even weekends, I was doing homework and ROTC, because if I even slipped up a little bit, I'd fall behind so much, especially with my thesis work going on. So, extreme organization and passion is what kept it all together.
Can you tell me a little bit about your thesis research?
Because I thought I wanted to go into investigations later on in life, I chose forensic chemistry. That's the major discipline. Then, I'm focusing on developing a technique to detect organic gunshot residue.
Gunshot residue in general can be split into two main categories. There are inorganic and organic components in the gunshot residues that are left behind after firing a weapon. Right now, the method that's used is detection of inorganic gunshot residue. It's fairly obsolete for several reasons. It's not an efficient method. There are several issues with the current detection of gunshot residue, one of them being that it's not always an ironclad argument in court that someone has discharged a firearm.
So, the whole objective is to develop a technique that can bolster the current gunshot residue detection method. Essentially, I'm trying to either develop or confirm the technique to detect the presence of other compounds. That way, if someone has both on their hands, the argument would be they probably don't have any business having all compounds on their hands, and we can legitimize those arguments in court.
In addition to that, it's an onsite technique. So, everyone seems to think that in forensic science you get the results right away. You don't. You have to collect the sample, send it back to a lab, wait for months for the results. So, this would actually be instant. It's a portable device, it's as easy to use as an iPad for the reason that it could be a law enforcement agent using it that is not a trained forensic scientist. That way, you can have presumptive or preliminary results on the spot, and then you can send off for secondary confirmation.
What is your next step after you graduate from the program in May?
It's actually funny, because I came into this program – once I was confirmed for ROTC – with the thought that I wanted to do investigations for the military. Honestly, the chances for that were extremely low. It's as competitive as a three-letter agency – FBI, CIA. It's very hard to get in. It was kind of a cherry on top if I ended up getting that. I would have been happy with anything in the Air Force, and then after the Air Force gone back to forensic science.
But last semester, I was awarded a slot as a pilot. So, I was preparing to be a pilot in the Air Force, which was a profound achievement on its own, and I would have been perfectly happy.
And then, about two weeks ago, I was awarded a slot and reclassified in criminal investigations. It ended up very nicely that my paths converged and I got both things that I really wanted out of life,  even with the chances so low. I'm really grateful, because not everyone has the opportunity to do all the things that they want in life, and I am fortunate enough to get both.  I will be an Air Force officer, but I will be working in an investigative capacity, so I'll be using my degree.
Are there any mentors who stand out as people who have pushed you in the direction you're going?
Oh, yeah, absolutely. And especially because I'm in the military. It's very much built that way. You're always going to have a mentor. I have two very separate worlds. I have my military world and those people, and then I have my school world. Very rarely do they ever cross. And in those two bubbles I had two major mentors.
I had my amazing thesis advisor, Dr. Hall, who was so supportive of me from the very beginning.
I felt bad coming into the program and saying, "You know, I'm the problem child. You have to like, accommodate me. Stretch out my degree another year. Do all these things for me, and like, make this work," basically, because they hadn't ever worked with someone really in ROTC or the military yet. Then stretching out a two-year master's degree to a three-year, there were a lot of issues, logistically speaking, and he advocated for me every single time, and we made it work.
And then, setting up that project for me. You know, sometimes people don't get to research exactly what they want to. You kind of have to find something that's very relevant and very necessary to develop in your field, and this was necessary, but it also very much benefited me, because that's exactly where I'm going in life. So, I'm extremely grateful that I had a mentor that was on my side for the other half of my life, you know. Dr. Hall supported my aspirations, and never made it just about forensics. He always saw the bigger picture and motivated me. I don't think he ever doubted me. I couldn't ask for a more supportive advisor. I see him as a mentor in life for that reason as well.
And then on the military side of things, my detachment commander, Lieutenant Colonel McClain. Going into ROTC, I was a little nervous to begin with, because the military in general struggles with inclusion of women. They're only just now kind of making progress, being more inclusive with diversity. I was a little nervous because all of our officers who supervise us, at the time, they were all male, and I thought, "Well, let's see how this goes, and just take everything with a grain of salt."
And he was the exact opposite of what I expected. He was my strongest supporter. He actually was the person who convinced me to apply to be a pilot solely by believing in me when I expressed vague interest. I wouldn't have done it had he not told me to. Never in my life did I imagine that I was capable of securing that slot. It is a very competitive field. Every single time I wanted to do something, he said, "I think you'd be a great pilot," or "I think you'd be a great special agent." He believed in me for two of the most difficult things to achieve. Not only did he believe in me, but he advocated fiercely for me for every career I applied for, every internship and development opportunity. I would not have gotten to this point without such a phenomenal commander. I did not believe in myself and I simply would not have tried. So he had one of the most significant impacts on my life. I'm so grateful that I had two people who literally were always on my side. I consider myself so fortunate.
What are some of the best memories that stand out for you from your time at GMS and/or in ROTC?
I think honestly for me, just because I'm in ROTC, my best memories are probably training. I know that sounds very like counterintuitive, because a lot of people are scared of training. But those were really the most profound pieces of development for me. That's how I became more confident. It pushed me to reach beyond my goals. Honestly, I never would have tried unless I had training. So, working with the cadets, being able to be vice commander, being responsible for cadets, and developing and mentoring them was just a key piece of my life. In GMS, I would say bonding with the other graduate students towards the end of the program. I say that because we get to a point where we are all trying to finish our thesis and we are all sprinting to the finish line together. So, it wasn't until recently that I looked up at the conference table and looked at all of them, and realized that I had a group of people that I shared a lot of memories with.
Do you have any advice for GMS students pursuing similar goals?
I got to where I am now by saying "yes" to everything. Literally every opportunity that was presented to me, I said "yes." Every single job that came out, or job opportunity in the Air Force that came out, I applied for it. That's kind of what happened with pilot, which just happened to be one of the most competitive. I would say be open minded. Take risks, try, and just be your greatest advocate. That's the best I can say.
What do you like to do for fun around Boston?
Being from San Diego, I used to like to surf. That's how I got away from my stressors and away from the rest of the world. And when I came here, I was like, "Darn, there are no waves, and it's really cold, so I can't surf here." So, I actually had to like, revitalize an old hobby so that I could relieve stress. And so, I got back into ballet, and also am a runner. I do like to run long distance. I have a husky, so she keeps me in shape because she makes me feel guilty.
The last thing I would say is, just because I knew that this was going to be like a two-or-three-year excursion, every single break, I'll go somewhere. This past Thanksgiving, I went up to the White Mountains in New Hampshire. It's just different for me, you know, like I grew up with palm trees, and I had never seen snow or frozen water or leaves changing colors. For me to have time off to see parts of the world that I might never see again is really important. So, I do like to explore, whether it's Rhode Island or Massachusetts or New Hampshire. I like to look around.