Emergency Medical Services
We are the affiliate hospital for Boston EMS, which provides 911-response emergency care for the more than 650,000 nighttime and 1.2 million daytime residents of and visitors to Boston. More than 400 emergency medical technicians and paramedics of Boston EMS respond to more than 120,000 calls and transport over 80,000 patients each year. The low paramedic to population ratio ensures significant experience for each individual paramedic, allowing the practice of highly sophisticated procedures such as medication assisted intubation and STEMI triage and recognition. Boston EMS is also responsible for the staffing and maintenance of the medical dispatch for the City of Boston 911 call center. In addition, Boston EMS is responsible for providing medical support and training exercises in emergency preparedness in conjunction with the Boston Public Health Commission.
The Boston EMS Headquarters is located near Boston Medical Center. Because BMC is their affiliate hospital, Boston EMS receives medical control from Boston Medical Center ED physicians and residents through online radio communication 24 hours a day.
Aeromedical EMS in the Boston area is provided by Boston MedFlight, a non-profit, aeromedical program, offering prehospital and inter-hospital critical care services by ground, fixed wing, and rotor wing, and is staffed by flight paramedics and flight nurses.
---
Interest in an EMS Fellowship?
To apply for the EMS Medicine fellowship program, please submit the following information with this application via email to Sophia Dyer, MD, FACEP, FAEMS, Medical Director, Boston EMS, and Program Director, EMS Fellowship (Dyer@bostonems.org).
Applications must include: 
A cover letter and three letters of recommendation (one from the residency program director or associate/assistant program director and one from EMS section faculty if available).

Fellowship Applicant Prerequisites:

Graduate of an ACGME-accredited U.S. Emergency Medicine Residency, BE/BC in Emergency Medicine.

Qualified to work as an attending physician at the West Roxbury VA Medical Center. This includes registration with Selective Service (if applicable).

Must obtain a full and unrestricted Massachusetts medical license and DEA license prior to fellowship start.
All application paperwork must be received by September 1 to be considered complete. We participate in the NRMP match for EMS Fellowship programs.
---
Resident Involvement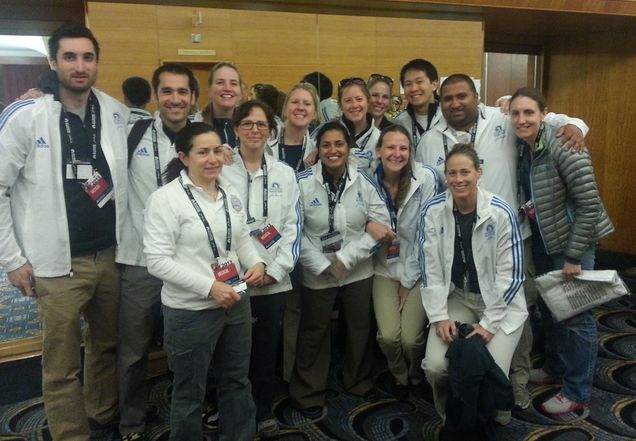 Our PGY-1 residents rotate with Boston EMS.  During that month, residents:
Ride along with Boston EMS, EMT & Paramedic crews

Tour and observe the Boston 911 Dispatch Center

Complete the Advanced Life Support Medical Control Physician Credentialing Examination

Additional disaster medicine, HAZMAT, community safety training events

PGY-3 and PGY-4 residents provide online medical control for 911 calls in the city of Boston. 
Residents of all levels are welcome to participate in research projects at Boston EMS, as well as special operation events including the Boston Marathon, 4th of July on the Esplanade, and the Boston First Night celebration.
Faculty Leadership