Information about Risk Management, Opioid or End of Life Credits (Optional)
In Massachusetts, physicians need to earn 100 CME credits to maintain their license. A portion of those credits must be deemed eligible to fulfill certain specialty content areas. In MA, 10/100 credits need to be risk management eligible, 3/100 need to be opioid prescribing education eligible and 2/100 need to be end of life counseling eligible. Note that a single session can be eligible for multiple specialty credit designations. For example, for a 1 credit session that teaches palliative care providers to discuss end of life plans with their patients and includes education on safe opioid prescribing, the program administrator would enter a 1 for risk management and a 1 for end of life counseling. For a session to qualify, additional information needs to be provided for each type of credit in the fields indicated in the image below.
Click yes for the corresponding "special" credit type, and respond to questions associated with that credit.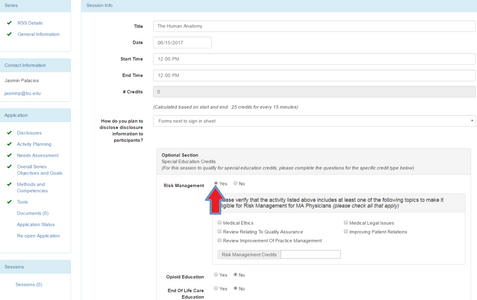 Work through the remaining sections under the 'Session' tab, and click 'Submit Session'.


The CME office will review submitted information at that point and approve if everything meets criteria. Please note that speaker disclosure forms need to have been completed prior to the activity.