Black History Month
Previously mentioned scientists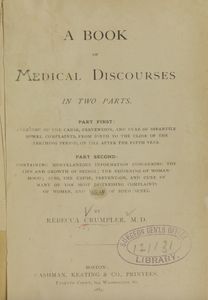 Rebecca Lee Crumpler, M.D.
1831-1895
Dr. Rebecca Lee Crumpler was a trailblazer. She was the first African American woman to earn an M.D. degree in the US.  Dr. Crumpler's medical degree was awarded by the New England Female Medical College, a pioneering institution that a decade later merged with Boston University and formed the core of Boston University's School of Medicine (BUSM). She graduated in 1864 and was the only African American woman to ever graduate from the school. After the end of the Civil War, she moved to Virginia to work for the Freedman's Bureau, which was the government agency responsible for helping more than four million slaves transition to freedom. Her job entailed tending to former slaves who were refused treatment by white doctors. She worked with the agency until 1869 when she returned to Boston. Dr. Crumpler was the first female physician and the first black physician to author a medical textbook. In 1883, she wrote A Book of Medical Discourses which focused on maternal and pediatric medicine. Even though she experienced racism and sexism throughout her career she persevered and continued her mission of caring for others.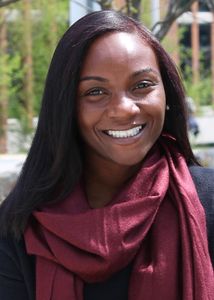 Kizzmekia
 "
Kizzy
" 
Shanta Corbett, PhD
1986-
Kizzmekia "Kizzy" Corbett is an American viral immunologist.  In 2008, Dr. Corbett received a B.S. in biological sciences and sociology from the University of Maryland. In 2014, Dr. Corbett received her Ph.D. in microbiology and immunology from the University of North Carolina at Chapel Hill. She first began working with the NIH in 2006 while she was obtaining her bachelor's degree. At the NIH, she worked on the pathogenesis of respiratory viruses and on innovative vaccine platform advancement. In 2014, she became a research fellow at the Vaccine Research Center (VRC) at the National Institutes of Health (NIH).  Her research aims to uncover mechanisms of viral pathogenesis and host immunity. She specifically focuses on the development of vaccines for coronaviridae. In 2020, Dr. Corbett became the scientific lead of the Coronavirus Team at NIH. Recognizing that COVID-19 was similar to the diseases she had previously studied, Dr. Corbet and her team applied this knowledge to creating a vaccine for the novel COVID-19. To manufacture and test the COVID-19 vaccine, Dr. Corbett's team partnered with Moderna. Dr. Cornett has worked extensively to rebuild trust about vaccines and medicine in communities of color. She regularly takes part in programs to inspire youth in underserved communities. Dr. Anthony Fauci, the NIH Director, said: "Kizzy is an African American scientist who is right at the forefront of the development of the vaccine." In June 2021, Dr. Corbett will be moving to the Harvard T.H. Chan School of Public Health.  There she will head a lab that explores new vaccines that protect against other members of the coronavirus family and other emerging infectious diseases.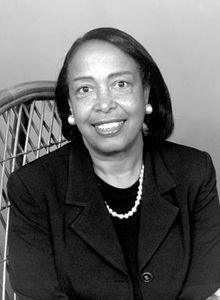 Patricia Bath, M.D.
1942-2019
Patricia E. Bath was an ophthalmologist, research scientist, and inventor. Dr. Bath spent her career advocating for blindness prevention, treatment, and cures. She received her medical degree from Howard University College of Medicine, interned at Harlem Hospital from 1968 to 1969, and completed a fellowship in ophthalmology at Columbia University from 1969 to 1970. Following her internship, Dr. Bath completed her training at New York University between 1970 and 1973, where she was the first African American resident in ophthalmology.
As a young intern, Dr. Bath realized that the high prevalence of blindness among the black community was due to lack of access to ophthalmic care. As a result, she proposed a new discipline, known as community ophthalmology, which is now operative worldwide. Community ophthalmology combines aspects of public health, community medicine, and clinical ophthalmology to offer primary care to underserved populations. In 1975, Dr. Bath became the first woman faculty member in the Department of Ophthalmology at UCLA's Jules Stein Eye Institute. By 1983, she was chair of the ophthalmology residency training program at Drew-UCLA, the first woman in the US to hold such a position. Dr. Bath's work and interests, however, always went beyond the confines of a university. In 1977, she and three other colleagues founded the American Institute for the Prevention of Blindness, an organization whose mission is to protect, preserve, and restore the gift of sight. The AIPB is based on the principle that eyesight is a basic human right and that primary eye care must be made available to all people, everywhere, regardless of their economic status.
Dr. Bath was also a laser scientist and inventor. Her interest, experience, and research on cataracts lead to her invention of a new device and method to remove cataracts—the laserphaco probe. When she first conceived of the device in 1981, her idea was more advanced than the technology available at the time. It took her nearly five years to complete the research and testing needed to make it work and apply for a patent. Today the device is used worldwide.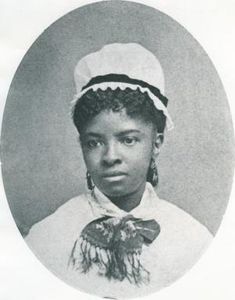 Mary Eliza Mahoney
1845-1926
Mary Eliza Mahoney was the first African American to study and work as a professionally trained nurse in the United States. Mahoney was the daughter of freed slaves who moved to Boston from the South before the Civil War. In 1878, she was the only African American student admitted to the New England Hospital for Women and Children's graduate nursing school. This was an extremely intensive program that ran for 16 months from 5:30 in the morning until 9:30 at night. Of the 42 students admitted to the program only Mahoney and three other students graduated. Due to the overwhelming discrimination in the public nursing field Mahoney chose to pursue a career as a private nurse, working for predominately white, wealthy families.

Because of her experiences, Mahoney felt a group was needed to advocate for the equal treatment of African American nurses. In 1908, Mahoney along with two of her colleagues created the National Association of Colored Graduate Nurses (NACGN). The NACGN had a significant influence on eliminating racial discrimination in the registered nursing profession. From 1911-1912, Mahoney was the director of the Howard Orphanage Asylum for black children in Kings Park, Long Island in New York City. Mahoney retired after four decades in the nursing profession. Even after her retirement she championed for women's rights and was part of the Women's Suffrage movement. Mahoney was among the first women to register to vote in Boston once the 19th Amendment was ratified.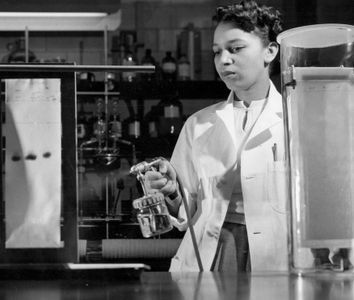 Alma Levant Hayden
1927-1967
Alma Levant Hayden was a chemist and one of the first African-American women to gain a scientist position at a federal agency. Hayden received her master's degree in chemistry from Howard University and became an expert in spectrophotometry. In the early 1950s, she joined the National Institutes of Health (NIH).  At the NIH, Hayden worked with a technique called paper chromatography to screen for steroid substances. In the mid-1950s, Hayden moved to the Food and Drug Administration (FDA), where she was the first person of color to work for the agency. While at the FDA, Hayden was tasked with identifying the chemical components of Krebiozen, a controversial and expensive cancer treatment. Hayden and her team conducted spectroscopy techniques and determined that Krebiozen was nothing more than creatine, a substance found naturally in the body. This indicated that Krebiozen was not a cure for cancer and therefore could not be marketed as a cancer treatment.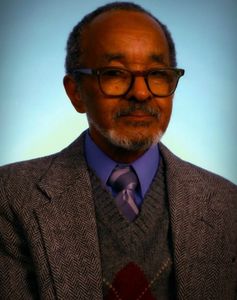 Emmett W. Chappelle
1925-2019
Emmett W. Chappelle was an African American scientist who was known as the "Father of Bioluminescence". In 1955, Chappelle received his master's degree in Biochemistry from the University of Washington. In 1958, Chappelle joined the Research Institute in Baltimore where he made a major discovery. Chappelle discovered that even single-celled organisms (i.e. algae) are able to convert carbon dioxide into sugar and water into oxygen, indicating that these organisms undergo photosynthesis. Not only was this a major contribution to the biological sciences, this knowledge was also beneficial to astronauts because it allowed scientists to develop a method for creating clean oxygen in space. Chappelle later joined the National Aeronautics and Space Administration (NASA) where he was known for his work in bioluminescence. Chappelle developed a method to detect ATP using luciferase and luciferin, two chemicals that emit light when ATP is present in a sample. This technique was originally developed in the hopes of detecting life on other planets. Currently, this technique has various biological applications and is used in research laboratories around the world.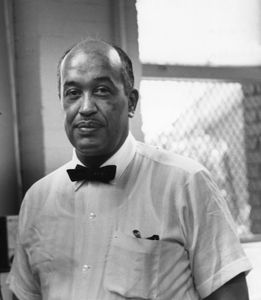 HERMAN BRANSON, PHD
1914-1995
Herman Russell Branson was an American physicist and chemist, best known for his research on the alpha helix protein structure. Dr. Branson received his B.S. from Virginia State College in 1936, and his Ph.D. in physics from the University of Cincinnati in 1939. He joined Howard University in 1941 as an assistant professor of physics and chemistry. As a scientist, Dr. Branson made significant contributions to understanding how proteins work and how they contribute to diseases such as sickle cell anemia. He remained at Howard University for 27 years, eventually becoming head of the physics department, director of a program in experimental science and mathematics, and working at their Office of Naval Research and Atomic Energy Commission Projects in Physics. One of his students would include Marie Maynard Daly who was the first woman of color in the United States to earn her doctorate in Chemistry. 
In 1948, Dr. Branson began working with the chemist Linus Pauling at the California Institute of Technology. There, Dr. Branson worked on further understanding the structure of proteins, specifically using his mathematical abilities to determine possible helical structures that would fit both X-ray crystallography data and a set of chemical restrictions outlined by Dr. Pauling. After some months of work, Dr. Branson handed in a report narrowing the possible structures to two helices: a tighter coil Dr. Pauling termed "alpha," and a looser helix called "gamma." A few months later, the groundbreaking work from Dr. Pauling and Dr. Branson was published, thus establishing the existence of the alpha helix protein structure.
Dr. Branson continued to have a significant career, eventually serving as president of Central State University in Wilberforce, Ohio, from 1968–1970, and then president of Lincoln University until his retirement in 1985. He was active in increasing federal funding for higher education and helped found the National Association for Equal Opportunity in Higher Education in 1990.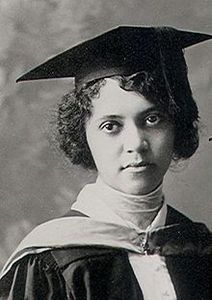 ALICE BALL
1892-1916
Alice Augusta Ball was an American chemist who developed the "Ball Method", the most effective treatment for leprosy during the early 20th century. She was the first woman and first African American to receive a master's degree from the University of Hawaii and was also the university's first female and African American chemistry professor.
In 1912, Ball earned a bachelor's degree in pharmaceutical chemistry from the University of Washington and a second bachelor's degree in the science of pharmacy two years later from the same university. Alongside her pharmacy instructor, she published a 10-page article, in the Journal of the American Chemical Society. Publishing such an article in a respected scientific journal was an uncommon accomplishment for a woman and especially uncommon for a Black woman at this time. 
Ball then obtained a master's degree in chemistry from the University of Hawaii. In 1915, she became the first woman and first Black American to graduate with a master's degree from the University of Hawaii. Ball was also the first African American "research chemist and instructor" in the University of Hawaii's chemistry department. Because of the work she'd done for her master's thesis, Ball was contacted by Dr. Harry T. Hollmann at Kalihi Hospital in Hawaii, who needed an assistant for his research into the treatment of leprosy. Together they studied the chemical properties of chaulmoogra oil because, at the time, chaulmoogra oil was the best and only treatment available for leprosy. But the treatment was not very effective, and every method of the application had problems. At age 23, Ball developed a technique to make the oil more effective, injectable, and absorbable by the body. Unfortunately, due to her untimely death, Ball was unable to publish her revolutionary findings. Arthur L. Dean, a chemist and later the president of the University of Hawaii, stole her work, published the findings, and began producing large quantities of the injectable chaulmoogra extract. Dean published the findings without giving Ball credit and named the technique after himself. 
It was not until years after her death that Hollmann attempted to correct this injustice. In 1922, he published a paper giving credit to Ball, calling the injectable form of the oil the "Ball method." Unfortunately, she still remained forgotten in the scientific record. In the 1970s, Kathryn Takara and Stanley Ali, professors at the University of Hawaii, searched the archives to find Ball's research. After numerous decades they were able to bring her efforts and achievements to light, giving her the credit she earned.  Ball died on December 31, 1916, at age 24. She had become ill during her research and returned to Seattle for treatment a few months before her death.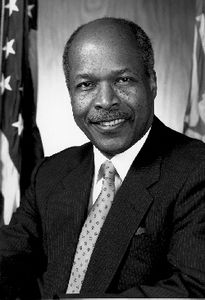 LOUIS WADE SULLIVAN, M.D.
1933-
Louis Wade Sullivan is an active health policy leader, minority health advocate, author, physician, and educator. He served as the Secretary of the U.S. Department of Health and Human Services during President George H. W. Bush's Administration and was Founding Dean of the Morehouse School of Medicine.
In 1954, Dr. Sullivan graduated from Morehouse College before earning his medical degree from Boston University School of Medicine in 1958. His postgraduate training included internship and residency in internal medicine at New York Hospital – Cornell Medical Center (1958–60), a clinical fellowship in pathology at Massachusetts General Hospital (1960–61), and a research fellowship in hematology at the Thorndike Memorial Laboratory of Harvard Medical School, Boston City Hospital (1961–63). Dr. Sullivan was an instructor of medicine at Harvard Medical School from 1963–64, and an assistant professor of medicine at Seton Hall College of Medicine from 1964–66. In 1966, he became co-director of hematology at Boston University Medical Center and, a year later, founded the Boston University Hematology Service at Boston City Hospital. Dr. Sullivan remained at Boston University until 1975, holding positions as an assistant professor of medicine, associate professor of medicine, and professor of medicine. In his teaching, he specialized in sickle-cell anemia and blood disorders related to vitamin deficiencies.
Dr. Sullivan became the founding dean and director of the Medical Education Program at Morehouse College in 1975. Dr. Sullivan left Morehouse in 1989 to accept an appointment by President George H.W. Bush to serve as secretary of Human and Health Services (HHS). In this cabinet position, Dr. Sullivan managed the federal agency responsible for the major health, welfare, food and drug safety, medical research, and income security programs serving the American people. Among his efforts to improve the health and health behavior of Americans were: (1) the introduction of a new and improved FDA food label; (2) the release of Healthy People 2000, a guide for improved health promotion/disease prevention activities; (3) the public education program focused on the health dangers from tobacco use; (4) the inauguration of a $100 million minority male health and injury prevention initiative; and (5) a greater emphasis on gender and ethnic diversity in senior positions of HHS, including the selection of the:
First female Director

 of the 

National Institutes of Health

First female (and first Hispanic) 

Surgeon General

 of the 

U.S. Public Health Service

First African-American Commissioner of the 

Social Security Administration

First African-American Administrator of the 

Health Care Financing Administration

 and

First female Chief of Staff

 of the 

Department of Health and Human Services
In January 1993, he returned to Morehouse School of Medicine and resumed the office of president until 2002. Established in 2003, the Sullivan Commission on Diversity in the Healthcare Workforce made policy recommendations to bring about systemic change that addressed the scarcity of minorities in the health professions. The work of the Commission came at a time when enrollment of racial and ethnic minorities in nursing, medicine, and dentistry has stagnated despite America's growing diversity.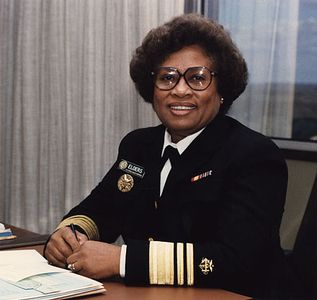 JOYCELYN ELDERS,
 M.S, M.D., D.SC.
1933-
Joycelyn Elders, M.S, M.D., D.Sc. (August 13, 1933) is an American pediatrician and public health administrator who served as Surgeon General of the United States from 1993 to 1994. A vice admiral in the Public Health Service Commissioned Corps, she was the second woman, the second person of color, and the first African American to serve as Surgeon General. She is currently a professor emeritum of pediatrics at the University of Arkansas for Medical Sciences.
In 1952, Dr. Elders received her B.S. degree in Biology from Philander Smith College in Little Rock, Arkansas. After working as a nurse's aide in a Veterans Administration hospital in Milwaukee for a period, she joined the United States Army in May 1953. During her 3 years in the Army, she was trained as a physical therapist. She then attended the University of Arkansas Medical School, where she obtained her M.D. degree in 1960. After completing an internship at the University of Minnesota Hospital and a residency in pediatrics at the University of Arkansas Medical Center, Dr. Elders earned an M.S. in Biochemistry in 1967.
In 1987, then-governor Bill Clinton appointed Dr. Elders as Director of the Arkansas Department of Health, making her the first African-American woman in the state to hold this position. Some of her major accomplishments while in office include: reducing the teen pregnancy rate, increasing early childhood screenings, increasing the immunization rate for two-year-olds, and expanding the availability of HIV testing and counseling services, breast cancer screenings, and better hospice care for the elderly. Dr. Elders also worked hard to promote the importance of sex education, proper hygiene, and the prevention of substance abuse in public schools. 
Dr. Elders received a National Institutes of Health career development award and served as an assistant professor in pediatrics at the University of Arkansas Medical Center from 1967-1971. She was promoted to associate professor in 1971 and professor in 1976. Her research interests focused on endocrinology, and she received board certification as a pediatric endocrinologist in 1978, becoming the first person in the state of Arkansas to do so. Dr. Elders received a D.Sc. degree from Bates College in 2002.
In January 1993, Bill Clinton appointed her as the United States Surgeon General, making her the first African American and the second woman (following Antonia Novello) to hold the position. As Surgeon General, Dr. Elders quickly established a reputation for being controversial. Like many of the Surgeons General before her, she was an outspoken advocate of a variety of health-related causes. Since leaving her post as Surgeon General, Dr. Elders has returned to the University of Arkansas for Medical Sciences (UAMS) as a professor of pediatrics and is currently professor emerita at UAMS.