Samuel Henry Belok, MD
Assistant Professor, Medicine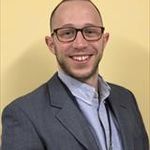 Biography
Dr. Belok is a clinician-educator with an interest in pleural disease and the use of point-of-care ultrasound in the ICU and pulmonary medicine. He is a leader in the use and teaching of point-of-care ultrasound within the section of pulmonary/critical care and manages the education program for the pulmonary/critical care fellows. He has been invited to teach point-of-care ultrasound at multiple regional, national and international conferences.
Publications
Published on 6/24/2021

Belok SH, Bosch NA, Klings ES, Walkey AJ. Evaluation of leukopenia during sepsis as a marker of sepsis-defining organ dysfunction. PLoS One. 2021; 16(6):e0252206. PMID: 34166406.

Read at: PubMed

Published on 10/25/2020

Belok SH, Parikh R, Bernardo J, Kathuria H. E-cigarette, or vaping, product use-associated lung injury: a review. Pneumonia (Nathan). 2020; 12:12. PMID: 33110741.

Read at: PubMed

Published on 10/16/2020

Belok S, Herbst N, Billatos E. A chocolate effusion - An unusual cause of elevated adenosine deaminase in the pleural fluid. Respir Med Case Rep. 2020; 31:101260. PMID: 33117649.

Read at: PubMed

Published on 1/1/2020

Soni K, Belok SH, Berk JL. C67. Thoracic Oncology Case Reports I. 2020; A5714-A5714.

Published on 1/1/2020

Belok SH, Soni K, Reardon CC. Medical Education in Pulmonary and Critical Care Medicine. Implementation of a Low-Cost Pilot Intervention to Improve Fellows' Ultrasound Abiity, A35. 2020; A1419-A1419.

Published on 8/1/2019

Parikh R, Belok SH, Swamy L, Reardon CC. Adjunctive Therapies in the Management of Septic Shock. Am J Respir Crit Care Med. 2019 Aug 01; 200(3):381-383. PMID: 30990750.

Read at: PubMed

Published on 1/1/2019

Lu K, Zhang M, Belok S, Theodore A. A Particular Problem: Airbag Deployment Causing Chemical Pneumonitis. A49 Case Reports in Lung Disease Associated with Inhalational Exposures. 2019.

Published on 1/1/2018

Seth B, Belok S, Schembri F. An Exudative Pleural Effusion in Congestive Heart Failure: Time to Broaden the Differential. B39 Pleural Disease: Case Reports I. 2018.

Published on 1/1/2018

Herbst N, Belok S, Billatos E. Catamenial Hemothorax – An Unusual Cause of Elevated Adenosine Deaminase in the Pleural Fluid. D36 Pleural Disease: Case Reports II. 2018.

Published on 1/1/2018

Pandit P, Belok S, Baird G, Ventetuolo C, Klinger J. Does Prostacyclin Therapy Suppress Plasma BNP Levels Independent of Pulmonary Hemodynamic Effects in Patients with Pulmonary Arterial Hypertension?. C69 Novel Therapeutic Approaches in Pulmonary Hypertension. 2018.
View 2 more publications: View full profile at BUMC