Lan Zhou, MD, PhD
Professor, Neurology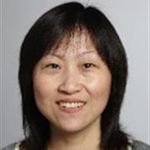 Biography
Dr. Zhou is a physician scientist. She is a neurologist, a neuromuscular pathologist, and a muscle research scientist.
Dr. Zhou received an MD degree from Shanghai Medical University (now Fudan University Medical School) in 1989 and a PhD degree in developmental biology from the University of Cincinnati in 1995. She completed her neurology residency at the Wayne State University in 2002 and neuromuscular medicine fellowship at the Johns Hopkins University in 2003. She became a staff neurologist at the Cleveland Clinic in 2003, an associate professor of neurology and pathology at the Icahn School of Medicine at Mount Sinai in 2012, and a professor of neurology and pathology at the University of Texas Southwestern Medical Center in 2017. She joined Boston University Medical Center in 2019 and became a professor of neurology and pathology in the Departments of Neurology and Pathology, and Vice Chair for research in the Department of Neurology.
Dr. Zhou is a renowned neuromuscular specialist. She treats patients with neuromuscular diseases, performs muscle, nerve, and skin biopsies, and interprets biopsies. She has mentored many fellows, residents, and medical students to conduct clinical and basic research. Her clinical research interest in in neuromuscular diseases, such as myopathies and small fiber neuropathy. Her basic research that has been continuously funded by NIH for over 13 years focuses on the molecular and cellular mechanisms underlying muscle inflammation and fibrosis associated with muscular dystrophy and acute skeletal muscle injury repair. Her research team has published extensively in the biomedical journals. She has given many invited talks and lectures nationally and internationally. Her clinical research goal is to improve the diagnosis and management of neuromuscular diseases. Her basic research goal is to develop novel pharmacotherapies to modify inflammation, reduce fibrosis, promote regeneration, and improve muscle function and muscular dystrophy phenotype.
Other Positions
Professor

,

Pathology & Laboratory Medicine

,

Boston University Chobanian & Avedisian School of Medicine