Jennifer F. Tseng, MD, MPH, Appointed as Chief and Chair of Surgery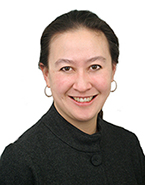 Jennifer F. Tseng, MD, MPH, has been appointed as Chief of Surgery at BMC and Chair of the Department of Surgery at BUSM, effective July 1.
Dr. Tseng is an accomplished leader and an outstanding surgeon, with a record of significant academic achievements. She has a proven commitment to diversity and to the patient population the school and hospital serve.
Dr. Tseng, currently a Professor of Surgery at Harvard Medical School, comes to BMC/BUSM from the Beth Israel Deaconess Medical Center (BIDMC) in Boston, where she is Chief of Surgical Oncology in the Roberta and Stephen R. Weiner Department of Surgery and Clinical Co-Director for Surgery. Previously, she was an Associate Professor of Surgery, Cancer Biology and Quantitative Health Sciences at the University of Massachusetts Medical School, and an attending surgeon at UMass Memorial Medical Center.
Dr. Tseng received her undergraduate degree from Stanford University, her MD from the University of California, San Francisco Medical School, and a master's degree in public health from the Harvard T.H. Chan School of Public Health. She completed a general surgery residency at Massachusetts General Hospital and a research fellowship in molecular medicine at Harvard Medical School/Children's Hospital Boston, followed by a clinical fellowship in surgical oncology at the University of Texas MD Anderson Cancer Center in Houston.
Dr. Tseng is a highly regarded surgical oncologist and gastrointestinal surgeon, whose practice encompasses the upper gastrointestinal tract. She has led a group of diverse BIDMC faculty in oncology research, education and care for GI, endocrine, breast, as well as melanomas and sarcomas, and other malignancies.
Dr. Tseng has published more than 100 peer-reviewed journal articles on reducing surgical risk, cancer biomarkers and on developing models for cancer treatment sequencing strategies, with a strong focus on racial and socioeconomic disparities in care, an important BMC and BUSM mission. She has collaborated with the Massachusetts Department of Public Health to assess the impact of factors including insurance, disparities and health care reform on cancer diagnosis, treatment and prevention. She was the Founding Director of SOAR (Surgical Outcomes Analysis & Research) at UMass in 2007, a research initiative to improve treatment strategies for a broad range of surgical conditions and to develop tools to assess and reduce risk. At BIDMC, she and her co-leaders have led the continued development of SOAR as a health services and outcomes research group.
Dr. Tseng is also a dedicated educator of medical students and residents who has mentored numerous trainees throughout her research career.
Thanks to BMC Chief and BUSM Chair of Ophthalmology Stephen Christiansen, who headed the search committee, and the members of the committee for their hard work and for making an excellent selection from a very strong candidate pool.