Translational Anatomy of Neurodegenerative Disease & Developmental Disorder
Translational Anatomy of Neurodegenerative Disease & Developmental Disorder
Translational Anatomy of Neurodegenerative Disease & Developmental Disorder
Basic Science Research
The Laboratory for Translational Anatomy of Degenerative Diseases and Developmental Disorders is interested in the anatomical validation of innovative neuroimaging and surgical techniques. Merging the techniques of structural MRI with detailed clinical anatomy dissection and quantitative histopathology, we have two major scientific research interests.
Alzheimer's Disease
First, we have been investigating the relationship between gradient echo imaging, which is sensitive for the presence of iron in the brain, and oxidative stress pathophysiology of neurodegenerative disease. Since iron binds to neuropathological proteins in Alzheimer's disease (AD), frontotemporal dementia, Parkinson's disease, cerebrovascular disease, and chronic traumatic encephalopathy, for example, it should be visible in MRI. We recently showed that T2* mapping of iron deposits of the hippocampus corresponded to AD pathophysiology.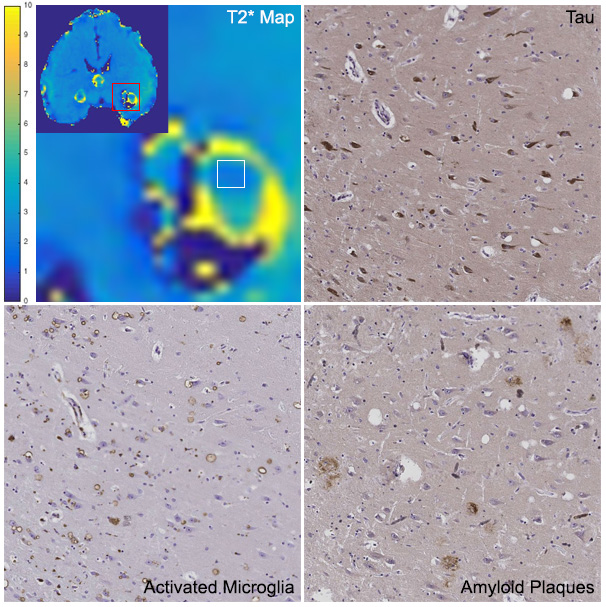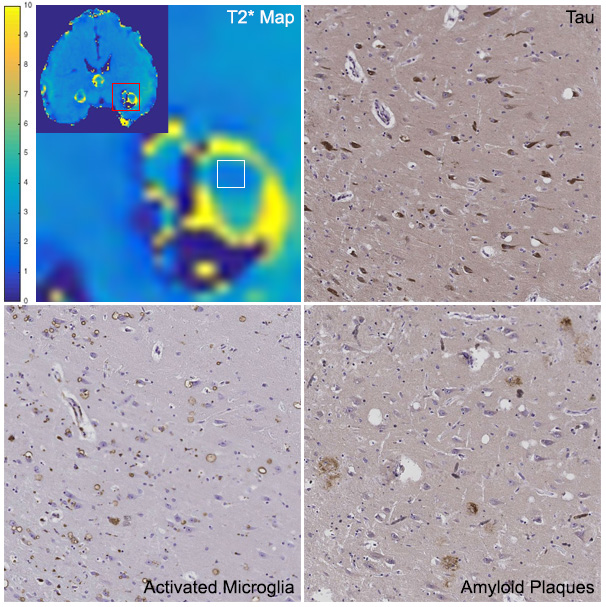 Vocal Fold Imaging and Histology
Second, we have been studying the association of vocal fold mucosa MRI signal intensity with underlying tissue architecture to inform the creation of better synthetic vocal fold vibration models for patients with subglottic stenosis of the larynx. Recently we have acquired high resolution MR images of the porcine larynx in various hydration conditions to delineate mucosa from muscle.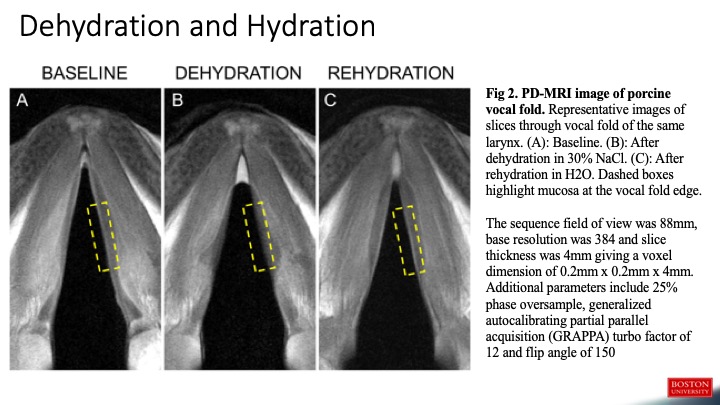 In addition, we have started segmenting vocal fold MR images and examining underlying histological structure.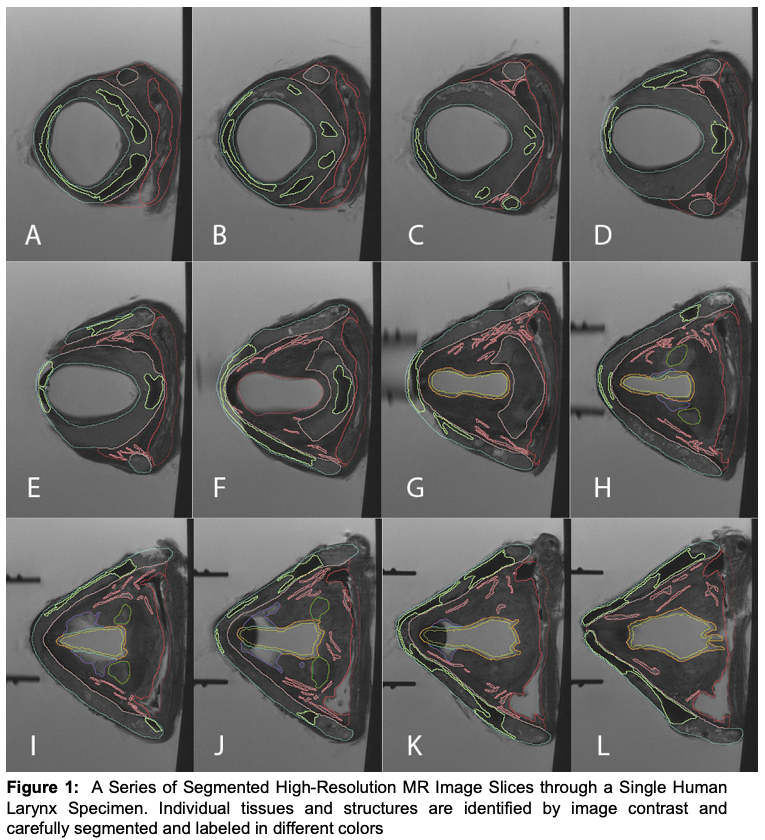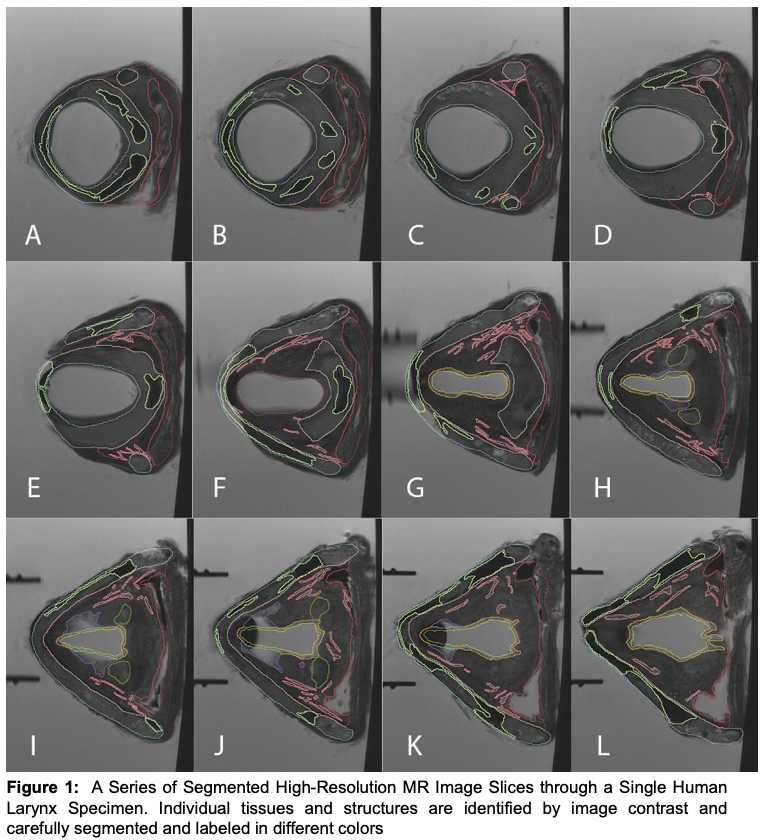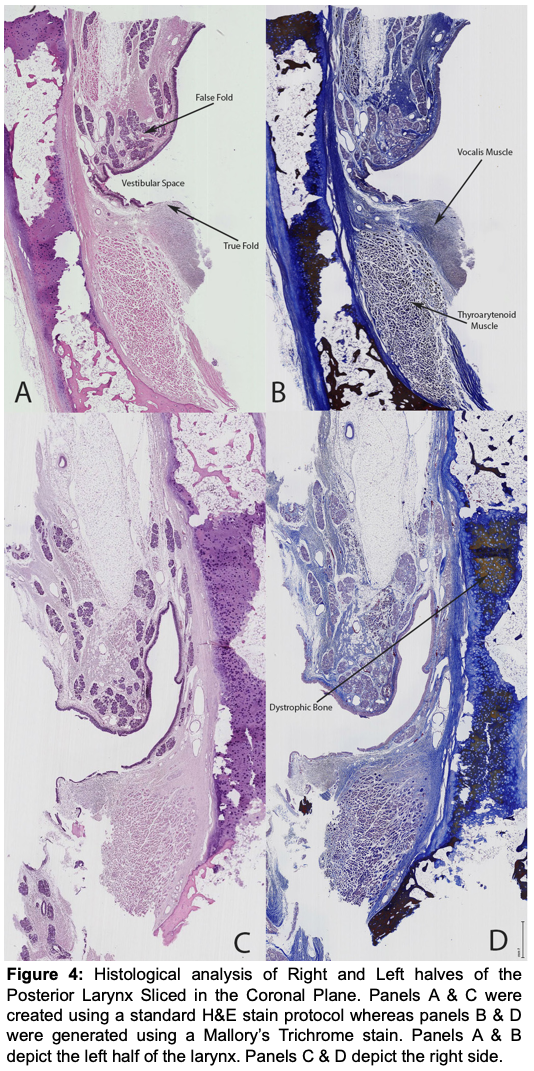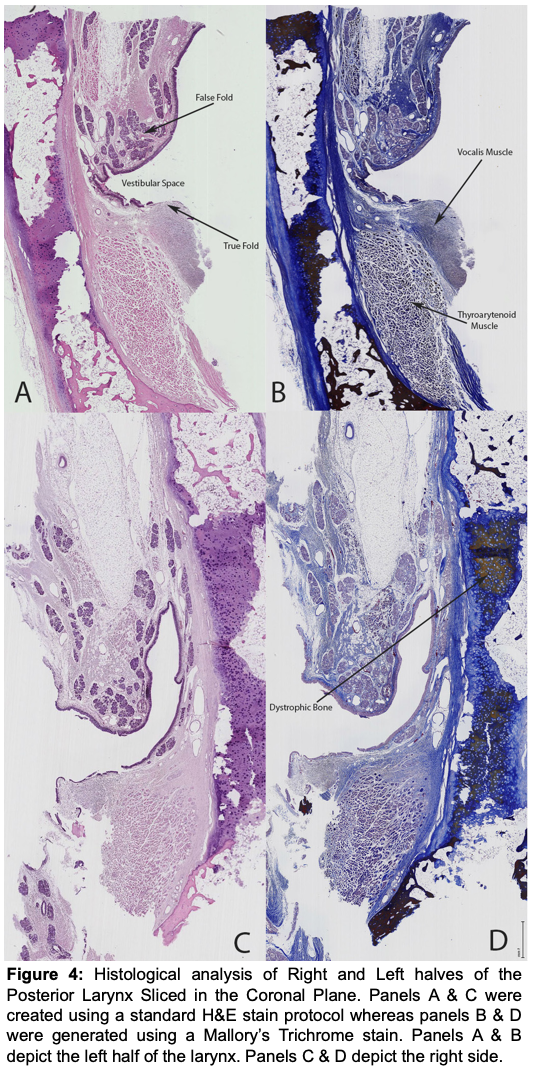 Medical Education
In addition to basic science research, members of the Wisco Lab are encouraged to participate in Anatomy Academy. The program was established in 2012 to teach anatomy, physiology and nutrition concepts as an effort to combat the obesity epidemic through educational intervention, and inspire kids to pursue science as a career. The program is a multi-institutional and multi-disciplinary collaboration for pre-professional students between the disciplines of medicine, dentistry, nursing, public health, public policy and education at Brigham Young University, University of Utah, Utah Valley University, UCLA, Valencia College (Orlando, FL), New Mexico State University (Las Cruces, NM), San Jacinto College (Houston, TX), Briar Cliff University (Sioux City, IA), and Mesa Community Colleges (Mesa, AZ). We serve 22 elementary school partners in over 43 classes. School sites for the Boston area will be established soon!
Volunteers in Anatomy Academy learn how to communicate complex medical information to a level appropriate for elementary school kids; prepare and deliver lessons on anatomy, physiology and nutrition that help kids understand the importance of establishing and maintaining a healthy lifestyle; teach groups of children in didactic and active learning environments; serve as role models for pursuing higher education; demonstrate the utmost professional demeanor; and become exposed to an experiential learning environment that results in immediate, quantifiable behavioral change in students. Thus, Mentors are exposed to at least one component of each of the six Accreditation Council for Graduate Medical Education (ACGME) Core Competencies – Patient Care, Medical Knowledge, Practice-based Learning and Improvement, Interpersonal and Communication Skills, Professionalism, Systems-based Practice.
For more information on Anatomy Academy, you can view our Anatomy Academy videos at http://youtu.be/r6bN073FGOs, and/or a recent feature of the program at http://education.byu.edu/news/2013/07/15/the-science-of-hands-on-learning/.
Here is Dr. Wisco's radio conversation with Julie Rose of Top of Mind:
https://www.byuradio.org/episode/2e80e368-63c4-4f15-8f76-7e1cc947b6b4?playhead=2412&autoplay=true.
We have studied the effect of Anatomy Academy on inspiring life-long learning in pre-professional and professional students that we call Mentors. In recent studies, we examined 1) Mentor self-efficacy in the ACGME Core Competencies of Interpersonal and Communication Skills; and 2) how Mentors improved their learning environments by incorporating feedback to their students.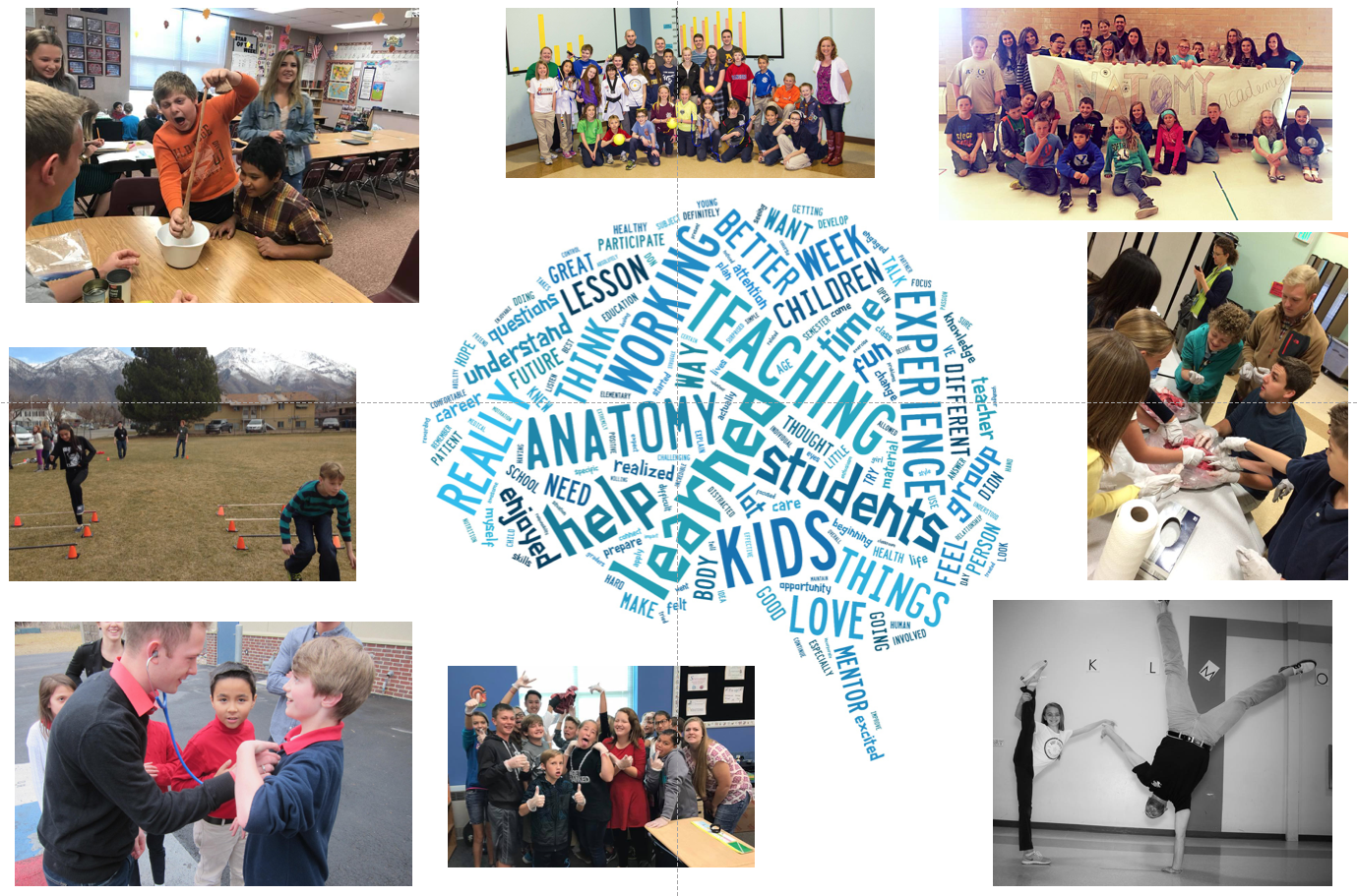 Recent Publications (For more publications, please see Dr. Wisco's CV.)
Smith DT, Cook SL, Gillespie MA, Stevens KA, Reynolds HC, Hurd RC, Wisco JJ. High-speed video capture of anterior cruciate ligament tearing in human and porcine ex vivo specimens. Biol Eng Med 2018; 3(2): 1-4. doi: 10.15761/BEM.1000137.
Lassetter JH, Macintosh CI, Williams M, Ray G, Driessnack M, Wisco JJ. Psychometric testing of the healthy eating and physical activity self-efficacy questionnaire and the healthy eating and physical activity behavior recall questionnaire for children. J Spec Pediatr Nurs 2018;e12207. https://doi.org/10.1111/jspn.12207.
Lindsley JE, Abali EE, Bikman BT, Cline SD, Fulton T, Lopez B, Rosenthal OD, Uhley VE, Weintraut RJ, Williams DP, Wisco JJ, Thompson K. What nutrition-related knowledge, skills and attitudes should medical students develop? Med Sci Edu 2017 27: 579. https://doi.org/10.1007/s40670-017-0476-3.
Poornejad N, Buckmiller E, Schaumann L, Wang H, Wisco JJ, Roeder B, Reynolds P, Cook A. Re-epithelialization of whole porcine kidneys with renal epithelial cells. J Tissue Eng 2017; 8:1-11. http://journals.sagepub.com/doi/full/10.1177/2041731417718809.
Ascanio J, Schmalz N, Anderson DC, Zibetti K, Wilkes D, Gamboa JE, Vogelsang D, Stark ME, Wisco JJ. Shared distal insertion of the gluteus medius and pirformis muscles and implications for rehabilitation exercises. MOJ Anat & Physiol 2017; 3(2): 00089. DOI: 10.15406/mojap.2017.03.00089.
Tanner K, Dromey C, Berardi ML, Mattei LM, Wisco JJ, Hunter EJ, Smith ME. Effects of Voice-Sparing Cricotracheal Resection on Phonation in Adult Women. Laryngoscope. 2016 Nov 24. doi: 10.1002/lary.26429.
Nazaran A, Wisco JJ, Hageman N, Schettler SP, Wong A, Vinters HV, Teng C-C, Bangerter NK. Methodology for computing white matter nerve fiber orientation in human histological slices. Journal of Neuroscience Methods. 2016;261:75-84. doi: http://dx.doi.org/10.1016/j.jneumeth.2015.11.023.
Mason NL, Christiansen M, Wisco JJ. 3D reconstruction and heat map of porcine recurrent laryngeal nerve anatomy: branching and spatial location. Italian Journal of Anatomy and Embryology. 2015;120(3):184-91.
Guzman CR, Young S, Rabedeaux P, Lerner SD, Wimmers PF, Byus C, Wisco JJ. Student perceived value of anatomy pedagogy, Part II: Clinical practice and assessment. J Med Ed Curr Dev 2015;1(2):21–25.
Wisco JJ, Young S, Rabedeaux P, Lerner SD, Wimmers PF, Byus C, Guzman CR. Student perceived value of anatomy pedagogy, Part I: Prosection or dissection? J Med Edu Curr Devel. 2015;1(2):15-20.
Wisco JJ, Thakur S, Stark ME. Exposure to ACGME core competencies through mentored research. J Med Ed Curr Dev 2014:1 29–39 doi:10.4137/JMECD.S17498.
Stark ME, Safir I, Wisco JJ. Probabilistic Mapping of the Cervical Sympathetic Trunk Ganglia. Auton Neurosci. 2014 Apr;181:79-84.
Chang Y, Cantelmi D, Wisco JJ, Fattah A, Hannam AG, Agur A. Evidence for the functional compartmentalization of the temporalis muscle: A 3-dimensional study of innervation. J Oral Maxillofac Surg. 2013 Jul;71(7):1170-7.
Ajijola OA, Wisco JJ, Lambert HW, Mahajan A, Stark ME, Fishbein MC, Shivkumar K. Extra-cardiac neural remodeling in humans with cardiomyopathy. Circulation: Arrhythmia and Electrophysiology 2012 Oct;5(5):1010-116.
Wisco JJ, Stark ME, Safir I, Rahman S. A heat map of superior cervical ganglion location relative to the common carotid artery bifurcation. Anesthesia and Analgesia 2012 Feb;114(2):462-465.
Wisco JJ, Payne S, Stark ME. Creation of an Interactive Learning Module of 3D Virtual Osteological Structures. Med Sci Edu 2012; 22(4): 208-209.
Wisco JJ, Payne S, Stark ME, Kim S. Video-based Extraocular Muscles Learning Module. MedEdPORTAL; 2011. Available from: www.mededportal.org/publication/9031.
Wisco JJ, Payne S, Kim S, Stark ME. Creation of a video-based learning module of extraocular muscles' structure and function. Med Sci Edu 2011; 21(3S): 264-265. (invited paper)
Mendelsohn AH, DeConde A, Lambert HW, Dodson SC, Daney BT, Stark ME, Berke GS, Wisco JJ. Cervical variations of the phrenic nerve. Laryngoscope 2011; 121(9):1920-1923.